This post contains affiliate links.
Buying vinyl records is exciting and rewarding if you don't purchase fake, low-quality records. It can be difficult to differentiate an official record from a counterfeit one, but it is possible. How do you identify phony vinyl records and save yourself some money?
You can spot fake vinyl records from details that imitate an official release. Check that the print on the record jacket and label is high quality. The matrix numbers and words must be consistent with a genuine record, which you can verify using officially released images. 
This article explains how you can check the physical characteristics of a vinyl record to identify fakes or verify an authentic product. After reading this article, you'll be a pro at checking every little detail before investing in any vinyl record. 
1. Understand What a Fake Vinyl Record Is
There are two types of fake vinyl records: bootleg and counterfeit vinyl. These two terms are used interchangeably, but there are differences between them that you need to be aware of when searching for genuine records. 
Bootleg Records
Bootleg records are unauthorized and unreleased recordings of a performance sold without the artist's or record label's consent, which is illegal under copyright law. If the label releases an album digitally or on a CD, and they haven't released an original pressing, then the vinyl record of that album will be considered a bootleg copy.  
Bootleg releases don't pretend to be originals because they are produced and marketed by third parties unrelated to the artist or record label. If a performance was never officially released, any product that benefits from it is fraudulent. 
Only the copyright holders can approve the sale of original creations, as they are the only ones who can legally profit from their hard work. The artist has no control over the sales and recordings of a bootleg because these fakes are often edits of the actual performance. 
However, you can identify a bootleg record by researching whether the artist or record label has released a vinyl of a performance.  
Counterfeit Records
Counterfeit records are illegally reproduced pressings that imitate official releases but aren't associated with the record label in any way. These are hard to differentiate from official records because they are intentionally sold to fool music lovers into thinking they are getting an original pressing.  
Counterfeits are also hard to distinguish if you judge them solely by their audio quality. Unlike bootlegs, which are third-party unauthorized releases, a counterfeit record holds an official studio recording previously released by a recording company or artist.
You'll encounter counterfeit records when looking for rare or expensive vinyl. Forgery can take time and money, so making fake records of cheap official copies wouldn't be very lucrative for the seller.  
It is more common to see fakes from a vintage collection or titles from a major artist that has long gone out of print. However, you may still see imitations from current trending artists and bands. Always inspect a vinyl record carefully before purchasing it.  
2. Check the Jacket Sleeve
A vinyl record's jacket sleeve holds general product information about the record inside. With a fake record, the details on the sleeve are different from the original product. When you inspect a sleeve, you need to check the following information:
Matrix number
Font
Stickers
Material  
Texture (i.e., matte or glossy)
Barcodes
Discogs is a website that frequently catalogs official vinyl releases and publishes the physical characteristics of their packaging on the same page. These notes can help you identify and differentiate official records from counterfeit versions, as you can compare the product you want to buy with details about the official record. 
The vinyl's Discogs page also allows you to browse different pictures of the vinyl record and jacket sleeve. For example, check out this Discogs page for Madonna's 'Like A Virgin' vinyl.
However, not all vinyl releases are cataloged on Discogs. If you don't find the record you're looking for, you will need to search for information on official record sleeves yourself. 
Used Vinyl Records
You can tell the condition of a vinyl record from its sleeve. Used records will show signs of age, and poor-quality counterfeits will show wear more evidently. 
You shouldn't buy a record if the jacket has been printed with very soft colors unless it's part of the official design. Printed colors can start to fade if the vinyl record is a vintage release, but this is usually due to fading over time. If you're holding a recent release, a sleeve with soft and weak colors is likely a low-quality print.  
If you're interested in buying older or used vinyl records, check out this article with tips to help determine the quality and condition of used records. 
3. Compare Matrix Numbers
The matrix number is a combination of numbers and letters specific to a particular vinyl record. This number is stamped into the center of your vinyl record, also known as the run-out groove or deadwax.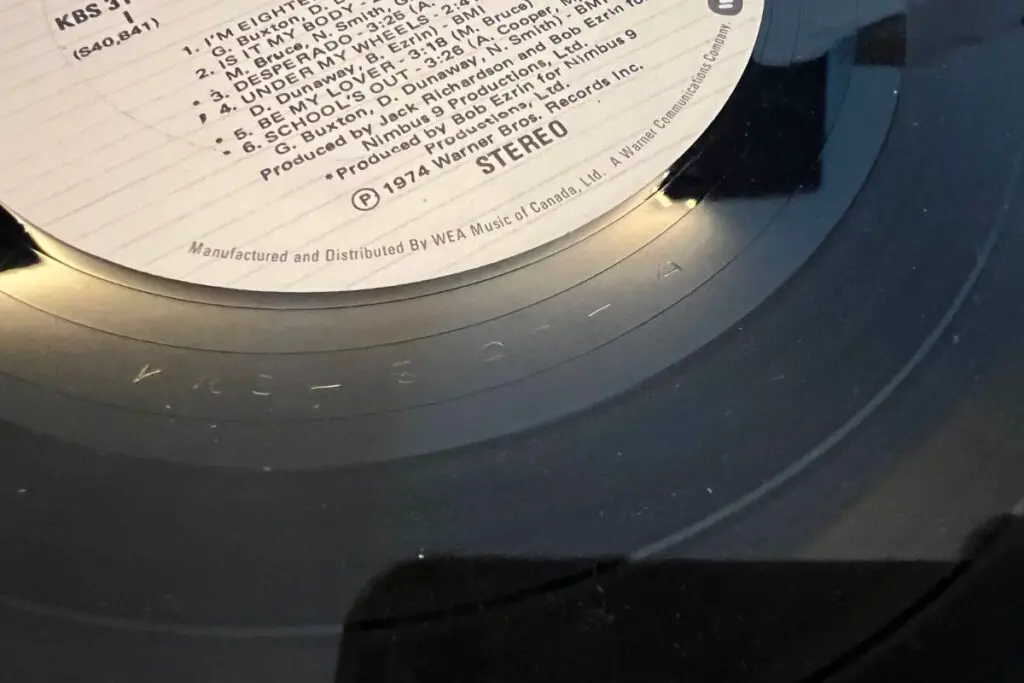 Sometimes, the matrix number is etched into the vinyl record by hand, but this doesn't mean the record is fake. Both sides of the vinyl disc have different identifying numbers, which you can find online to check a record's authenticity. 
Matrix numbers have no specific meaning, so deciphering what each letter and number means won't help you identify a fake vinyl record. However, it is an excellent tool for determining whether an album is an authorized and official release. 
Check the Spacing Between the Letters and Numbers
The size and shape of a matrix number on a specific official release should always look the same. The font size and spacing between the different letters and numbers should be consistent, which is hard to achieve on a phony record.  
Counterfeit manufacturers don't have the official stamps explicitly made for a particular vinyl record, so reproducing a perfect copy is impossible. 
You must carefully check the matrix numbers on a record, as the difference between fake and authentic can be minimal. Always search for the original pressing's matrix number online and compare before you buy. 
Inspect the Etched Numbers
The matrix number on an actual, high-quality record is usually a deep stamp into the vinyl, resulting in clear and neat etchings that users can easily identify and read. Matrix numbers that are superficial and hard to read often indicate forgery. These presses are hastily made and have a different quality than the officially released vinyl records. 
4. Quality of the Vinyl Record
Thickness and Flexibility
You can tell a genuine vinyl record from a fake one by testing its flexibility and measuring the disc's thickness. Professionally made pressings use good quality material to ensure the product's longevity, and less flexible discs mean they are less prone to breakage. Increased thickness means increased stability on your record player, but it's also more costly.
Counterfeits preceding the 70s were often much thinner and more flexible than their original counterparts. Using cheaper materials in fake records production cut effort and cost for manufacturers, so more counterfeits could be sold on the market. This is why there are more fake vintage records than modern ones, as vinyl albums were the only way people could listen to music recordings back in the day.  
Sound Quality
Fake vinyl records usually feature lower sound quality than original releases, so test the audio quality of the record you want to buy whenever possible. For this reason, purchasing vinyl from a physical store is much better than ordering one online, as most stores have listening stations for customers.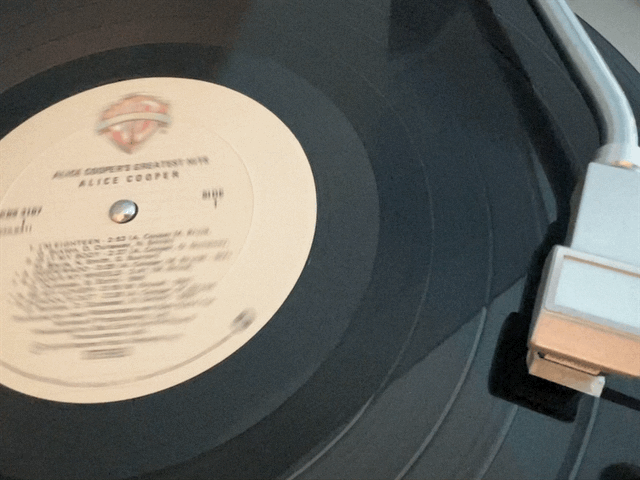 The first editions of a vinyl record have the best sound out of all reissues and counterfeits. If you don't think a record sounds crisp when you listen to it, it may be better to leave it on the shelf and continue your search.
Online Reviews 
Big online retailers, like Amazon.com, usually filter out counterfeit products. When you try to buy vinyl online, Amazon will make sure that the copy is not an illegal duplicate. Additionally, the review section allows customers to write product reviews if they have a terrible experience with a record's quality or packaging.  
When a customer notices that they have received a counterfeit product and mentions this in a review, Amazon will put the product on hold and inquire into the seller and their products.  However, that is only sometimes the case, so you can't assume that a product is genuine because it's available on the website.  
5. Look at the Label
Similar to the sleeve, the label for an official vinyl record should be a professional-quality print. Labels on all original pressings are identical, including the position of the play hole in the center. Inspect the label for the following qualities: 
Print material 
Font size and spacing
Color
Fake record manufacturers often make tiny mistakes in printing the label as they rush to produce copies, so minor inaccuracies are assumed to go unnoticed by the customer.
Final Thoughts
In conclusion, you can determine the authenticity of a vinyl record by comparing it with details and images of original pressings. You can get a lot of information about official vinyl releases online. Still, it helps if you know what to watch out for when shopping for record albums.   
Here are some things you should look out for when trying to spot fake vinyl records:
The color quality of the print on both the label and the record jacket. 
The accuracy of the matrix number, including the font and spacing between characters.  
The position of words and numbers on the record sleeve and label. 
The sound quality. 
VacationVinyl.com is a participant in the Amazon Services LLC Associates Program, an affiliate advertising program designed to provide a means for sites to earn advertising fees by advertising and linking to Amazon.com. We also participate in other affiliate programs which compensate us for referring traffic.