This post contains affiliate links.
The 1960s had some of the best vinyl records of all time. It was an era where music exploded as many artists experimented with music and its meaning. You'll want the best 60s vinyl to grow your vinyl collection.
The best vinyl record of the 60s would have to be Sgt. Pepper's Lonely Hearts Club Band by The Beatles (1967). The Beatles were a generation-defining band, with this vinyl being one of their most groundbreaking. If you choose only to add one 60s vinyl to your collection, this should be it!
There are a few other classic 60s vinyl that you'll want to consider if:
Factors To Consider When Buying an Album From the 60s
When choosing new 60s vinyl to add to your collection, there are many factors to consider. If you're buying used vinyl, you should ensure they're in good condition. You'll also want to think about your music preferences and what you want to listen to.
Here are the main factors to consider:
Condition of the record.
Cost.
Impact the album had on the 60s.
Of course, when choosing the best albums of an era, you also want to make sure that they had an impact at the time. I'll cover all of these factors in more detail below.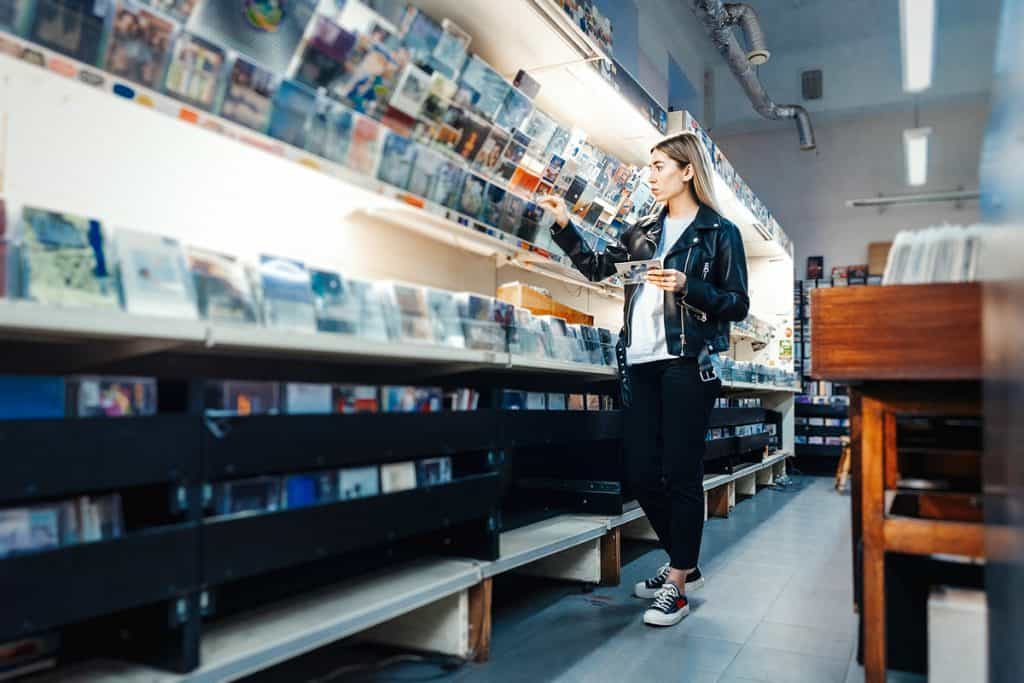 Condition of the Record
If you're looking into used records from the 60s, you'll need to make sure that you only buy vinyl albums that are in good condition. That way, you know that they'll sound amazing and won't have scratches, skipping spots, or warping that will impact the pitch of the sound.
Records from the 60s have very deep grooves, meaning the needle won't pick up on all scratches. Usually, you can get by with a "scratched" condition vintage record just fine. So, if the damage doesn't seem to be very deep, the album should still sound alright.
Run the tip of your finger gently over any scratches that you aren't sure about. If you can feel the scratch, it'll likely make a noise when you play it. However, it can still be worth buying old records with only a few minor damages.
Make sure you also tilt the album around in bright light. You may notice more scuffs than you could see before. 
Vinyl records from the 60s can have intense damage from the PVC sleeve degrading. You won't want to buy those records, as they sound awful. The harm comes from the PVC sleeve breaking down and reacting with the vinyl. You can tell this happened if the vinyl isn't glossy anymore.
This YouTube video discusses how you should inspect the album before buying:
However, suppose you aren't having luck finding original records from the 60s. In that case, there are still many reprints that you can easily find online. They sound just as high-quality and are new, so you won't have to worry about inspecting the record for imperfections.
If you want to check out these new records, I made sure to include links to all of the listed albums so you can find them quickly.
The Cost of the Vinyl Album
Next, you must consider how much you want to spend getting a new vinyl. Some albums can be expensive, especially if they're the original edition and are in pristine condition.
Vinyl records cost more than CDs, but it's well worth the cost for better sound quality. You can expect to spend between a couple of bucks and $40 for the album. However, rare records can cost hundreds of dollars!
Before buying the vinyl, make sure you consider how much you're willing to spend. It's easy to go overboard if you don't have a plan in mind first.
Also, used versions of popular records tend to be more expensive than modern reprints due to their collectible nature. You can avoid high prices by buying the reprints instead of hunting for the original 60s versions.
The Vinyl Album's Impact on the Music of the 60s
Finally, the best 60s vinyl records had the most significant impact on the 1960s. This decade was full of change in music, culture, society, and politics. It was also an era of protest and civil rights movements.
Music at the time was highly influential on the music that came after it. Many 60s albums revolutionized entire genres. If you want the best vinyl, you should choose the most important or influential albums.
Overall, the 60s was an era of massive change in America. You can find some of the most popular, world-renowned music on albums from this decade.
Sgt. Pepper's Lonely Hearts Club Band by The Beatles is still one of the greatest albums of the 60s. It was exciting and used studio methods that were revolutionary at the time. The album also takes on a life of its own through Sgt. Pepper himself– a character created by The Beatles.
The album uses tons of effects and unique instruments because they knew they wouldn't perform the songs live. Since it would be on record and radio only, The Beatles could use all kinds of new, wild effects without worrying about replicating them on the stage.
The group used new studio technology, innovative recording methods, and a never-before-seen concept. 
The record spent more than seven months at the top of the Record Retailer chart in the U.K. and more than five months as number one at the top of the Billboard charts in the U.S. Today, it's still one of the best-selling albums of all time. 
Overall, the record had an intense impact on pop music. The cover art was highly significant as well. The pop-art created by Peter Blake and Jann Haworth depicted The Beatles alongside famous historical and pop culture figures. The music and the cover art expanded on what was possible with music in the 60s.
Bottom Line: As one of the most popular albums of all time, Sgt. Pepper gets the best overall rank on this list! It continues to be a best-seller today, and if you love the 60s, then this vinyl is perfect for you.
Album Information
| | | | |
| --- | --- | --- | --- |
| Genre | Length of Vinyl | Number of Songs | Release Year |
| Pop, rock, and psychedelic | 39:42 | 13 | 1967 |
Pet Sounds by The Beach Boys was highly influential at the time. This album is known to have inspired Sgt. Pepper by the Beatles, making it a pivotal vinyl album for music history. You're sure to play it over and over again!
Pet Sounds like Sgt. Pepper heavily impacted the direction of popular music at the time. The album was unique and brought drastic changes to the world of pop music. 
The songs from this album used new techniques and classic ones, combining them to make something innovative. Over this revolutionary recording, the band layered on emotional lyrics to create a mix that captivated a large audience.
The songs were all connected, which wasn't as common for albums of the 60s. 
The record even had cohesive themes that linked all the tracks together. According to Rolling Stone, Pet Sounds encapsulates the era it was born in, touching on the opposing forces of growing up vs. maintaining a youthful innocence, capitalism vs. art production, and free-thinking vs. following the norms of society.  
This "concept album" style was new, but it changed music forever. 
Bottom Line: Pet Sounds is another album that significantly impacted music and culture in the 1960s. It even inspired Sgt. Pepper, which won the number one spot on this list. Experiencing this album on vinyl is the best way to listen. 
Album Information
| | | | |
| --- | --- | --- | --- |
| Genre | Length of Vinyl | Number of Songs | Release Year |
| Pop, art-rock | 35:57 | 13 | 1966 |
Let It Bleed by The Rolling Stones is another top album of today and one of the best rock albums of the 60s. 
It's a darker album, yet still very impactful at the time. The most important songs are the opening track, "Gimme Shelter," and the ending song, "You Can't Always Get What You Want," which are still radio staples of today. They deal with themes of disappointment, desperation, frustration, and fear.
The album reflects the social and political unrest in the 60s. The influence of the Vietnam War, protests, riots, and other significant events led to the darker nature of the songs. "Gimme Shelter" was the most popular song, with Mick Jagger implying he wanted shelter from all the awful stuff happening.
In short, this album captures some of the darker moods of the era, making it a timepiece that captured the 60s ethos. It was a time of unrest and significant change that led to Let It Bleed.
Bottom Line: If you enjoy music with darker themes and love rock, then you'll want to listen to this influential album on vinyl.
Album Information
| | | | |
| --- | --- | --- | --- |
| Genre | Length of Vinyl | Number of Songs | Release Year |
| Hard rock | 42:21 | 9 | 1969 |
Highway 61 Revisited by Bob Dylan reached number three on the Billboard top charts and four on the U.K. charts. 
Today, most people view it as one of the best albums of all time and Bob Dylan's masterpiece.
Bob Dylan was born near Highway 61 and felt that he'd started his life on it. 
In his book Chronicles, he says that he would always be on Highway 61 and could take the road anywhere. In the album, he "revisits" the highway. This album would become genre-defining for folk and blues music as Bob Dylan stepped away from only using acoustics in his music.
Bottom Line: This album was highly different for Bob Dylan. It's perfect for folk and blues lovers who want a unique sound, but it's also a staple in any pop or rock record collection. 
Album Information
| | | | |
| --- | --- | --- | --- |
| Genre | Length of Vinyl | Number of Songs | Release Year |
| Rock, folk, blues | 51:26 | 9 | 1965 |
The Dock of the Bay by Otis Redding wasn't a protest album, but it sure sounded like one. It carried a universal message with themes of despair that many people deal with every day. However, shortly after its recording, Otis Redding passed away in a plane crash.
This record would become the first posthumous release to reach number one on the Billboard charts. It was highly influential, leading to many other artists covering it. Today, you'll hear these songs scattered in movies about the 60s, and it's truly a mark of the era that continues to leave an impression on the modern era. 
Bottom Line: This album is best for those looking for a 60s soul-genre experience. It carries many themes that people deal with every day.
Album Information
| | | | |
| --- | --- | --- | --- |
| Genre | Length of Vinyl | Number of Songs | Release Year |
| Soul | 30:07 | 11 | 1968 |
Lastly, if you want to experience music from a compelling voice, you'll want to check out this Etta James album. 
The songs are about loneliness and love, and they manifest in powerful, emotional ballads that have become staples on the radio and in private music collections. The album is a classic, with At Last! being about finding true love. You've likely heard it at weddings in the past.
The album spans many genres due to Etta James's wide range. Her music would inspire many others, including Janis Joplin and Beyoncé.
Bottom Line: This album includes the classic love song that gives the record its name. It also contains many songs about loneliness that many people can relate to.
Album Information
| | | | |
| --- | --- | --- | --- |
| Genre | Length of Vinyl | Number of Songs | Release Year |
| Blues, pop, soul, R&B | 29:11 | 10 (14 on some re-releases) | 1960 |
Key Takeaways
To summarize, you'll want to consider the condition of the record, how much it costs, and what meaning the album had in the 60s.
There are plenty of popular vinyl records that you can find, but Sgt. Pepper is one of the best. It was famous as soon as it was released and continues to be a fantastic album today.
The 60s was the birthplace of new, unique music, whether it's rock, blues, soul, pop, or love ballads. 
Check out the Sgt. Pepper's Lonely Hearts Club Band vinyl on Amazon.com now.
VacationVinyl.com is a participant in the Amazon Services LLC Associates Program, an affiliate advertising program designed to provide a means for sites to earn advertising fees by advertising and linking to Amazon.com. We also participate in other affiliate programs which compensate us for referring traffic.