This post contains affiliate links.
Los Angeles, the music-making capital of the United States, boasts plenty of places to buy all kinds of music records — from the latest and greatest to rare, vintage finds. However, there are so many of them that it can be difficult to decide where to find a place that'll provide consistently high-quality discs and gear. So what are the best vinyl record stores in Los Angeles?
The best vinyl record stores in Los Angeles are:
Amoeba Music
Poo-bah Records
The Record Parlour
Freakbeat Records
Record Surplus
Gimme Gimme Records
Rockaway Records
Cosmic Vinyl
This article will take a look at each of these music stores and how they operate. It'll explain what makes them unique from each another since, although they primarily sell records, they also have other things that set them apart and give them their own flair.
1. Amoeba Music
Amoeba Music has three different locations throughout the state of California. The company was initially started in Berkeley in 1990 and later opened a San Francisco outlet before its first Hollywood location opened in 2001. In April 2021, the store moved to its current home on the Sunset Strip in the middle of the Entertainment District.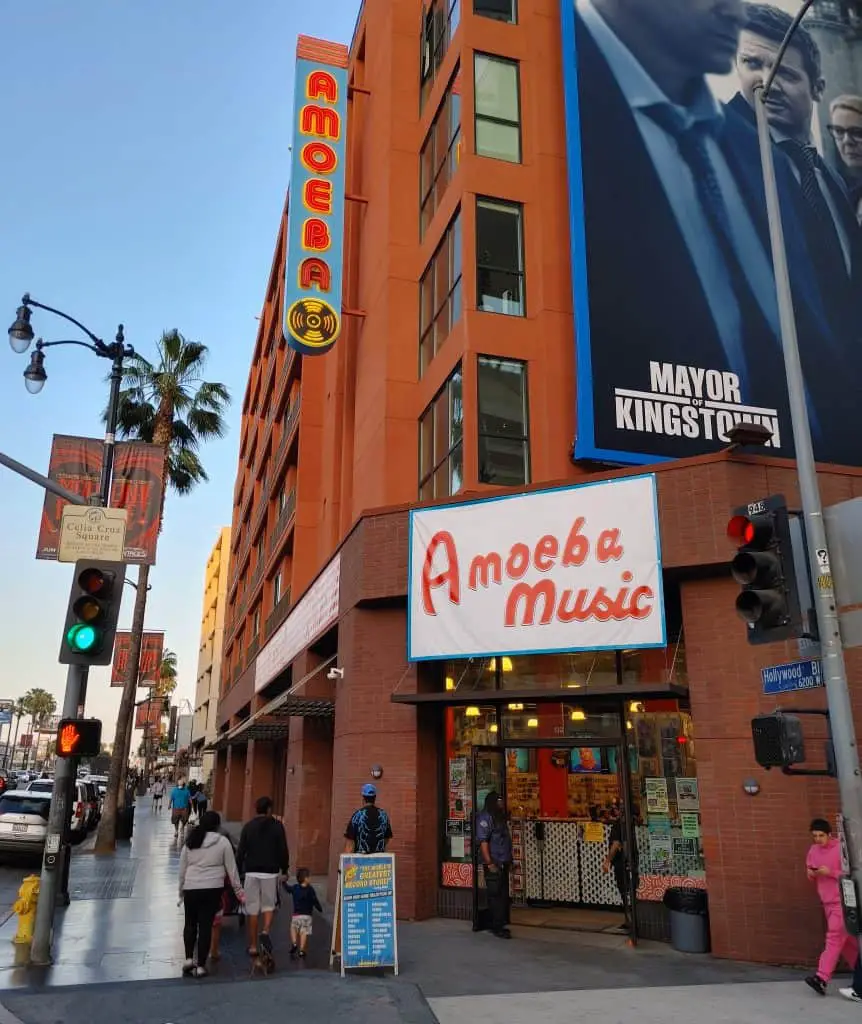 Although the bestseller in this store is vinyl records of all sizes, they're certainly not the only things you can find there. Amoeba Music is also home to CDs, DVDs and Bluray, turntables and vinyl accessories, books, pop culture- and recording artist-inspired T-shirts, and various collectibles.
In addition to selling all sorts of exciting products, the staff at Amoeba Music are also always on the lookout for gently used items from the public. CDs, LPs, DVDs, 45s, books, and video games can be brought into the store for inspection and traded for cash or store credit if in the proper condition. This company is pretty flexible when buying extensive collections with rare titles and will make house calls for batches of 500 or more CDs and LPs.
Amoeba Music also enjoys interacting with the Los Angeles community at large. They often have open live performances and musical events for passersby to come and enjoy free of charge. These shows give both well-known and indie artists a chance to present their latest work to the public and allow locals to find new music to listen to. As you know, in the highly competitive music and entertainment industry, underrated talents deserve their place in the spotlight.
The store also puts aside part of its revenue for large and small charitable organizations. Amoeba Music supports several local Los Angeles nonprofits and donates to nationwide philanthropies like the American Red Cross and Humane Society of America. The company believes it's important to give back to the community that has kept it alive and thriving for so many years. 
So, if you're looking for a place to support for all the right reasons, Amoeba Music is a good choice. 
Note that each of the three branches of Amoeba Music has its own operating hours. For example, Amoeba San Francisco is open from 11:00 A.M. to 8:00 PM every day of the week, while Amoeba Berkeley and Amoeba Hollywood's operating hours differ from Monday to Thursday and Friday to Sunday.  
2. Poo-bah Record Shop
Poo-bah Record Shop, the oldest shop on this list, opened in Pasadena, California in 1971. For the first few decades of its operation, the store sold music under genres such as funk, jazz, and soul music. In recent years, it's become the leading Los Angeles store for fans of underground hip-hop and experimental music.
Poo-bah sells different records along with CDs and concert tickets to local shows. The staff members are always looking for the next big music trend, so they're also open to buying and trading for records from potential customers.
The success of the Poo-bah Record Shop store prompted the owners to start a record label of the same name. Aside from the record store being a haven for those with vibrant, offbeat tastes, the label now provides an outlet for indie artists to create unique music in a comfortable setting.
3. The Record Parlour
Located in "the Heart of Hollywood," The Record Parlour is a shop overflowing with all kinds of audio gear and gadgets. In addition to music discs, this company prides itself on selling new and restored equipment, including rare jukeboxes, vintage turntables, antique radios, restored consoles, guitar amps, and speakers from various brands.
As far as its music selection is concerned, the store boasts over 20,000 vinyl records, cassette tapes, 45s, and 78s. They're also willing to buy quality electronics and records in good condition that can then be sold to new owners.
The Record Parlour also serves as an event and performance venue. Many emerging artists play shows there to promote their music to the locals of Los Angeles in the hopes of making it big.
4. Freakbeat Records
Although Freakbeat Records is located a little out of the center of Hollywood, it's still a staple record store for Los Angeles citizens and tourists alike. This shop is in Sherman Oaks, a San Fernando Valley suburb. The website for Freakbeat Records claims that "we may not have everything you want, but we always have something you need." 
That bold statement certainly rings true, as the store has massive sections dedicated to old-school and recent rock'n'roll, disco, soul, hip-hop, funk, and other genres.
A large portion of the store is dedicated to the 99-cent room, where thousands of secondhand LPs and CDs are restocked daily. This room is a haven for those who aren't sure what they are looking for and want to find something interesting that they haven't heard before (and won't break their bank).
5. Record Surplus
With over 100,000 vinyl records and CDs, Record Surplus is one of the largest independent record stores in Los Angeles. It was founded in 1985 and has been selling music discs, along with cassette tapes and DVDs, to Hollywood denizens ever since.
The store is known for carrying special vintage vinyl and rare first pressings of some of the most popular albums of all time. However, if you're on a tight budget, you can check out "The Attic." This separate room is the bargain section of the store, and it holds $1 vinyl and CDs that are continually updated every week.
The owners of Record Surplus also have a passion for giving back to the community. A portion of the earnings the store makes goes to supporting local music nonprofit groups. The shop also works to raise funds for the public radio system and provides local professional DJs with networking opportunities and access to music from a variety of genres.
6. Gimme Gimme Records
Gimme Gimme Records has a slightly different origin story than the rest of the shops on this list. The owners originally opened a store of the same name in 1994 in the East Village of New York City — all the way across the US of A! During that time, they prided themselves on selling vinyl even though CDs were more popular. 
The brand transferred to Highland Park in Los Angeles in 2012 and now prides itself on continuing to sell vinyl after vinyl came back in fashion with younger generations.
The store is an all-vinyl shop, meaning they only sell LPs and 12″ and 7″ singles. There are no CDs or cassette tapes here since the store wants to keep its stock the way it has been since it opened.
The store is proud of its wide variety of music genres, ranging from mainstream choices like rock, jazz, and hip-hop to more eclectic choices like movie and Broadway soundtracks, gospel hymns, and artists from around the world.
The staff at Gimme Gimme Records buy used records and enjoy the hunt for rare and unusual vinyl. They're willing to pay good money for titles that are difficult to find, along with extensive music industry collections. They're also open to making house calls and even traveling for massive collections that include unique albums.
7. Rockaway Records
Located in the Silver Lake neighborhood of Los Angeles, Rockaway Records has a very different approach to selling than most of the other stores on this list. The store was founded in 1979 and sold vinyl and CDs to customers in a typical fashion for many decades.
Rockaway Records focuses specifically on selling rock'n'roll-themed items. The store's location in Los Angeles gives the owners access to music executives, engineers, label bosses, and promoters who are more likely to have significant collections of music and specialty items.
In 2021, the shop completely changed the products it was selling and how it was going to sell those products. Perhaps the most notable change is that Rockaway Records no longer accepts walk-in customers. Instead, if people want to buy or sell items, they must call the store in advance and make an appointment to stop by. 
While this was in part due to the COVID-19 pandemic, the owners also wanted to make visiting their shop more of a personalized experience.
Of course, that may be a dealbreaker if you're the type who enjoys window-shopping without knowing where you'll end up. But if you're a music fan looking for a unique shopping experience, Rockaway Records may be a good place to drop by. 
The other significant change that occurred was that the store stopped selling CDs. Rockaway Records used to focus on CD sales, but because these are no longer trendy, they just began to take up valuable space in the store. The owners decided to utilize that space for a better purpose, and it's now dedicated to vintage vinyl, collectibles, and high-end rock memorabilia.
8. Cosmic Vinyl
Cosmic Vinyl stands out on this list because it's far more than just a place to buy records and audio equipment. It opened in 2016 as a typical vinyl shop on Sunset Boulevard in Los Angeles after the owner spent over a decade collecting and selling records.
In October 2020, the owner decided to make the store a joint record shop and vegan cafe. Now, aside from selling vinyl, cassette tapes, audio gear, clothing, and accessories, Cosmic Vinyl also sells hot and cold teas and coffees, sandwiches, and pastries. So, you can grab a record that suits your fancy and enjoy your daily cup of joe at the same time. 
On the music side of the store, there are dollar record bins to sift through, along with a curated collection of rare and vintage records. Hi-fi gear like audiophile systems, vintage turntables, receivers, and other components are also available.
The staff at Cosmic Vinyl are always looking to buy out extensive collections of records in high-quality condition. If the list of titles sounds good, they will come to the seller's house to see the collection and potentially negotiate an offer.
You may also be interested in these articles:
VacationVinyl.com is a participant in the Amazon Services LLC Associates Program, an affiliate advertising program designed to provide a means for sites to earn advertising fees by advertising and linking to Amazon.com. We also participate in other affiliate programs which compensate us for referring traffic.