This post contains affiliate links.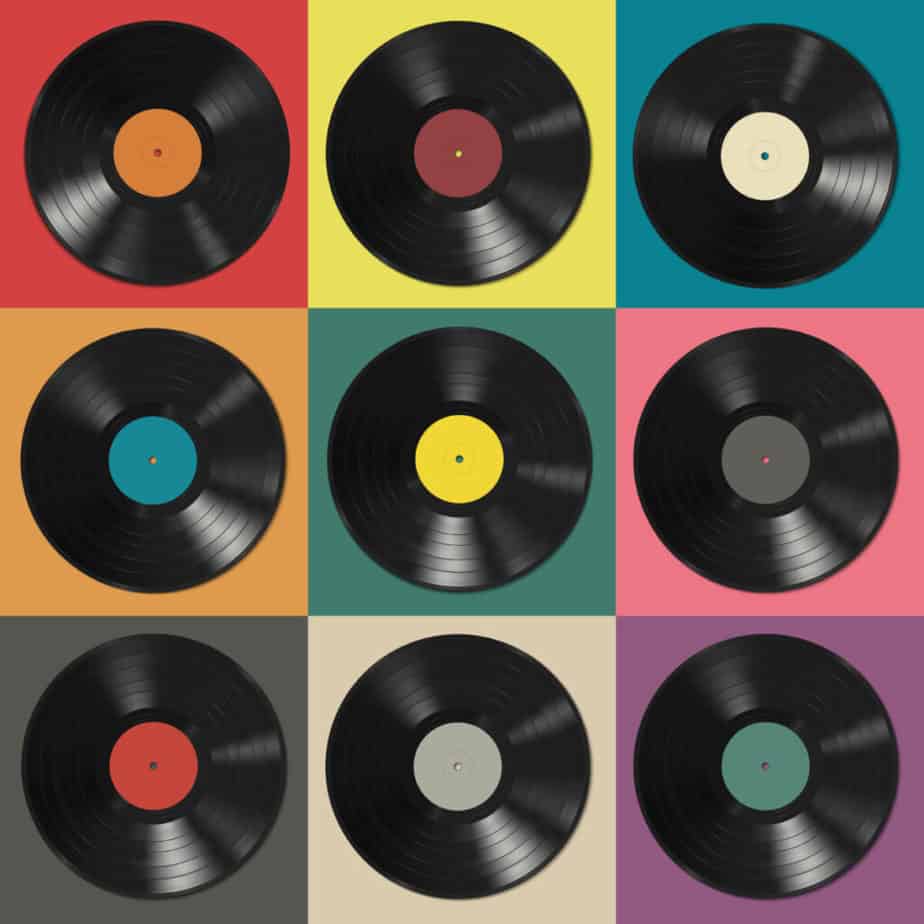 With the 80's making a surging comeback, vinyl records have become trendy as of late. With artists releasing albums on vinyl and record shops popping up in every city, there is a growing conundrum: stacks of thin, perfectly square vinyl records with nowhere to store them. In this article, we will turn to Ikea to help us find the most chic ways to house our vinyl.
Kallax Shelves- A Vinyl Staple
Kallax shelves are those square cube shelves that look like a physical version of the graph paper you used in seventh grade, and Ikea practically invented them. Kallax shelves usually have pretty equal dimensions, 13×13 inches and about 15 inches deep, making them the perfect place to store vinyl records, which typically have similar dimensions at 10 inches on average. This sizing is pretty consistent, although you can find cubes to house vinyl with smaller or larger dimensions.
The style of kallax units can vary greatly, with some units being low to the ground and small enough to fit comfortably in a corner where they won't be the center of your home. These smaller units look elegant in any space and are light enough that they can be hung on the wall for a modern 'floating' shelf. On Ikea, kallax ranges from four shelves to twenty five. Have a lot of vinyl? A larger unit is a nice thing to place against the wall with small potted plants, framed pictures, and of course vinyl in the windows. Check out the largest unit available here.
If you are not a fan of the homogenous look of kallax shelves with all the same dimensions, don't despair! Ikea offers a tall kallax shelf with different sized cubes for a more modern, eclectic look. That way, you can house your vinyl in a neat space that also lends a nod to the look that you are trying to create. Check this shelf out here.
Ikea offers three color choices for kallax: black-brown, light effect light gray, and white. If you like a more classic style, black-brown might be a good choice, while gray and white make good accents to a minimalistic space.
Overall, kallax shelves are really a perfect option for housing vinyl due to their seamless, compact feel and accommodating dimensions.
Types of Kallax Inserts
A great way to turn a standard kallax shelf into a cozy piece of home furniture is to put storage boxes inside the shelves. Not only will this add a unique accent to your home that is difficult to replicate, but it will add a splash of color that will make the unit look like a work of art. Additionally, some people might be worried about their vinyl getting bumped and falling off the shelves. Kallax inserts ensure that they rest easy as their possessions are not only stored but protected.
Ikea offers many different types of storage boxes. One is a the Lustigkurre basket, an intricately woven seagrass basket that has a braided wheat pattern. While a bit pricer at $12.99 per basket, these are a great way to beautiful any space. With dimensions of 12 ½x13x12 ½, they are also a perfect place to house vinyl records.
Another option is the Bullig box, a slightly smaller basket made of woven bamboo. According to the Ikea website, they press and treat the bamboo to give it its gorgeous natural brown color. These baskets are $9.99 a piece, and have slightly smaller dimensions at 9 ¾x12 ½x9 ¾, making them a great option for housing smaller vinyl. These baskets are great if you're trying to create bohemian living space.
If you appreciate a more vintage style or will be storing your vinyl in an office space, the Rejsa box might be a good addition to your kallax unit. This grey-green metal box is in the style of an old school filing cabinet. It has a place for a label on the front, so if you like to keep your vinyl separate according to artist or genre, the Rejsa box might be a good way to do that. The dimensions on these is 12 ½x13 ¾x12 ½ inches and $17.99, but because of the durable material, you would likely be getting your money's worth!
If you're looking to save money or fill up a particularly large kallax shelf, the Fysse box is perfect. A fabric box that comes in one color- dark grey- this insert is a great choice for people looking to simplify their home. One box is only $2.99, and the dimensions are 11 ¾x11 ¾x11 ¾, making it suitable for all but the largest vinyl.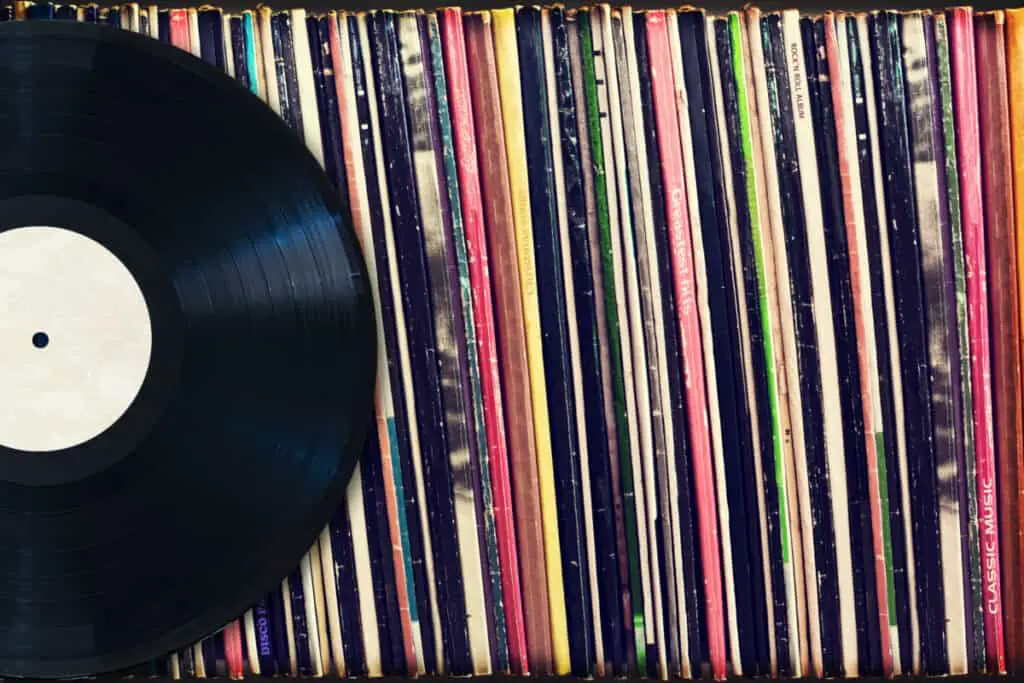 Things You Can Do With Kallax
While the kallax unit may simply look like a glorified book shelf, there are many different ways to organize the units that will fit into your everyday life. The most common option is to make it a beautiful center feature for your home. This unit has numerous windows of different sizes in which you can house vinyl, seashells, flower pots, and even artwork! To get ideas of how you can turn your kallax unit into an eye-catching display, see this blog.
TV stands are functional and creative ways to optimize space while also showing off the spines of your colorful vinyl. Ikea's Lappland unit is a good example of this, with a space made for a television and kallax shelves surrounding it. The Kallax/Lack unit has one horizontal and one perpendicular shelf, and an open space on which a TV can be placed. It is slightly cheaper than the first option, and forms clean, simple lines with its kallax boxes. These boxes make a great space to adorn with decor or to store vinyl. Personally, we believe there is no better way to adorn your TV than with a bunch of colorful vinyl!
Another thing you can do is make your kallax unit into a piece of furniture: a bench, a window seat, or even a couch. Window seats are a lovely option if you like to listen to records in a bedroom or office space. It is also a great, space-saving way to store your vinyl while also basking in a comfortable window view. Kallax window seats make for a perfect reading (or listening!) nook. Ikea doesn't sell window seats online, but you can make one yourself by adhering a cushion to size on top of a small kallax unit such as this one. We will go more in-depth about these options in the sections below.
Storage Benches- A Minimalistic Approach
Multifunctional units- every home designer's dream! We think we've talked sufficiently about the merits of kallax for maintaining a minimalistic lifestyle, but it's about to get better: not only are storage benches a great addition to an office or mud room, they are a classy way of storing your vinyl as well. Depending on the style and the way you like to design your house, storage benches can be sparse or luxurious, with hidden space or open display windows. If you like to display your vinyl for all the see, we recommend something like the Panget, a beachy white and blue cushioned bench with space for storage on the bottom. If you're looking for the kind of storage bench that you'd place at the end of the bend, you might look at the Inndyr bench, a dark grey cushion that is an elegant edition to any home. This kind of bench is a great place to store vinyl if you'd like to keep it out of view.
Under-the-bed Storage
When storing vinyl under or around your bed, your best bet is to find a bed frame with a kallax unit underneath it, which is the perfect size for displaying upright vinyl records. However, there are also some great general storage options at Ikea that make it easy to store anything from vinyl to spare sheets. The Brimnes is our favorite option, and has several long storage boxes underneath and kallax style boxes along the side that accommodate vinyl records nicely. This is a great choice if you live in a small space or if you simply want to keep your vinyl records close at hand.
Looking for a holiday gift for a college student who loves vinyl? This is a great option. Not only are they able to protect their precious record collection, they can also organize them nicely in the Brimnes.
Filing Cabinets
We know what you're thinking…boring! But trust us, this old school style is making a comeback. Even lockers are being implemented into home decor for a uniquely chic look. Check out this article if you're curious how! Ikea sells many varieties of filing cabinets, including the Idasen, which is the perfect size for storing vinyl records. Choose a finished blue, white, brown, or classic egg shell colored cabinet from Ikea, or go thrifting and refurbish your own filing cabinet.
This is also a great way to store records if you have a large collection. It makes them very easy to access and organize quickly.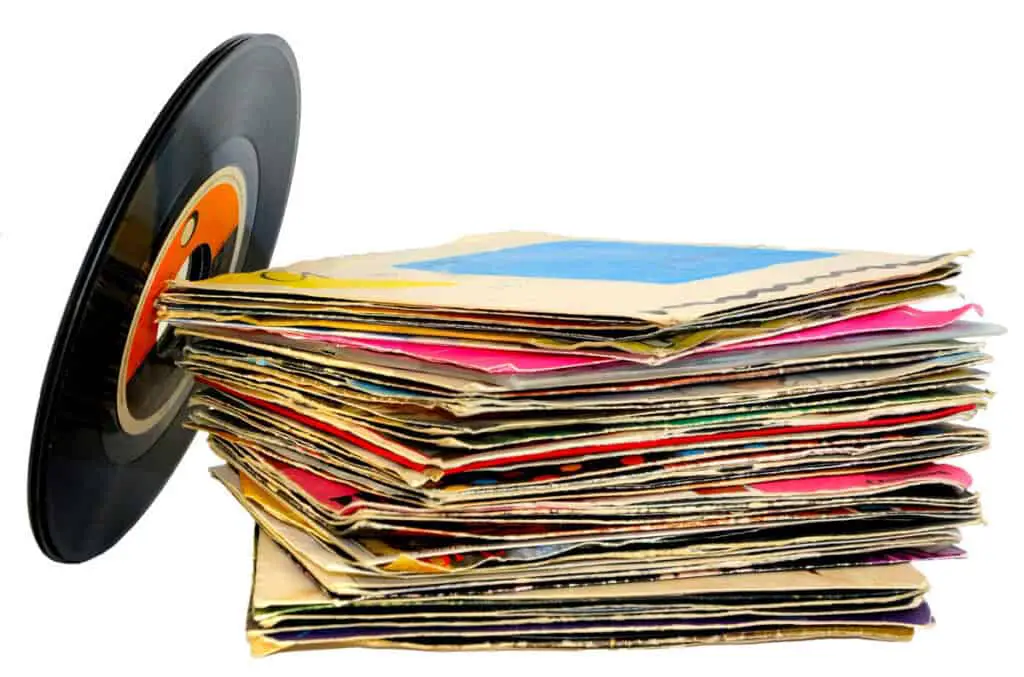 Smaller Shelf Units
While some people may wish to show off their vinyl, other may not have the budget (or the space!) to do so. Ikea offers a variety of smaller shelving units that can meet the needs of someone with less to spend and more minimal tastes. The Hyllis is a three tiered steel shelf that could easily blend into any space. At only $9.99, it also accommodates any budget. With dimensions of 23 5/8×10 5/8×29 1/8 inches, this shelf is best for storage larger vinyl upright or smaller vinyl stacked. For an even smaller shelf, Ikea's Dynan cabinet is a simple white storage unit that is small enough to fit into a closet. The dimensions are 15 3/4×10 5/8×21 1/4 inches, making it perfect for vinyl.
Traditional Book Shelves
Bookshelves! How did we not mention them before? Traditional bookshelves are an obviously sensible option for storing vinyl, even alongside your books and other newsprint. While most of the other storage methods are more clean and modern, nothing screams vintage chic like a wooden bookshelf. One of our favorites is the Laiva, a black-brown bookcase that has shelves wide enough to fit vinyl records and is very budget-friendly at $19.99.
Another option for a traditional bookshelf is from the IKEA Billy collection. The Billy bookshelf collection has three different types of bookshelves depending on the exact dimensions you need for your record room. The bookshelves also come in three different color options. Color options include white, tan/natural, and black. The different size options for the Billy collection are listed below in the chart.
To view the product on the IKEA website, click the hyperlink of the name to be directed to the website.
| | | |
| --- | --- | --- |
| Name and Description | Dimensions | Price |
| BILLY (tall and thin) | 15 3/4x11x79 1/2 " | $39 |
| BILLY (tall and medium) | 31 1/2x11x79 1/2 " | $49 |
| BILLY (short and medium) | 31 1/2x11x41 3/4 " | $29 |
Wall Shelves
For someone who loves to showcase their record collection, wall shelves are great tool to use. They can be used to hold the entire collection, or to show off certain records. This is also a great tool to use if there are little hands in your home that love to touch the records. Having them hung high on the wall will keep them out reach of young hands, but easily accessible for yours.
One option we like for either a small collection or showcasing one record is the BERGSHULT / PERSHULT. With the panels coming up on either side, it sleek enough to emphasize the record(s) without taking away from the aesthetic that the record offers to the room and decor. This would be a great option for someone who has a couple favorite records they want to have on display as decoration and easy access. Having a couple of these hanging on the wall near the record player would really pull the room together and emphasis that it is the record-playing room.
VacationVinyl.com is a participant in the Amazon Services LLC Associates Program, an affiliate advertising program designed to provide a means for sites to earn advertising fees by advertising and linking to Amazon.com. We also participate in other affiliate programs which compensate us for referring traffic.