This post contains affiliate links.
Sonos speakers are classy, easy on the eyes, and have terrific sound quality. If you consider yourself an audiophile, there's probably nothing more exciting than pairing the uncompressed sound of a turntable with the power of a Sonos speaker. But how do you connect a turntable to your Sonos product?
Here's how to connect a turntable to Sonos:
Learn about the different options Sonos offers.
Check if your turntable has a phono preamp.
Purchase any required extras (such as cables or preamps).
In this first step, we will talk about the different Sonos options and how to connect Sonos speakers to your turntable (regardless of whether you have a phono preamp). If you have a turntable that doesn't have Bluetooth modality and a phono preamp, we will discuss that a little later. Let's dive in!
1. Learn About the Different Options Sonos Offers
If you're scouring the internet for information on how to connect your Sonos product to your turntable and finding very little information, there's a reason for it. Sonos sells a plethora of different products that can pair with a turntable. As you've probably found, each one connects a little bit differently. Not only do they connect differently, but they function differently as well. 
Below, we'll discuss the main Sonos products that pair with a turntable. We'll discuss what makes them different from the other options and how to connect them to a turntable with or without a preamp.
Sonos Amp
The Sonos Amp and Sonos Connect: Amp have line-in ports to connect your turntable to your other speakers. In general, amps take an electrical signal and "amplify it." You may be interested in this product if you want an undistorted sound through all of your speakers. It gives you more control, as you can adjust the bass, treble, and loudness. 
Amps are not speakers but means by which you can control the speakers you already have. They essentially power the speakers you have on your wall or your ceiling. If your home has Sonos speakers in each room that connects wireless or over your wired network. The Sonos amp will help connect your turntable to connect the rest of the speakers. 
Here's how to connect your Sonos Amp to your turntable:
You will need an RCA cable which you can find on Amazon here its not included with your Sonos Amp, plug one end into the turntable (or the turntable preamp if yours doesn't have a preamp built-in).

Plug the other end of the cable into the corresponding ports in the back of the Sonos Amp (IN).

Place a record on your turntable and play it.

Using the app, connect the amp to other speakers by going into the settings tab and looking for "Line In" devices.
The Sonos amp will typically work with speakers that need no more than 2*125 watts. If you already have your favorite pair of active speakers then you can easily integrate them into the Sonos ecosystem by connecting them to a Sonos Amp.
Sonos Amp is also often used for speakers connected to the ceiling or wall in your home. Now, you can enjoy the unfiltered record sound through all your speakers!
Sonos Five
The Sonos Five is an excellent choice if you want the power of a speaker and still need something that has a line in connection for your turntable.
This high-quality speaker has a 3.5mm input built into the back of it and comes with an auxiliary cable so you can hook it up to your TV, CD player, old iPod, or turntable. Unlike the amp above, the Sonos Five is a speaker, so you can plug your turntable in directly and start playing music in addition to connecting to other speakers on your Sonos network. 
To connect your Sonos Five:
Plug an RCA-Y cable (not included with Sonos Five) into the corresponding port on the back of the Sonos Five. This should be the side that only has one connector. If you don't have an RCA-Y cable I recommend this one from amazon.com

Connect the other side of this cable (which should have colors and two connectors) into the back of your turntable where the colors match up (or into a phono preamp if yours doesn't have one directly built-in).

Place a record on the turntable and start playing it.
If you'd like to connect it to other speakers on your Sonos network, you can go into the app and find the "Line In" option under settings. This way, you can hear the pure sound of your favorite record on the high-quality Sonos Five and any other speakers on your network. 
Sonos Port
Like the amp, the Sonos Port isn't something that will directly play your music aloud. Instead, the Port is kind of like a control tower for all the speakers within your home. It doesn't power anything like the amp but puts all speakers onto the same network. It's just like a Wi-Fi router that unifies all smart devices.
With Sonos Port, You can enjoy endless possibilities for multiroom listening and get the Sonos experience on your existing stereo, receiver, and turntable. You can also stream music, radio, audiobooks, and more from your favorite services.
The Sonos Port works with turntables just like both products mentioned above. Essentially, you use this product to connect your turntable to the network. 
To do this, you will:
Plug one end of the audio cable (not included with the Port) into the back of the Sonos Port. 
I recommend this RCA cable available from Amazon.
Connect the corresponding connectors into the turntable (or phono preamp) in the L/R inputs.
Play a record on your turntable.
Open the app and select the settings.
Find the "Line-In" option and connect this to the rest of your speakers (or the speakers you would like to use).
Now, your turntable will be a part of the more extensive network of speakers in your home. The added benefit of this with your Sonos app is that instead of just one speaker playing your music, you can have the cumulative sound of all of them playing it!
Sonos Speakers 
There are many different types of Sonos speakers, and you can connect via any of the options above using the "Line-In" option on your settings.
But what if you don't have any of the above products?
Unfortunately, no ordinary Bluetooth speaker will connect to your turntable unless you have a modern Bluetooth-enabled turntable. The above products work because they connect through some means to the turntable through a cable and can then connect via the Sonos app to other speakers (which is what makes Sonos so cool!). If you're struggling to connect a Bluetooth speaker to a normal turntable, you should consider purchasing the Amp, Port, or the Five.  
If you're still unsure which product is best for you, the audiophiles at Smart Home Sounds Ltd. have an in-depth video on selecting the right Sonos product for you:
They also go through a few different setups to inspire your next purchase.
2. Check if Your Turntable Has a Phono Preamp
You've probably noticed that I've referred to different turntable features already one important feature is the phono preamp. Some turntables have one built-in; others require an external phono preamp. The PCMag Encyclopedia describes a phono preamp as a "circuit that amplifies and equalizes." This thirty-minute YouTube video by the Audiophile mangoes in-depth about different phono amplifiers and their purpose:
For our purposes, we'll summarize that a phono preamp is an important part of your turntable system. It supports the sound, and it's needed to connect a Sonos speaker or a line-in chord. 
Turntable With a Phono Preamp
If your turntable has a phono preamp built-in, then congratulations! 
You won't need a secondary system to plug into your Sonos speakers. Instead, you'll just plug the line-in chords directly into your system.
If you are on the lookout for a new turntable and your goals would be much better suited to one with a phono preamp already built-in, we will give you a few suggestions for turntables with preamps already in them. Be wary, though. Some audiophiles still purchase a phono preamp separate from their built-in one to get the sound quality they like.
Here are a couple of turntables with excellent built-in phono preamps:
This turntable comes with a built-in preamp. It also comes in a few lovely colors. Audio-Technica products are known for being stylish and have tons of positive reviews on Amazon. This turntable would make a great addition to your audio setup, regardless of your aesthetic.
The Fluance vinyl turntable is sleek, attractive, and highly regarded. This one has a built-in phono preamp as well. It makes connecting it to your Sonos speakers a straightforward endeavor. The finish and hardware on Fluance turntables are particularly reminiscent of those old, classic vinyl players, which pay an homage to the past!
If you want to dig deeper into the subject then you can take a look at this article about the best turntables for Sonos.
Turntable Without a Phono Preamp
If you have a turntable without a phono preamp built-in, you aren't alone. In fact, most turntables are built without one. This just means that your phono preamp will need to come from an outside source, which you'll first connect to your turntable and then connect to your Sonos speakers.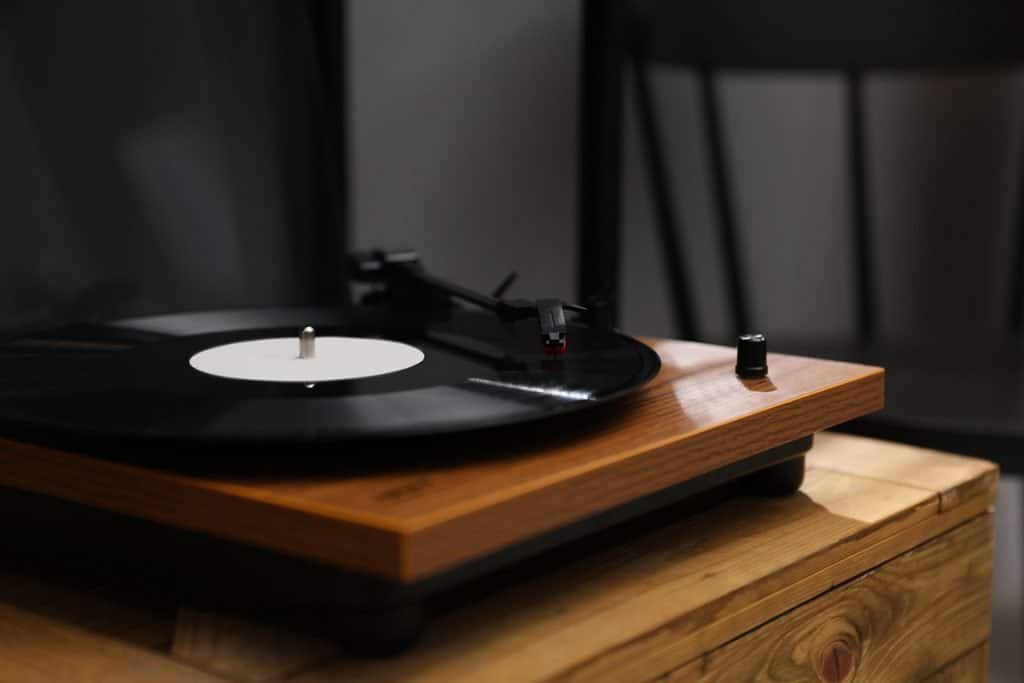 Why would someone make a choice to buy a turntable without a phono preamp if they're so important, though? Because many audiophiles already have their favorite phono amp that they want to use.
If an additional device with cables isn't a big deal to you, then this doesn't matter as much. Some people prefer the certain look of a turntable rather than the features, or it could have something to do with nostalgia.
Regardless, there are tons of low-cost and high-cost turntables that'll need a phono preamp to connect to Sonos speakers. Once you have your phono preamp, setting it up is fairly simple.
3. Purchase Any Required Extras (Such as Cables or Preamps)
As mentioned above, there may be a few other things you have to purchase, particularly if you don't have a turntable with a built-in phono preamp. Be on the lookout for RCA cables, which you need to connect your turntable to the phono preamp. 
A phono preamp is essential for the quality sound of your turntable. If sound quality is important to you (as it is with most vinyl listeners), you'll want to make sure you find one that doesn't filter out the sound of your records. Here are a few preamps I like: 
This phono preamp is simple, straightforward, and no-fuss. The sleek, gray design doesn't prompt much attention, which is perfect if you'd like to keep the simplistic look for your audio setup. The quality of this phono box is why it's listed on Amazon's Editor picks!
The Fluance PA10 is deemed High Fidelity for a reason. With over 85% of users rating it five stars, this phono preamp is a pick you can be confident in. The wood finish looks great with most entertainment centers, but it is a little larger than most preamps. 
This is a Tube phono preamp, but this might be a huge plus based on your style! Tube phono preamps use analogue tubes and valves to amplify the signal that turntables emit when they play vinyl records. Meanwhile, solid state preamps use silicon transistor components to amplify the same signal.
Audio Cables 
Most preamp setups will require an RCA cable or some other audio cable, which is usually included in the box. However, some may not come with it. When purchasing a preamp, look for information revealing what pairs with your turntable and what cables need to go between the preamp and the turntable.
Conclusion 
Sonos speakers have terrific sound quality that won't muffle the unfiltered sound of your turntable.
Here are a few things you need to remember:
You will need a "middle man" (such as the Sonos Five, Sonos Port, or Sonos Amp) if you are trying to connect your turntable to a Sonos Bluetooth speaker unless you have a Bluetooth turntable. 
If you don't have a phono preamp built into your turntable, you need to get one to connect to the Five, Port, or Amp.
You can use the app to connect your turntable to any speakers on your Sonos network.
VacationVinyl.com is a participant in the Amazon Services LLC Associates Program, an affiliate advertising program designed to provide a means for sites to earn advertising fees by advertising and linking to Amazon.com. We also participate in other affiliate programs which compensate us for referring traffic.