This post contains affiliate links.
Music enthusiasts and audiophiles alike enjoy listening to vinyl records for a superior listening experience. One of the biggest drawbacks of vinyl records is that you can't just carry them around when you travel. A good alternative is a USB turntable, which allows you to listen to your favorite LP by plugging the turntable into your laptop. And it's easy to digitalize your vinyl collection with a USB Turntable.
The best USB turntable for most people is the Audio-Technica AT-LP60X-GM. It offers high fidelity audio quality while offering a simple design for seamless use. Its automatic arm will ensure the integrity of your records, and its two-speed control will allow you to play a wide range of albums. 
I'll walk you through what you should consider before purchasing your first USB turntable. After that, I'll give you our top five USB turntable recommendations for different occasions. Keep reading to find out which USB turntable is best for you!
Things To Consider When Buying a USB Turntable
You need to understand what to look for in a USB turntable before investing your money in one. Luckily, you won't have to invest a whole lot of time into researching what makes a good USB turntable since we've already done that for you!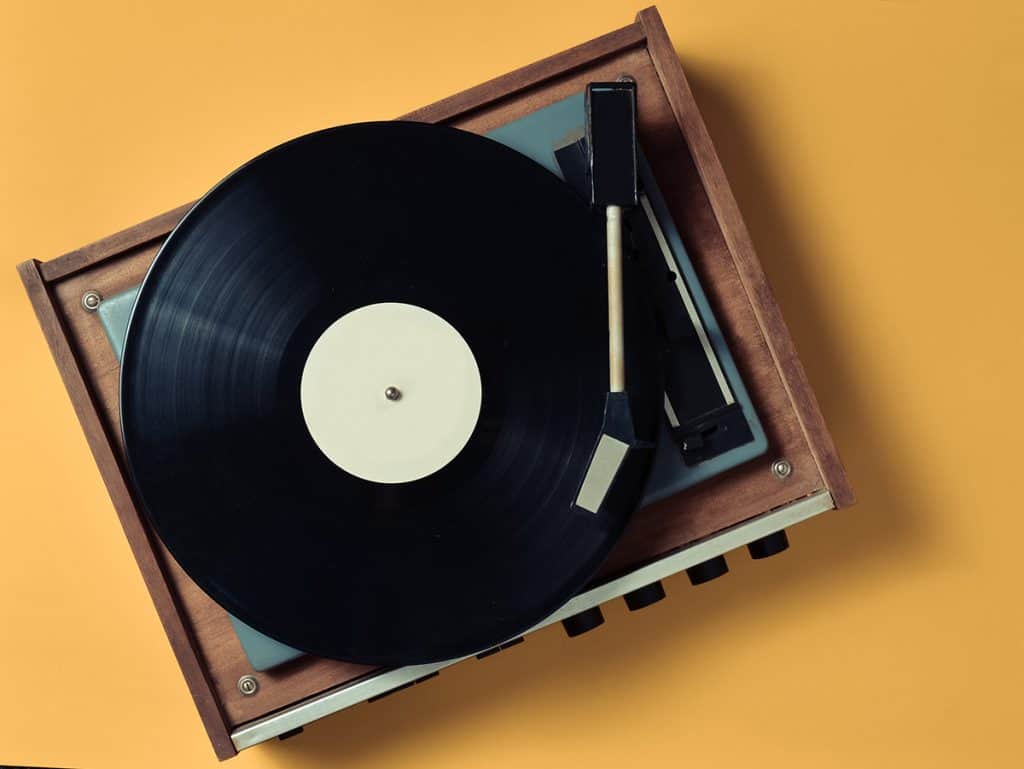 Before buying a USB turntable, you should be somewhat familiar with the following factors:
Preamp
Speed controls
Upgradeable cartridge
Arm rotation
Let us walk you through what each of these does and what you should know about them.
Preamp
The preamp will amplify the sound coming from your table so that you can play audio from your turntables in speakers or any other sound system. Many turntables come with a built-in preamp so that you don't have to worry about converting the signal when you plug it into an external speaker. 
As a fundamental part of USB turntables in the modern era, we have stuck with turntables that come with a preamp in this guide. You don't have to worry about amplifying the signal if you choose one of our recommended USB turntables below.
Speed Controls
Vinyl records are pressed at different speeds, which are measured in rotations per minute (RPM). Most records these days are pressed at either 33 ⅓ RPM or 45 RPM. Some older records may also be pressed in 78 RPM, although those are not that common these days. 
You will want a USB turntable that is capable of adjusting between 33 ⅓ RPM and 45 RPM at least so that you can listen to a wide variety of albums. All USB turntables in our guide can play records at 33 ⅓ RPM and 45 RPM, so you don't have to worry about buying the correct RPM record for your turntable.
Upgradeable Cartridge
Whether you're a record amateur or a seasoned pro, you will want to get a turntable that will give you the option to upgrade in the future. Being able to swap out the needle or cartridge will allow you to improve the sound quality of your USB turntable and also replace these parts if they get worn out after years of use. 
Upgrading a turntable cartridge is not that complicated, so don't worry if you feel like you do not have the know-how to do these improvements yourself. You can watch the following YouTube video to get an idea of how easy it is. 
Automatic vs. Manual Arm Turn
If you're new to the world of vinyl records and turntables, you may not know about the difference between automatic and manual turntables. This refers to how the needle, or stylus, is placed on the record to begin playing and lifted off the record to stop playing. 
Whether the machine does it automatically or whether you have to do it yourself determines if it is a manual or automatic turntable. 
You may think that this is a minor issue and one that is simply based on convenience or preference, but you should think carefully about which type of turntable you will choose. 
If you are a beginner and are just starting to grow your record collection, you will almost certainly want to go with an automatic arm-turn turntable. This will allow the machine to carefully play your records, thus eliminating the risk of accidentally damaging them. 
You may lose some sound quality due to the extra automation, but it's probably worth it to prevent causing some real harm to your records. 
If you already have some experience with record players and want to get the best possible sound quality, then you should go with a manual turntable. You will have to do all the work of raising the stylus and placing it on the record, and then lifting it off the record when done, but the sound quality will be second-to-none. 
We have included a mix of automatic and manual USB turntables in our guide below. Be sure to decide which type of turntable you want and pay attention to the type of arm turn to make sure you get the right kind!
Audio-Technica is one of the most respected brands in the music and sound production world. Known for offering superior quality at a small premium, any Audio-Technica turntable is synonymous with quality. 
The Audio-Technica AT-LP60XUSB-GM is a perfect USB turntable for music lovers and casual hobbyists alike. Its simple design with abundant features allows for a seamless listening experience without sacrificing audio quality. 
Bottom Line: Any Audio-Technica USB turntable is guaranteed to be a good choice, but if you're not sure where to start, then this is the right choice. The convenience of this machine, along with its high quality, makes it the clear winner for the overwhelming majority of high fidelity music enthusiasts, so unless you are a seasoned pro, you will not be disappointed with this machine.
Pros
Die-cast aluminum platter designed to minimize vibrations and reduce audio distortions.
Integrated switchable phono preamp for easy connection to external audio output sources.
Dual speed control plays 33 ⅓ and 45 RPM records.
Upgradeable stylus.
A fully automatic arm that allows for easy play.
Compatibility with Audacity Mac and PC software to easily convert records into digital files.
Cons
The built-in Audio-Technica cartridge is not upgradeable.
Ripped audio files may not be of the best quality. 
If hi-fi listening is your hobby, you might want to look for a record player that is designed for audiophiles. While this turntable won't allow you to make killer mashups or adjust the tempo, it will play some of the highest audio quality available today. 
The sleek and minimalist design will also ensure this looks great on your coffee table or on a stand in your living room or music room. While not necessarily the type of turntable you will want to carry around, it will definitely be a welcome addition to your house and could be great for people who love to entertain. 
Bottom line: This USB turntable is on the pricier side, so only get this if you are a certified audiophile. You will appreciate the turntable's superior audio quality, as well as its easy digitalization features. 
Pros
A built-in preamp that allows for seamless use of external speakers.
It comes with some of the most advanced speed controls in the industry, allowing you to play 33 ⅓, 45, and 78 RPM records.
A fully replaceable cartridge, which allows for a high degree of customization.
The semi-automatic arm allows for superior sound quality while still retaining a degree of automation.
Cons
Pricier than other turntables of similar audio quality.
Not fully automatic.
Few turntables are as easy to use as the Sony PS-LX310BT. This turntable was specifically designed for effortless use, allowing even the most inexperienced beginners to enjoy an enhanced listening experience. 
This turntable is so effortless, in fact, that you don't even need a cable. The Sony PS-LX310BT comes with built-in wireless support, allowing you to connect it to your computer via bluetooth or to bluetooth speakers.
Bottom line: If you're interested in developing a hi-fi listening hobby but don't have any experience with it yet, this is where you want to start. In addition to being extremely easy to use, this machine is a great balance of audio quality and price.
Pros
Integrated preamp for seamless use of external output sources.
Speed controls allow you to play 33 ⅓ and 45 RPM records.
Upgradable stylus for improved audio.
Fully automatic turntable.
Cons
The built-in cartridge is not upgradable or replaceable. 
The lack of a manual arm slightly affects the audio quality. 
This is the most affordable USB turntable of all five in this guide. Not only is it a relatively cheap option, but it is also the most environmentally-friendly one. The House of Marley turntable features eco-friendly and lightweight materials like bamboo without sacrificing audio quality.
This turntable also happens to have one of the most creative designs out there. By incorporating Bob Marley quotes and features, you can rest assured that this is a unique machine that can help you add personality wherever you decide to place it. 
It's recyclable materials also make it one of the lightest USB turntables out there. This could make it a great option if you're looking to purchase a highly portable machine.
Bottom line: If you're just a casual vinyl record enthusiast and are not looking to invest a whole lot into your USB turntable, this is the best option for you. Plus, you'll be helping the environment by purchasing a turntable that is made from mindfully sourced materials.
Pros
Built-in preamp for superior audio quality and easy use of external speakers.
Speed controls make it compatible with 33 ⅓ and 45 RPM records.
Upgradable stylus for improved audio quality.
Made from lightweight and eco-friendly materials like bamboo, recycled plastic, and recycled aluminum. 
Cons
Manual stylus, which means you will have to be careful when playing records to avoid damaging them.
Cannot upgrade the built-in cartridge.
Key Takeaways
USB turntables are great ways to listen to high-quality audio with the convenience of being able to hook them up to your computer via USB cable. We hope this guide helped you choose the best kind of turntable for you based on your needs. 
When buying a USB turntable, remember to pay attention to:
Whether the turntable comes with a built-in preamp.
The turntable's speed controls will allow you to listen to different records.
Whether the turntable will allow you to upgrade or replace the cartridge.
Whether the turntable is automatic or manual.
How to convert your vinyl to a digital format
One of the main reasons for buying a USB turntable is that you want to digitalize your entire vinyl collection or just a few vinyl records. It can be intimidating for the non-techie, but don't sweat. The process is pretty straightforward, and I wrote an entire article about all the necessary steps. Which you can find here: How to Convert Vinyl Records to Digital: 9 Easy Steps
VacationVinyl.com is a participant in the Amazon Services LLC Associates Program, an affiliate advertising program designed to provide a means for sites to earn advertising fees by advertising and linking to Amazon.com. We also participate in other affiliate programs which compensate us for referring traffic.