This post contains affiliate links.
Vinyl records are special to music lovers as they offer superior quality and experience of sound. For many, though, the artwork on the large sleeve covers is as valuable as the album it houses. Whether you want to preserve your records or transform a blank wall, there are many ways to display your favorite vinyl records on a wall.
Here are ways on how to hang vinyl records on a wall:
Use regular photo frames.
Get smart with play and display record frames.
Display artwork and vinyl together.
Use frames designed for vinyl records. 
Install shelves on your wall to place framed records.
Vinyl records are wasted when shoved away in a box or closet. Display the records you spent years collecting and enjoy the memory with each whenever you lay eyes on them. To help you do this, here are some easy ways to frame and hang your records on the wall. 
1. Use Regular Photo Frames
Using photo frames is the perfect way to frame and hang your records if you want a fun DIY project and use available materials. Regular photo frames, not specifically designed for vinyl records, are cheaper and usually come in packs of more than one. 
A vinyl record can come in three standard sizes:
7 inch (17.78 cm)
10 inch (25.4 cm)
12 inch (30.48 cm)
You can use a regular frame for photos to display your records, but the size should be at least 12.5 inches by 12.5 inches (31.75 cm by 31.75 cm) for the most commonly available 12-inch (31.75 cm) vinyl records.
The accurate size is 12.375 inches (31.43 cm), so a 12.5-inch (31.75 cm) frame gives adequate breathing space. If using a larger frame, use a large board sheet to create a border to accentuate the record and cover the extra space in the recycled frame. 
As a word of caution, do keep in mind that regular frames not specifically designed for vinyl records can cause damage and scratches to precious vinyl records and their album sleeves. A larger frame may not have the right clasps to secure the record in place, and regular frames do not have the special UV-protected glass that prevents sun rays from damaging records.
You can also buy photo frames designed for vinyl records that won't break the bank.
Photo Frames To Display Vinyl Records
You can pick up a pack of plastic frames of the right size from the nearest hardware store or use the ones already available to you at home. Just replace the photo inside with your vinyl record album cover.
If you're ordering online, it's best to buy photo frames specially designed with vinyl records in mind. Check out these frames from Amazon.com:
These classic black-bordered frames come in packs of 2 and 4. It can house a 12-inch (30.48 qcm) vinyl LP album cover that can be easily hung on your wall with the attached hanging hardware on the frame. The pictures can be swapped easily by using the tabs on the back, and you can display your current favorites on the wall. 
This multi-functional frame by MCS can display one record and album cover. Its polished front-loading glass protects the record from damage and scratches. It comes with a record spindle inside to keep the vinyl record in place and also has a keyhole to hand the frame easily on the wall with a screw or thumbtacks.
If you're looking for something in a different color than the usual black borders, this frame comes in gold and silver too. It has a protective film protecting the record on the front and back. The metallic look of the frame helps the colors in the album art stand out more, and the lightweight frame can be installed easily on any wall.
Use thumbtacks, double-sided wall tape, or screws to hang them on the wall like any photo frame. Make sure to map out the placement of frames on the wall with a pencil and a spirit-level ruler. 
2. Get Smart With Play and Display Record Frames
If you want a fancy display with easy accessibility simultaneously, this is the way to go! Play and display or swing-open record frames need to be hung once on the wall, and without disassembly, records can be changed in the frames. 
Best Frames To Play and Display
Whether you want to keep rotating your vinyl record display according to current favorites or to replace albums that you're done listening to, play and display record frames intuitively offer a solution for both. 
Here are two play and display vinyl record frames that we most recommend on Amazon.com:
These are excellent examples of safe storage with a stylish display for vinyl records. The strong frame will keep your vinyl record safe, and the clear acrylic on the frame is shatterproof and UV resistant, too. Its magnetic hinges allow you to access the frame and easily put in or remove the record from the frame. 
This set of four frames has a unique quick-release mechanism that allows you to open the frames with ease. Without the need to disassemble the frame from your wall, you can replace or play the vinyl record inside the frame. It has the classic black frames look that goes well with any decor in your room. 
This frame has a strong magnetic frame that clicks into place and keeps your vinyl record safe. It offers a tight space that keeps the dust and sunlight away from the records. The classic black frame gives the record a modern look and complements any decor. 
3. Display Artwork and Vinyl Together
You can find frames big enough to display the vinyl disc and its album cover together but to hold them securely in place, use frames designed specifically for this purpose. If using a regular frame, find a double photo mount to highlight the disc and artwork separately.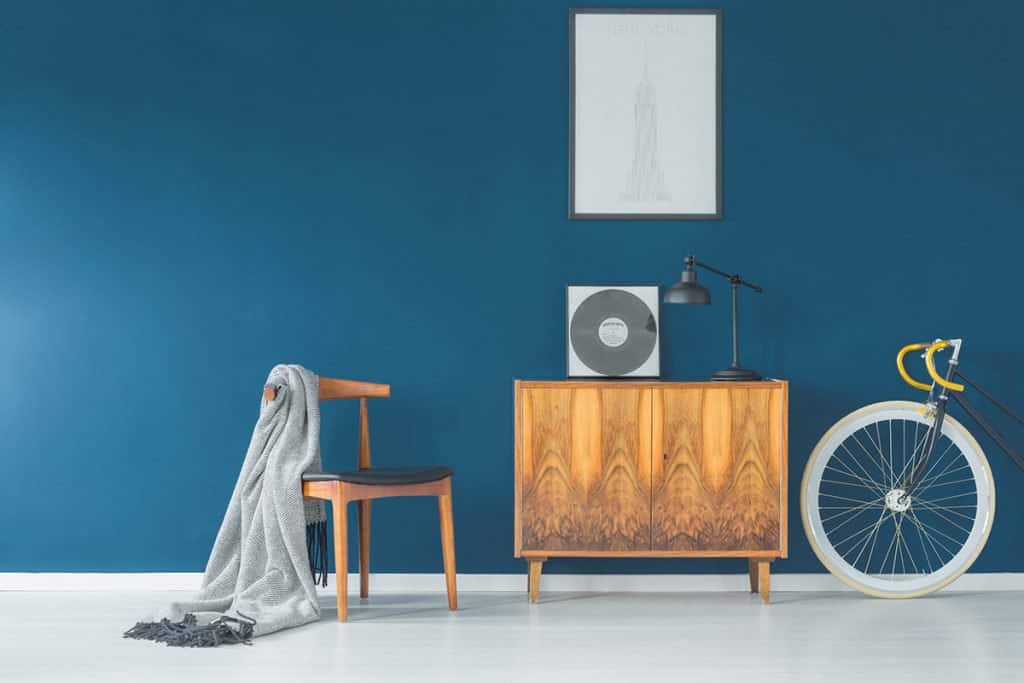 You can use jukebox frames, usually double matted, to accentuate the vinyl disc and its artwork separately. Or use unique props to display vinyl discs against their artwork on the wall. You can also find frames with a square frame for the album cover and a circular frame for the disc. 
Jukebox Frames 
These frames are a more permanent way of hanging records on walls and are the perfect fit for your autographed records or rare collections. They can be easily hung on the wall using the installed wall mounts in the frames.
This frame is available in double white or black matting and allows the display of one 12 inches (30.48 cm) vinyl record and its album cover in a unique style. It can be hung vertically or horizontally on the wall. All you need is to hammer nails on your wall or use a thumbtack for the sawtooth hanger installed in the frame. 
The same frame is available in 16-inch by 30-inch (40.64-cm by 76.2-cm) size, which adds significant space between the disc and artwork frames, highlighting each distinctively. 
These custom-made frames are the perfect fit for records very special to you. The frame can be custom ordered for thicker album sleeves or if you want to hang it horizontally. 
Its unique design gives the illusion of two vinyl records peeking out of the album sleeve. The frame also has real 45% UV glass to protect the vinyl record from damage and preserve it for a long time. You can increase the UV protection to 99% but with an additional cost.
Record Props
Record props are less traditional than the frame and display methods discussed. They allow you to display all parts of a record separately in an art-like manner. 
Remember that since these are frameless, they can cause damage to your records from air and sunlight and get scratched from the frequent replacement of records on the prop. 
These double-purpose record props allow you to display vinyl records with their album sleeve on the wall or tabletops. It takes around ten minutes to assemble this product, but it is easy to follow the instructions available on their site.
The final display looks like the record — its artwork floats on the wall, which adds to the aesthetics of your wall decor. 
4. Use Frames Designed for Vinyl Records
Buying a frame for vinyl records with the best reviews online is easy, but it may not be an ideal fit for your collection. Whether you want to display your favorite Beatles' large album artwork or preserve rare vinyl records, you have many choices. You can find multiple frames online that make vinyl records or the artwork a major focal point in your room. 
You can use Creative Picture Frames Double Vinyl LP Frame (available on Amazon.com) to display two vinyl records from your favorite artist or collection. The black matting adds a touch of class to your display and can blend in well with most decor. 
Also, from Amazon.com, this Frame My Collection Album Frame for Gatefold Album is perfect for your favorite vinyl sleeve. There's no need to fold the precious album cover and snug it away in storage. Display the large unfolded art cover in this UV-protected frame and let the thick black border accentuate the art cover on your wall. 
Once you have your frames sorted, you can hang them directly on the wall by using a nail and hammer and the hanging mount available on the frame. Or you can use EZlifego Double-Sided Tape or Amazon Basics Push Pins Tacks (both available on Amazon.com) to place the frames on the wall. 
Yet another option but one that may require additional tools is to install shelves to place your framed vinyl records on the wall. 
5. Install Shelves on Your Wall To Place Framed Records
Now that your vinyl records are framed, use different shelves or wall mounts to enhance your wall decor. You may need to be handy with your tools to hammer the shelves onto the wall. Once the shelves are in place, place your records on them, and you're set to go. 
You'll need shelves or wall mounts to ensure these will work. Here are some top recommendations, available on Amazon.com,  for your framed records:
These lightweight, clear acrylic vinyl records display your records without covering any artwork. The almost invisible shelves make your records look like they are floating, and their designs prevent slippage and sliding of records. If you want to save space, the 1⅜ inch (2.54 cm) space on the shelf is wide enough for up to three records. 
These adjustable wall mounts allow you to display your records by adjusting their height according to your record size. They are easy to install and reconfigured into a shelf stand. 
Watch the video below where the Youtuber explains the process of hanging your records on the wall using these album mounts:
These holders offer an extraordinary design for your vinyl record wall decor. One holder can hold up to five record albums and is an efficient wall display and storage solution. The ten degrees tilt to the holder allows efficient layering and browsing of records. 
You can use these shelves without framing the records. They offer an efficient storage solution. Remember to follow instructions on how to secure the shelves tightly on the walls. 
Final Thoughts
Vinyl records need to be stored in a safe environment to prevent damage, but if you frame and hang them the right way, you get aesthetics as additional functionality. 
You can pick up frames from a yard sale or use ones at home, but they might not hold the record securely in place. Instead, special frames for vinyl records are just the right size and usually have UV-protected glass to prevent color degradation from sunlight damage to your quality vinyl records. 
VacationVinyl.com is a participant in the Amazon Services LLC Associates Program, an affiliate advertising program designed to provide a means for sites to earn advertising fees by advertising and linking to Amazon.com. We also participate in other affiliate programs which compensate us for referring traffic.