This post contains affiliate links.
There is nothing more nostalgic than popping a vinyl into a turntable and allowing the music to take you back in time – back to memories of your grandparents and their favorite records playing in the background while you play a board game. Thankfully, we've found some affordable modern turntables to help you unlock those memories without breaking your bank. 
The best turntable for under $500 is the Fluance RT85. This turntable has the Ortofon 2M Blue, which provides excellent sound. It also comes with an Acrylic Platter that's heavy and dense, contributing to a more consistent speed and reducing vibration. The Fluance RT85 is well designed and superb. 
In this article, I'll walk you through the difference between a turntable and a record player. We'll also chat about what to look out for and expect from one priced at under $500. We'll also discuss each of these affordable turntables, along with their pros and cons.
Turntables vs. Record Players
A turntable and record player are pretty much the same thing; however, a few differences set them apart.
A turntable makes up a record player. It's the part of the record player that spins and holds the record. A turntable in itself has a plinth, platter, tonearm, motor, stylus, cartridge, and sometimes a preamp. A pure turntable doesn't have speakers or an amplifier, but it does have the ports for you to connect external components to it. 
Most vinyl record enthusiasts prefer a turntable to a record player because it's customizable, and you can add high-quality components to it. 
A record player is a convenient all-in-one audio system. It doesn't need external components to be added to it because it's already got everything it needs, from the turntable to its built-in speakers. A record player also has many more features than a turntable and can read various audio files, not just the vinyl records.
Record players aren't customizable like pure turntables are, and the components used in them aren't typically as high of a quality as the external component that you'd plug into your turntable. They're also bigger, heavier, and less portable than turntables.
Turntables aren't superior or inferior to record players. They both have their pros and cons and appeal differently to different people. What you intend to use your turntable or record player for will determine which is best for you. 
What To Look Out for When Buying a Turntable
Although turntables under $500 are still considered "budget" turntables, there are a few key questions that you need to ask yourself when making your buying decision.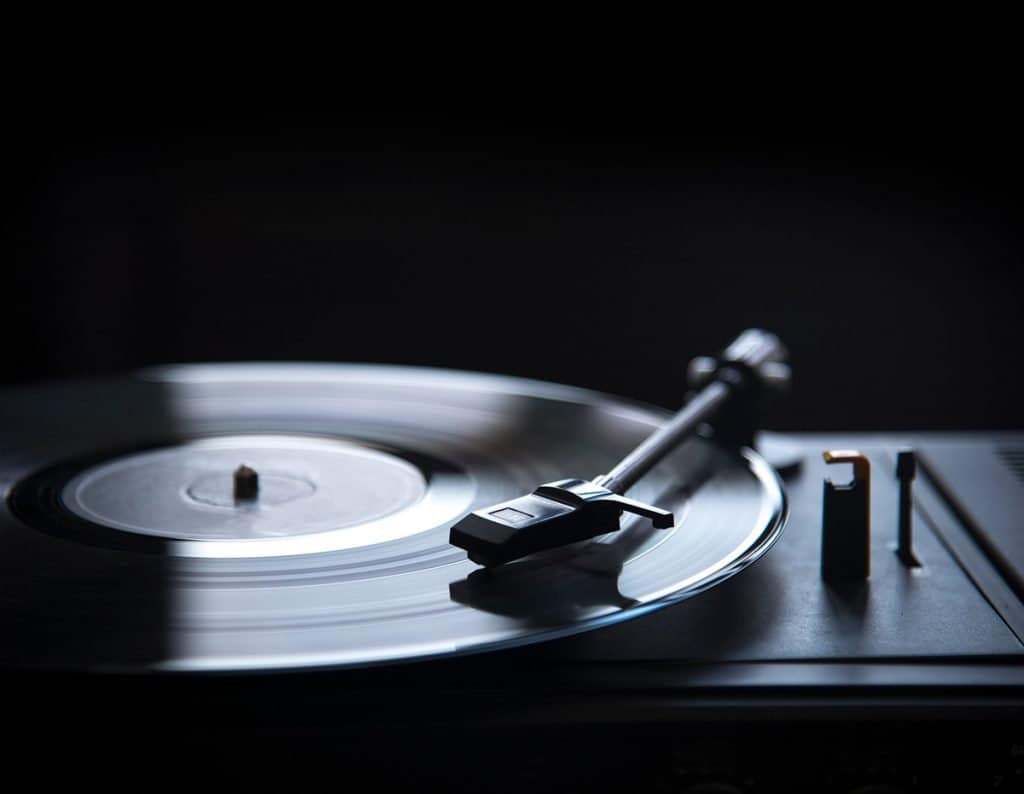 Replacing the Parts
If you buy a turntable that has a stylus with a needle that can't be replaced, your whole turntable will no longer be operational when it wears, breaks or bends. You're also stuck with that same needle when newer ones are released, and you won't be able to upgrade your turntable. Not all turntables on the lower price allow you to replace the parts, but lookout for the ones that do because it'll benefit you in the long run and keep your turntable operational for years to come.
Speed Options
If you get a turntable that only has a one speed option, you're going to be limited with your records and won't get the correct sound that you desire. Lookout for turntables with more than one speed option because your records are made to be played at different speeds.
High Quality Components 
If you're going to buy a turntable for under $500, you will not get the highest quality, but that doesn't mean you should settle for the worst either. Playing a turntable made up of poor components will affect the sound quality, and you'll hear buzzing, crackling, and distortion. You may even end up with damaged vinyl. The Ortofon 2M Blue elliptical cartridge is an excellent quality component that you can find in this price range.
Are Turntables Under $500 Worth It?
Turntables under $500 are worth it. Depending on where your budget falls, turntables under $500 perform well, produce a beautiful and rich sound, and will be enjoyed by vinyl record enthusiasts starting out in this hobby.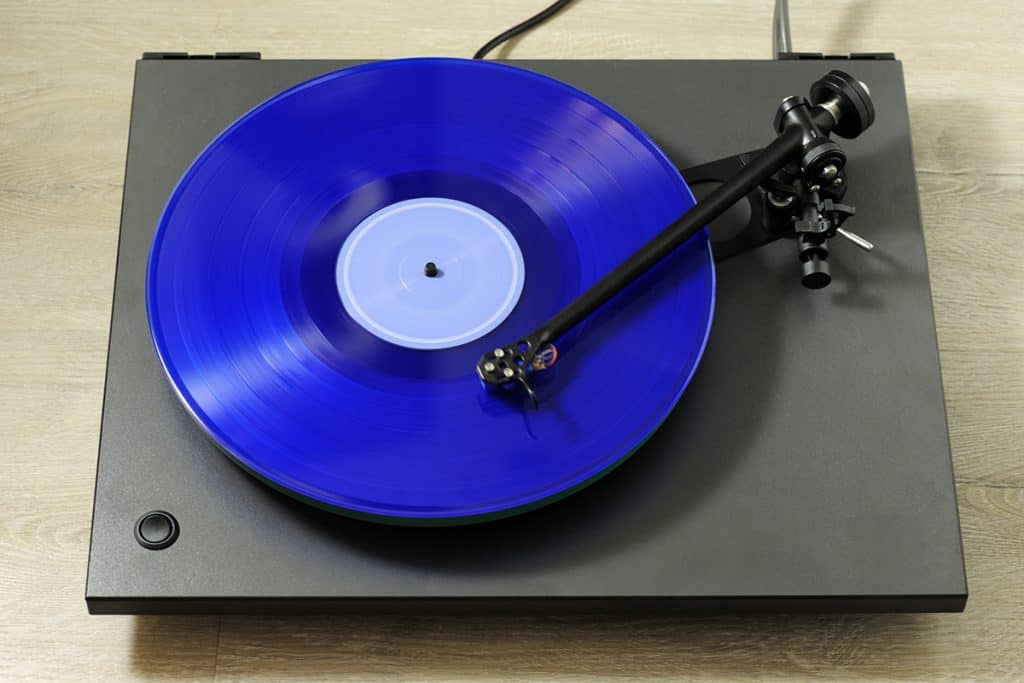 I would not recommend spending less than $200 on a turntable because turntables found in that price range typically produce poor sound, are made up of poor quality components, fail quickly, and can damage your vinyl records.
7 Best Turntables Under $500
The Fluance RT85 is well-loved, popular, and value for money, but it won't meet the needs of every person. You can find all the products I've listed in this article on Amazon.com.
Fluance RT85
The Fluance RT85 from Amazon.com is one of the best turntables on this list. If you're looking for a beautiful turntable to match the aesthetics of your well-designed house, look no further because the Fluance RT85 is stunning. Plus, you have a variety of color options to choose from to best suit you!
Two key draw points to this turntable are that it comes with an Ortofon 2M Blue elliptical cartridge and an Acrylic Platter. The Ortofon 2M Blue is a great quality piece that adds to the resolution and dynamics of the sound produced. You can expect a warm, natural, and rich sound from this Fluance RT85 turntable.
The Acrylic Platter is denser than the MDF, weighing around 3 pounds (1.36 kg). This heavier density and weight results in a better speed consistency, producing a clean and detailed sound without vibrations. Thanks to the Acrylic platter, a turntable mat isn't necessary.
For more on the benefits of the Acrylic platter, check out this YouTube video:
Another factor that reduces vibration is the three adjustable rubber feet under the turntable. The S-shaped tonearm and belt motor feel good and are solid.  
The auto-stop on this turntable is a useful option. You can choose to use this feature or not, thanks to the switch on the back. One thing that is missing from this wonderful model is a preamp.
Setting up your Fluance RT85 will be a breeze if you follow the instructions provided. Make sure to use the gloves that accompany your turntable so that you don't leave fingerprints all over it when you set it up.
The Fluance RT85 will have you questioning if you have a live band playing right in your home!
Pros
Beautiful aesthetic design
A range of colors are available
Ortofon 2M Blue
Acrylic Platter
A turntable mat isn't necessary
Adjustable rubber feet to absorb vibration
Great quality
Auto-stop option
Easy to set up
Comes with gloves
Cons
Fluance RT81
Another excellent but more affordable turntable is the Fluance RT81 from Amazon.com. This model is from the same brand as our previous turntable but doesn't have some factors that made it rank as our best turntable. However, for the price and what it has to offer, the RT81 is impressive.
Unlike the RT85, the RT81 has a good-sounding built-in preamp. This semi-automatic turntable stops turning the record when it has completed the side. 
Not only does this Fluance RT81 look fantastic, but the tonearm is excellent, the Audio Technica AT95E is clear, it comes with a high-quality rubber mat, and the base is solid and heavy. The wooden materials and the isolation feet absorb the vibrations.
The Fluance RT81 has an aluminum platter and S-type tonearm, resulting in a lovely clear and precise analog sound to bring back all your nostalgia. 
The setup of this turntable is quick and simple, and you'll be able to do it in a few minutes if you follow the video guide on their YouTube page.
An issue with the Fluance RT81 is that the speed isn't consistent as I'd like it to be, and this is another area where the Fluance RT85 comes in first with its consistent and stable speed. 
The RT81's speed fluctuates and slightly distorted when playing orchestral pieces. Most people probably wouldn't be too bothered by it, but it does distract me. Another issue is the inconvenience placement of the RPM adjuster. It's underneath the turntable, making it hard to access with ease.
Pros
Affordable 
Built-in preamp
Fantastic design
High-quality
Solid wood
Clear and precise analog sound
Easy setup
Cons
Inconsistent speed
Inconvenient placement of the RPM adjuster
Electrohome Kingston 7-in-1
Another "budget-friendly" category turntable is the Electrohome Kingston 7-in-1 from Amazon.com. Not only is it one of the more affordable options on our list, but it's ready to impress with its versatility.
The Kingston 7-in-1 is a turntable that beautifully plays vinyl records, has an AM/FM radio, and can play CDs. Thanks to its Bluetooth option, you can connect your phone to the turntable and play your music through it, transforming it into a Bluetooth speaker. 
The turntable also features both AUX-in and USB, and although it has four high-quality built-in speakers, it has RCA outs, allowing you to plug in your stereo system for an even better sound.
Although already quite impressive, this turntable also boasts a stunning vintage, retro design. It's well built and has a real wood veneer cabinet. It's heavy, has a plastic platter and a sapphire needle, and produces a warm, analog sound. It also has EQ options.
With this Electrohome Kingston 7-in-1 able to play so many different audio files, I'm disappointed that it doesn't have a cassette player. 
Pros
Well-priced
Versatile
Four built-in speakers
Stunning design
Well built
EQ options
Cons
Sony PS-LX310BT
If you're all about connectivity and flexibility, the Sony PS-LX310BT is a turntable you're going to enjoy! The PS-LX310BT is a fully automatic, quality Bluetooth turntable that has been made to last and is worth every penny!
The platter of the Sony PS-LX310BT is aluminum, along with the tonearm. It comes with a polyester mat and a nice dust cover. The rest of the turntable is mostly made from plastic, which isn't great. The speed is pretty consistent, and the sound is decent.
I love this turntable because you have control over almost every aspect of it. You're able to change or replace both the cartridge and the stylus. There are also two speed options (33 1/3 rpm and 45 rpm) that you can choose from. All you have to do is move the switch to the speed you want, and you've got it. 
This turntable has a built-in preamp, although you can choose to turn it off and use your external amplifier instead. You can even choose the volume for the built-in preamp. There are three options available – low, medium, and high.
The connectivity options are where this turntable outshines many of its other low/mid-range competitors. Thanks to its USB options, you're able to connect to your computer and rip the vinyl records onto it.
Thanks to its Bluetooth option, you're able to connect your wireless headphones or soundbar. And with the RCA cable, you can directly connect your turntable to your stereo system.
Pros
Various connection options
Flexible
Fully automatic
Two speed options
Built-in preamp
Volume choices
Cons
A lot of the turntable is made from plastic which isn't great for combatting vibration
Yamaha TT-S303
A popular turntable is the Yamaha TT-S303. Yamaha is known to make great-quality equipment that produces excellent sound, and this turntable is no exception. 
Although this turntable is on the higher side of our "under $500" list, it looks and sounds exceptional and is worth the money!
The Yamaha TT-S303 has a clean, elegant look, an aluminum platter, a built-in phono preamp, and it produces detailed, deep, and lifelike sound. 
You don't have to tiptoe around this turntable, thanks to its isolating feet. The belt drive, located underneath the turntable, also reduces vibrations. Unless you're deliberately jumping in front of the turntable, the stylus won't be affected by movement and will play smoothly.
The Yamaha TT-S303 is a manual turntable, which means that you'll have to lift the tonearm and move it to its cradle once the record has finished playing. It's a wired turntable and doesn't have Bluetooth or USB.
The setup is fairly easy except for the tonearm balancing. However, there are YouTube videos to guide you through the process.
Pros
Clean, elegant look
Built-in phono preamp
Detailed, deep, and lifelike sound
Isolating feet
Pure, manual turntable
Cons
The setup of the tonearm balance is tricky
Pro-Ject T1
I'm in love with the Pro-Ject T1 turntable just from the way it looks. It boasts a clean and minimalist look that will stand out in any room of your house or studio. It doesn't only look amazing, but it's also plastic-free, which is better for the environment and better for sound.
The Pro-Ject T1 Turntable sounds like it should be more pricey than it is. It has a full-bodied sound that is natural and warm. The model has no hollow spaces, which decreases vibration. Another piece that contributes to the lack of unwanted vibration is the heavy glass platter.
The tonearm on this turntable is made from aluminum, and it has the OM 5E Moving Magnet cartridge. It also has an excellent elliptical diamond stylus tip. Unfortunately, this model's tonearm isn't height-adjustable, so you're not going to be able to change out your cartridge.
The tonearm and cartridge come already set up. You just need to place the platter onto your turntable. This easy setup is ideal for those who hate the construction process or are just starting out.
There are three different Pro-Ject models in this line, with different prices. The T1 doesn't have a phono preamp, but the more expensive model does. Unfortunately, the T1 doesn't have speed control either. If you need to adjust the speed, you'll have to remove the platter and adjust the belt's height. This is both frustrating and inconvenient.
All of the Pro-Ject T1 models are handmade and well built.
Pros
Clean and minimalistic design
Plastic-free
No hollow spaces
No vibrations
Full-bodied, warm, and natural sound
It comes already set up
Handmade and well built
Cons
No speed control
The tonearm isn't height adjustable
No built-in phono preamp
Music Hall MMF-1.5 Turntable
A very affordable and user-friendly turntable is the Music Hall MMF-1.5 Turntable. It's a beautiful turntable that has a classic style. 
Although this turntable only has one color option on Amazon.com, the real cherry wood veneer stands out as a statement piece. The tonearm is aluminum. The S-shaped tonearm aids in tracking that is accurate and smooth. It also has a tonearm lift lever.
The Music Hall MMF-1.5 Turntable has a Music Hall Melody Moving Magnet cartridge that is easy to replace. Being able to replace components of your turntable is necessary to keep it running for years to come and to upgrade your turntable without having to buy a whole new one. I recommend upgrading the stylus on this turntable because it's quite basic. You may appreciate an elliptical stylus more.
The platter is aluminum, and it has a thick turntable mat to go on top of it to decrease vibration. The vibration dampening feet also help with this.
You can plug your turntable in and play it without extra bits and pieces because it comes with a built-in phono preamp. However, it doesn't have the best preamp, and you may benefit more by using an external preamp instead.
I'm happy to tell you that this turntable has three different speed options – the 33 ⅓, 45, and 78 RPM. 
The Music Hall MMF-1.5 Turntable is not automatic and doesn't have AUX, but it does have RCA ports. It also doesn't have a USB output, so you won't be able to convert your vinyl records to MP3 files.
The turntable comes with a dust cover for protection and is made of excellent quality.
Pros
User-friendly
Tonearm lift lever
Built-in phono preamp
Three speed options
RCA ports
Dust cover
Cons
Denon DP-400
For something a little more unique, we've added in the Denon DP-400. Although it hits the high end of our price range, we thought it was worth mentioning.
Thanks to the dust cover, this turntable has a whole different look when compared to other turntables. The dust cover can come off and can even be used as a vinyl record cover stand so that everyone who comes into the room will know which band or musician is playing on the record. 
Thankfully, the good features don't stop there. The sound produced by this turntable is high-end, warm, and sophisticated. There are three speed settings to use, giving you freedom with your vinyl records. The speed is consistent.
The Denon DP-400 comes in black or white and has an S-shaped tonearm that enhances its sound. It also has a built-in phono equalizer. This turntable is sturdy and durable, and it can be seen throughout, right down to the knobs.
The turntable is semi-automatic and has an auto-stop feature. It's easy to set up and a well-rounded user-friendly turntable. The only issue that may bother some people is that it's pretty heavy. Weight is great for stabilization; however, it makes moving the turntable around difficult. 
Pros
Unique design
Dust cover can be used as a vinyl record cover stand
High-end sound quality
Durable
Various speed settings
S-shaped tonearm
Built-in phono equalizer
Auto-stop feature
User-friendly
Cons
Weight makes moving the turntable difficult
Key Takeaways
Although many of the turntables on this list are excellent for the price range, the Fluance RT85 still comes out on top. The Ortofon 2M Blue cartridge and Acrylic Platter are two factors that stand out with this model, as well as its superb design.
You have a range of colors to choose from, and you don't even need a turntable mat. It has a convenient auto-stop option and boasts great quality. The gloves that come with, to avoid leaving fingerprints on your new turntable, are another nice touch.
VacationVinyl.com is a participant in the Amazon Services LLC Associates Program, an affiliate advertising program designed to provide a means for sites to earn advertising fees by advertising and linking to Amazon.com. We also participate in other affiliate programs which compensate us for referring traffic.