This post contains affiliate links.
In the past ten years, the way we buy and listen to music has dramatically changed. With the development of streaming and subscription services, you might think that purchasing physical albums has become obsolete — but the booming vinyl record industry indicates otherwise. 
Over 18 million vinyl records have been sold each year since 2019, and LP sales have risen drastically since then. Vinyl records sold more copies than CDs or digital albums in 2020 and 2021, indicating further growth for vinyl sales in the coming years. 
Let's look at the statistics and talk about how the music industry has rapidly changed in favor of vinyl records. I'll break down the data and discuss what we can expect from vinyl record sales in the coming years. So, let's pop on a record and get to it. 
Vinyl Sales by Year
For a while, when the portable compact disk was still a new invention, CDs ruled the music sales market, eventually being replaced by digital albums for MP3 players. Today, as the years pass and as streaming has come into play, vinyl records are making a huge resurgence. 
After the invention of the CD and MP3 player, vinyl record sales stayed low and constant, with only about one million albums sold every year. However, in 2008, things started picking up for the LP industry. Sales continue to rise as time goes on, with over 27.5 million records sold in 2020. 
Things have changed as the record industry has seen a massive boom in just the past few years. 
Just take a look at this timeline of how many vinyl records have sold over the years and that year's best-selling vinyl album: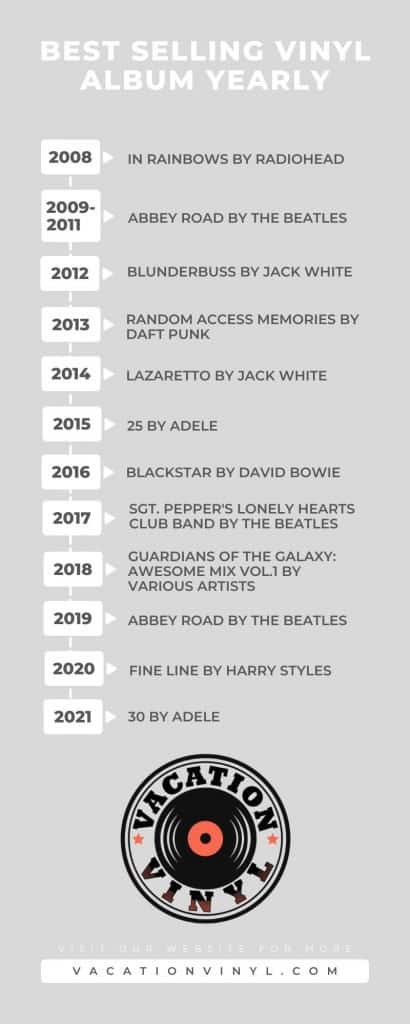 | | | |
| --- | --- | --- |
| Year | Vinyl Albums Sold | Best Selling Album of the Year |
| 2008 | 1.9 million | In Rainbows by Radiohead |
| 2009 | 2.5 million | Abbey Road by the Beatles |
| 2010 | 2.8 million | Abbey Road by the Beatles |
| 2011 | 3.8 million | Abbey Road by the Beatles |
| 2012 | 4.6 million | Blunderbuss by Jack White |
| 2013 | 6.1 million | Random Access Memories by Daft Punk |
| 2014 | 9.2 million | Lazaretto by Jack White |
| 2015 | 11.9 million | 25 by Adele |
| 2016 | 13.1 million | Blackstar by David Bowie |
| 2017 | 14.3 million | Sgt. Pepper's Lonely Hearts Club Band by The Beatles |
| 2018 | 16.8 million | Guardians of the Galaxy: Awesome Mix Vol.1 by Various Artists |
| 2019 | 18.8 million | Abbey Road by The Beatles |
| 2020 | 27.5 million | Fine Line by Harry Styles |
| 2021 | 41.72 million | 30 by Adele |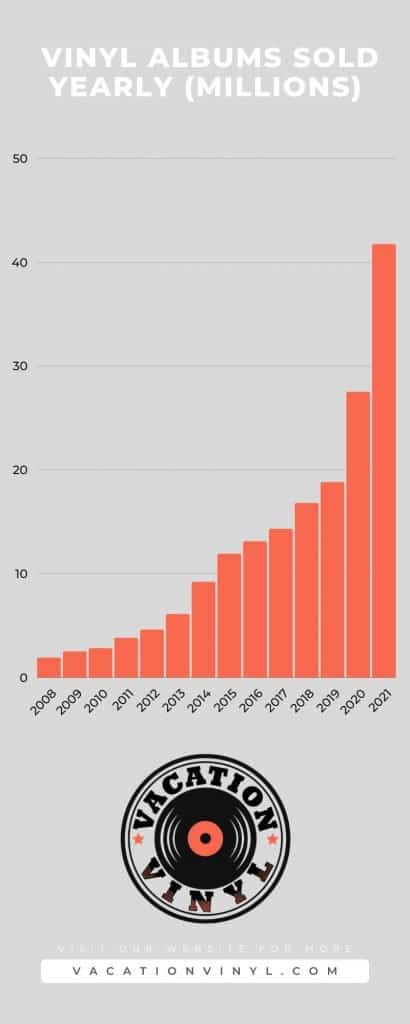 In this timeline, you can see the evolution of record sales, but most importantly, you can see how the dominant genres in record sales are changing. 
If we use the past two years to indicate what we'll see in the future, it seems that vinyl records will continue growing in popularity to become the preferred media for listening to up-and-coming pop artists and top-40 albums.
This shift in genre also saw a tremendous increase in sales. Billboard states that a whopping 41.72 million vinyl albums were sold in 2021 in the US alone, a 51.4% increase compared to the previous year.
These sales were generated mainly by new releases from modern pop artists — not from The Beatles or Queen. 
So, as time goes on, we can expect this number of sales to grow as we see more top-40 artists releasing and selling LPs.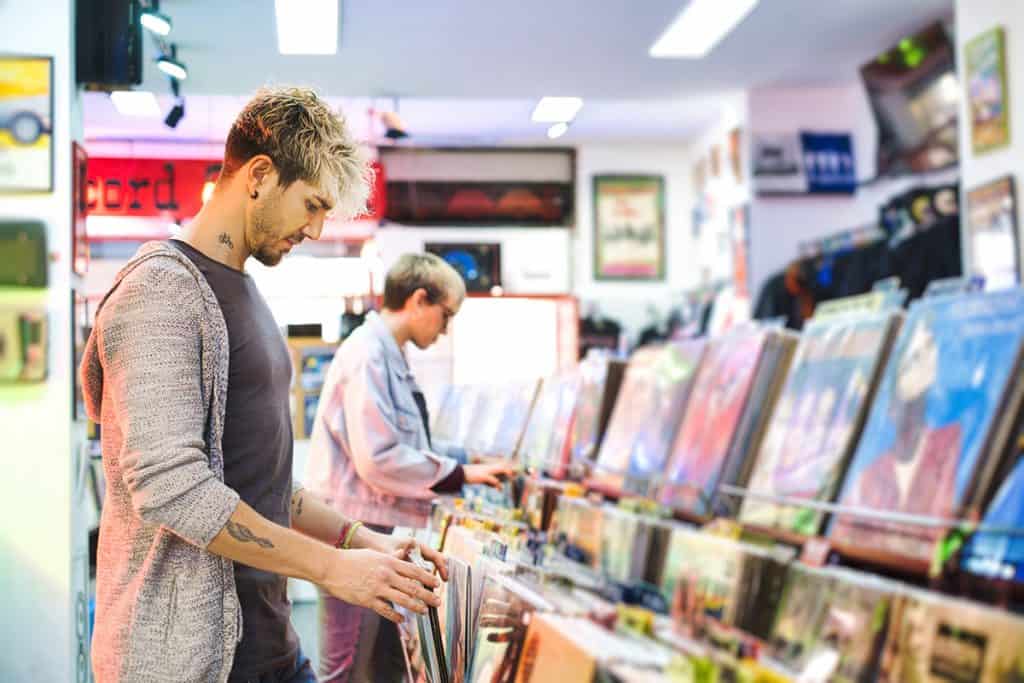 What Percentage of Music Sales Are Vinyl?
As we just saw, vinyl sales are rapidly increasing, but that doesn't necessarily mean that vinyl albums are the preferred way to listen to music today. 
Vinyl records made up 38% of music sales in the first half of 2021, with CDs making up 37%. However, based on the growth of the vinyl industry, we can expect vinyl sales to continue making up the majority of physical music sales. 
Nowadays, people are buying far fewer albums both physically and digitally since streaming platforms such as Spotify, Amazon Music, and Internet Radio have more or less taken over the music industry. 
However, in just the past year, physical media has started replacing digital music purchases, and when it comes to sales, vinyl has seen the most growth in popularity. 
So, let's compare the album sales by format in the first six months of 2021: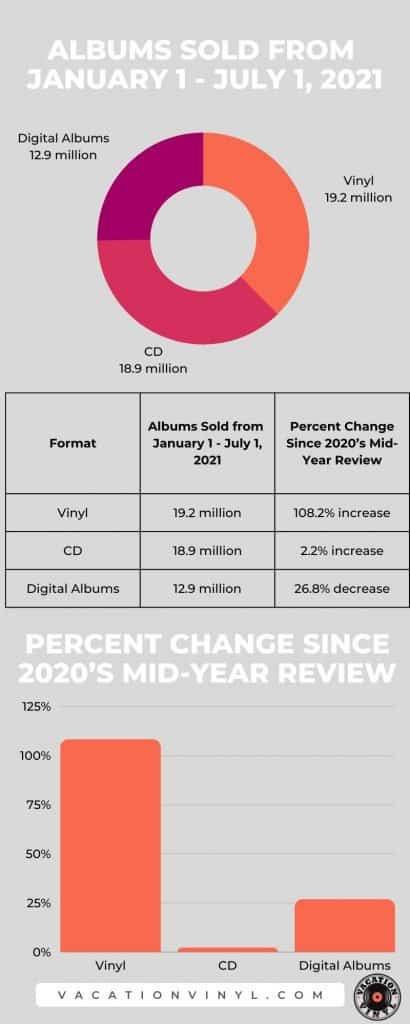 | | | |
| --- | --- | --- |
| Format | Albums Sold from January 1 – July 1, 2021 | Percent Change Since 2020's Mid-Year Review |
| Vinyl | 19.2 million | 108.2% increase |
| CD | 18.9 million | 2.2% increase |
| Digital Albums | 12.9 million | 26.8% decrease |
Based on these statistics from Billboard's reviews, digital album purchases are at an all-time low, while physical media is becoming much more popular. 
CDs are still seeing a slight increase in sales, but vinyl records, with that huge 108% increase since 2020, have a promising future as the preferred physical media for album sales. 
In addition, vinyl records sales have just recently surpassed those of CDs, which might indicate that CDs are on their way out. 
Still, streaming seems to be the preferred way to listen to music today. In 2021, more than 381 million people subscribed to Spotify alone, and the top songs of the year received upwards of 1 billion streams. Although we can't account for album sales on a streaming service, it seems that far more people are subscribing than purchasing albums. 
Will Vinyl Albums Replace CDs?
Vinyl records seem to be significantly more popular with the younger generations, indicating that the CD might eventually decrease in popularity. However, in the past year, CD sales have risen too, making it difficult to predict the future of the Compact Disk. 
It seems unlikely that vinyl albums will replace CDs at the moment. Physical media sales are rising, and vinyl is becoming extremely popular with people under 35. However, CDs still have a market for people over 35, so you shouldn't expect to see them disappear anytime soon.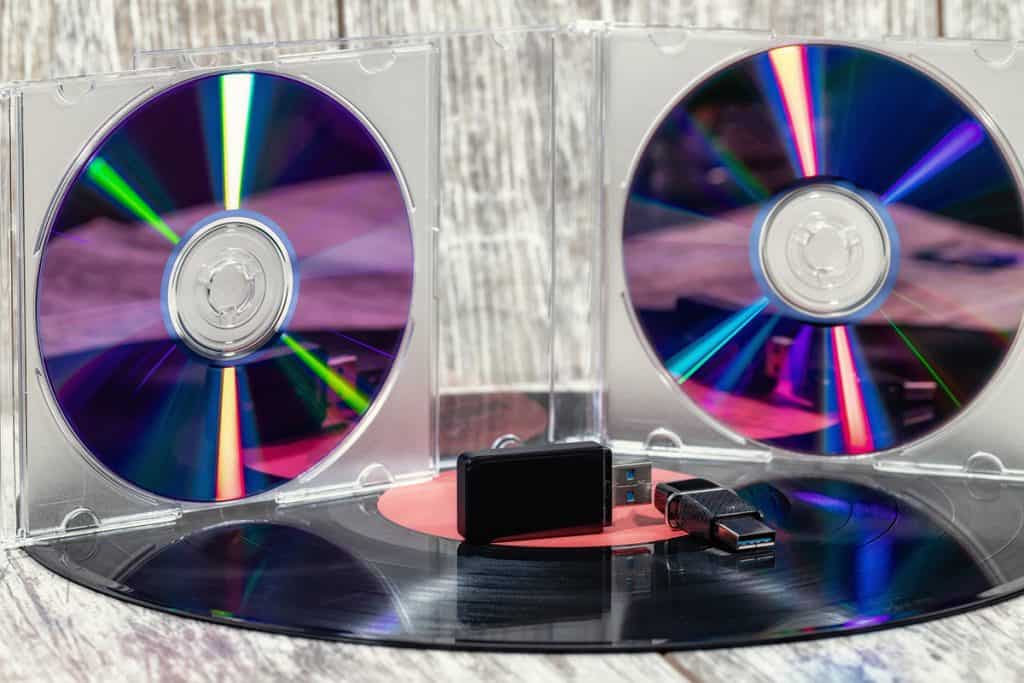 Today, people younger than 35 make up about 72% of vinyl sales, making them the target audience for most record retailers and recording artists who release their albums in the LP format.
Young people who have grown up with only digital music, whether it be in MP3, CD, or streamed music, are the ones fueling the boom in vinyl sales. The difference between vinyl and digital is what makes oversized, colorful, and tangible LPs so popular right now. 
They offer a completely different experience than pressing play on an iPod. It's safe to say that these millennials and Gen Z-ers will stick with vinyl for the aesthetic and the "warmer" sound of the music. 
However, like vinyl records, CDs still have an appeal and rack up sales that slowly increase every year. Nevertheless, some experts predict that it'll be streaming that replaces CDs. That's because the digital format produces a very similar sound quality and has become more portable with smartphones. 
Still, only time will tell what's in store for the CD industry. Vinyl is on the rise, and we can only expect more profit and increased sales from the vinyl recording industry in the coming years. 
Final Thoughts
Vinyl records are here, and they are here to stay. Tens of millions of vinyl records are sold every year, and, in the past two years, more vinyl records were sold than CDs. Considering the projected growth in the vinyl record market and its shift towards pop music for younger generations, it seems that LPs are only getting more popular and profitable.
VacationVinyl.com is a participant in the Amazon Services LLC Associates Program, an affiliate advertising program designed to provide a means for sites to earn advertising fees by advertising and linking to Amazon.com. We also participate in other affiliate programs which compensate us for referring traffic.