This post contains affiliate links.
These days, everyone has their preferred method of daily entertainment whether it be music, books, movies, or a variety of other media types. For many true music lovers, the old fashioned vinyl record is the best way to go. In-person shopping can be an exciting way to find new music and old favorites. However, stores may be limited in product, and are oftentimes difficult to physically sort through as it can take hours to find what you like.
Online shopping is an easy route for all your purchases, including vinyl records! Each online store listed is unique and offers different services, products, and online tools. Some customers may be looking to start a vinyl collection at home, which some sites are more suited for. Other customers may be new to the vinyl world and would like an expert to guide them in their journey to find the best products for the best prices, and to discover their personal music tastes. Or, like many music lovers, you might be interested in a more community based company where you can collaborate with other customers, review music together, buy/sell products from others, and view their collections online to help grow your own. Whatever your preferences and needs, you may find your best fit in one of these sites. Here are 10 of the best online vinyl record stores.
Top Pick
Turntable Lab
My absolute favorite store for vinyl records and audio equipment is Turntable Lab. They have a great online store that primarily focuses on new releases and reissues.
Turntable Lab
Turntable Lab prides itself on being selective with the quality of the products they offer. The store started by catering to DJs and providing high-quality audio equipment, including turntables and sound mixers.
Today, they continue to cater to aspiring DJs while housing a unique collection of vinyl records. If you're a hip-hop lover, few record stores can offer the solace you'll find here at Turntable Lab. Aside from records and audio equipment, they also provide streetwear, production gear, and vinyl toys, including an action figure of the late J-Dilla.
As a record store, TTL focuses primarily on new releases and reissues rather than old records. So if you're digging for the classics, you may not find many at this store. However, TTL caters to a wide variety of music tastes, and you're sure to be pleasantly surprised by the wide range of genres they carry.
Aside from audio equipment and vinyl records, this store also sells books and magazines related to music and the art of DJing. And while it's recognized primarily as a record store, TTL was instrumental in uplifting the DJ movement in its early stages
Amazon
If you're going to write a list of all the places to buy vinyl records online, it's hard to avoid Amazon. They have an extensive selection, and they are competitively priced. In addition, if you're a Prime member, you usually get delivery within 1-2 days.
Visit Amazon here to buy vinyl records.
Amazon has also launched a new subscription service called Vinyl of The Month Club. As part of the club, you get a record from the Golden Era of Vinyl every month. And you don't have to be a Prime member.
You can find out more about the Vinyl of The Month Club on Amazon here.
Amoeba
Amoeba is based in California in Berkeley, San Francisco and Hollywood. They are currently one of the largest and most popular online record stores. They provide a wide range of genres including but not limited to rock, hip hop, soul, classic jazz, and electronica. They offer albums from artists, both popular and underappreciated. With their staff consisting of musicians, music lovers, and experts, they will help you find your preferences in music, and will offer similar artists you may be interested in listening to. By joining their AVC (Amoeba Vinyl Club), you can receive a new vinyl every month to grow your collection at home. You can also join their email list to be notified of upcoming sales, news, and more.
Amoeba has been in business since 1990 and was founded at a time when chain stores were popping up everywhere and making independent stores like Amoeba go out of business. Luckily, Amoeba thrived in this climate as one of the only independent music stores that were left in the area because of their loyal, music-loving customers. (Source)
Amoeba has continued to thrive since then, and it is now one of the best places to purchase vinyl records online if you don't live in the Berkeley, California area.
Experience Vinyl
Experience Vinyl is for all you independent shoppers. You get all the control in your purchases with no financial contracts. You can browse or shop their broad selection of old or new music, and you can pre-order upcoming releases.
On the home page of their website, Experience Vinyl posts a "Selection of the Month" album to purchase new music, along with information on the artist. They also provide a monthly offer for limited edition albums you may be interested in, but with no obligation to purchase. Experience Vinyl is a great way to learn about new genres and artists, and to dive deeper into your world of music without any pressure.
Experience Vinyl has a Vinyl Club that doesn't have a monthly fee that gives you access to these "Selection of the Month" albums. You just tell them your name, email address, and become a part of the Vinyl Club. (Source)
Experience Vinyl is one of the best places to purchase vinyl records online partially because the Vinyl Club doesn't cost money to become a part of, but also because they sell a wide variety of vinyl records so you will definitely be able to find one you will enjoy listening to.
EIL
With EIL, you can do more. They have a large range of genres, rare records of different sizes, as well as CD's and music memorabilia to purchase. You also have the option to sell items for cash, or trade-in, which allows customers to grow and share their personal collections. They offer same-day shipping, and if you aren't satisfied with your product, you can return it for a full refund.
The staff at EIL are involved with purchases and respond to contacts quickly with any questions or concerns. You can view real reviews from customers on their website. They also have a blog where you can view posts on record collecting news, advice on starting your own collection, reviews, and so much more.
EIL started as a vinyl collecting hobby in 1985 by founders Robert and Julian, that grew overtime into a full business for all that are passionate about music and record collecting. Although it is one of the best places online to purchase vinyl records, their website does look slightly dated. Instead of taking time to redesign their website, they choose to focus on selling vinyl records that are in mint condition, which their customers greatly appreciate. (Source)
Discogs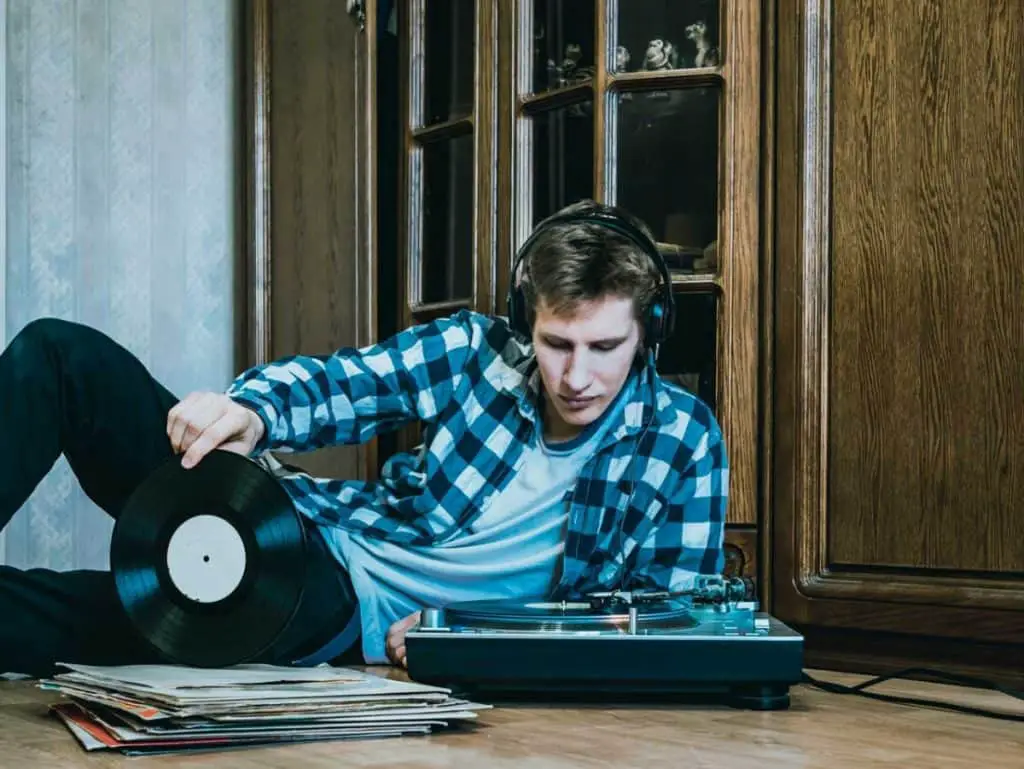 Discogs is for music collaborators. Through the site, customers can share their collections, wish lists, and reviews with others. This can play a part in growing the site's music catalog as more customers contribute. Discogs has a blog where they share news, updates, and articles for all music lovers to dive deep into their favorite artists. You can also download their app to easily connect with buyers and sellers and to add to your music collection quickly.
Discogs was founded in the year 2000 by Kevin Lewandowski and was originally a simple project. Now, that simple project has become a passion. They now want to build the largest and most comprehensive database of music. They are now one of the best places to purchase a vinyl record online, but keep an eye on this company as it grows. You will definitely find vinyl records you will enjoy when you visit this website. (Source)
Dusty Groove
Dusty Groove carries the major genres but has a main focus on funk, soul, reggae, jazz, and other less popular genres. You can easily browse through used items, vinyl's and CD's for under $10, and other low priced products.
The website puts a deep focus on helping customers find their passion and deeply appreciate music again. It provides the company's history through the website, as well a link to the trailer for "Dusty Groove: The Sound of Transition", a documentary of jazz, soul, and hip hop lovers and their connection to music that was completed in 2019. The film focuses on customers that have visited the Dusty Groove storefront and how music has shaped their lives. (Source)
All Tower Records stores have a red-and-yellow color scheme and a 'No Music, No Life' slogan that they go by. All storefronts have wide aisles that are filled to the brim with vinyl records, LP's, and CD's. If you can't go into one of their stores, you can purchase all of the products that they sell in their stores on their website. (source)
Dusty Groove is one of the best places to purchase vinyl records online. They have vinyl records in genres such as:
Soul
Funky 45's
Jazz
Funky Compilations
Hip Hop
New Grooves
House Music
Neo Soul
Deep Funk
Brazil
Latin
Reggae
Rock
They have vinyl records in more genres, but those are the most prevalent and some of the most popular types of records that they sell. If you purchase records online, you can receive your records within 2-10 days, depending on the type of shipping you choose at checkout and where you live.
Presto
Presto, is based in Royal Leamington Spa, UK. The jazz and classical focused site, makes it easy and simple to browse your desired vinyl items, and many other products. Customers can purchase sheet music for many instruments, books about composers and musicians, beginner's guides, as well as instruments.
You can download the free Presto Music App where customers can bring their music along with them on the go.
The website allows you to search for music by composer, award, label, instrument, etc., and their staff is full of experienced musicians and experts to help you along the way. They are one of the best places to purchase vinyl records online because they have over 230,000 recordings in total, so you will definitely be able to find a vinyl record that has music that you will thoroughly enjoy. (source)
Presto also sells sheet music titles, music books, and musical instruments. When you order anything online, you will likely receive the product(s) within 2 weeks, but that will vary on where you live and the products that you order.
Vinyl Me, Please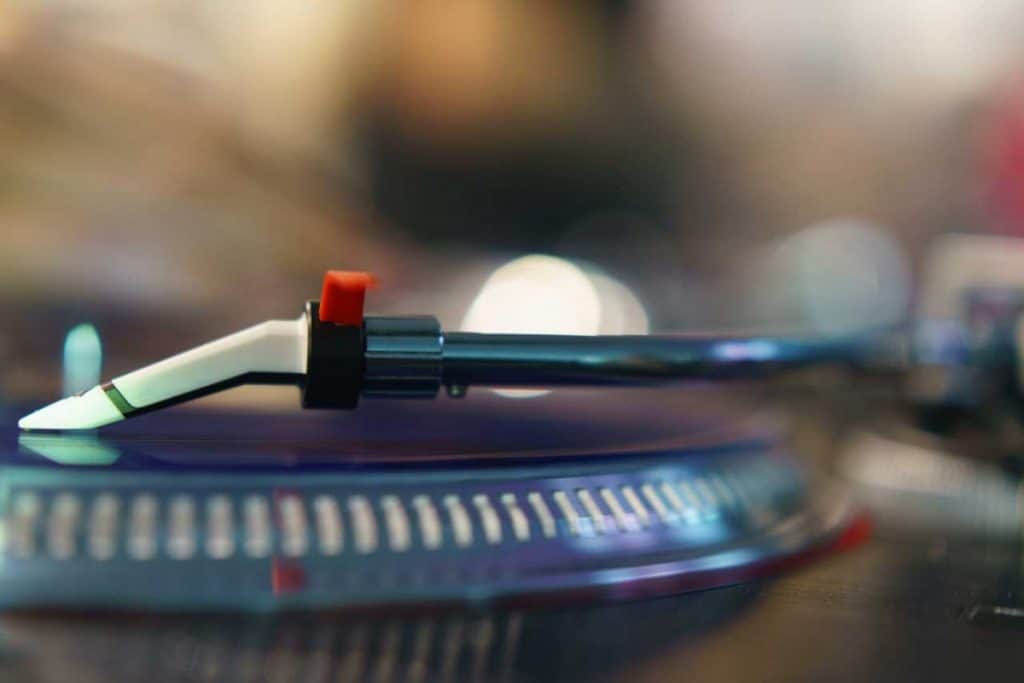 Vinyl Me, Please has a fun, upbeat website full of everyone's music favorites to choose from. It is one of the best online places to purchase vinyl records.
They provide an exclusive 'Record of the Month' subscription. They select a track from different genre options ('Classics', 'Essentials', 'Hip Hop', and 'Country') for subscribed customers to receive each month, and can cancel anytime. Members also get free shipping with their purchases. The 'Record of the Month' subscription costs about $43 per month per music genre, but that may vary depending on the music genre album that you are sent every month.
Vinyl Me, Please wants to help people make a deep connection to the music that they listen to and create. The owners and staff of Vinyl Me, Please are firm believers that vinyl records are the best way to listen to music, and they want to help everyone do that. They also want to help you listen to your records that you ordered from them as quickly as possible, so they make the purchasing and checking out process that occurs when you purchase a vinyl record quick, easy, and painless. (source)
Overall, if you purchase one or more of the many records that Vinyl Me, Please sells, you will find new and old music that you will enjoy playing on your turntable. That is a guarantee. If you order a record and it arrives damaged in some way, shape, or form, they will send you a replacement so you can enjoy listening to the vinyl record that you ordered. However, if the record you ordered is out of stock it will likely take them a while to send a replacement to you.
Tower Records
Tower Records provides an all-around energetic music experience. With lots of vinyl records and merchandise, there's so much to choose from. It is easy to view their recent re-stocks on their home page for customers eager to get their hands on their favorites. Unique albums and artists that often go unnoticed are posted on the website regularly with information about upcoming albums and dates. This is perfect for listeners and customers to grow their music collection and to find new interests.
Tower Records was founded by Russ Solomon in 1960 when he was a teenager, and it has stood the test of time until now. It was originally a business where Solomon would re-sell 78 RPM jukebox records. This original business was in the back of his father's drug store. Now, Tower Records is a company that has become a retail behemoth. They are in charge of dozens of stores all across America.
Tower Music as a company wants everyone to enjoy listening to records and to 'Know Music, Know Life'. Because this is one of their company mottos, they are one of the best places to purchase vinyl records online. Their website is bright and well organized. On the forefront of their website, they have newly released and newly restocked vinyl records so you know when your favorite artists have released new music that is available on vinyl records.
You can purchase vinyl records online from any of these stores, but some of them also have storefronts that you can go to. You will definitely be able to find many vinyl records that you will enjoy listening to when you go onto their websites.
Related articles: 
VacationVinyl.com is a participant in the Amazon Services LLC Associates Program, an affiliate advertising program designed to provide a means for sites to earn advertising fees by advertising and linking to Amazon.com. We also participate in other affiliate programs which compensate us for referring traffic.