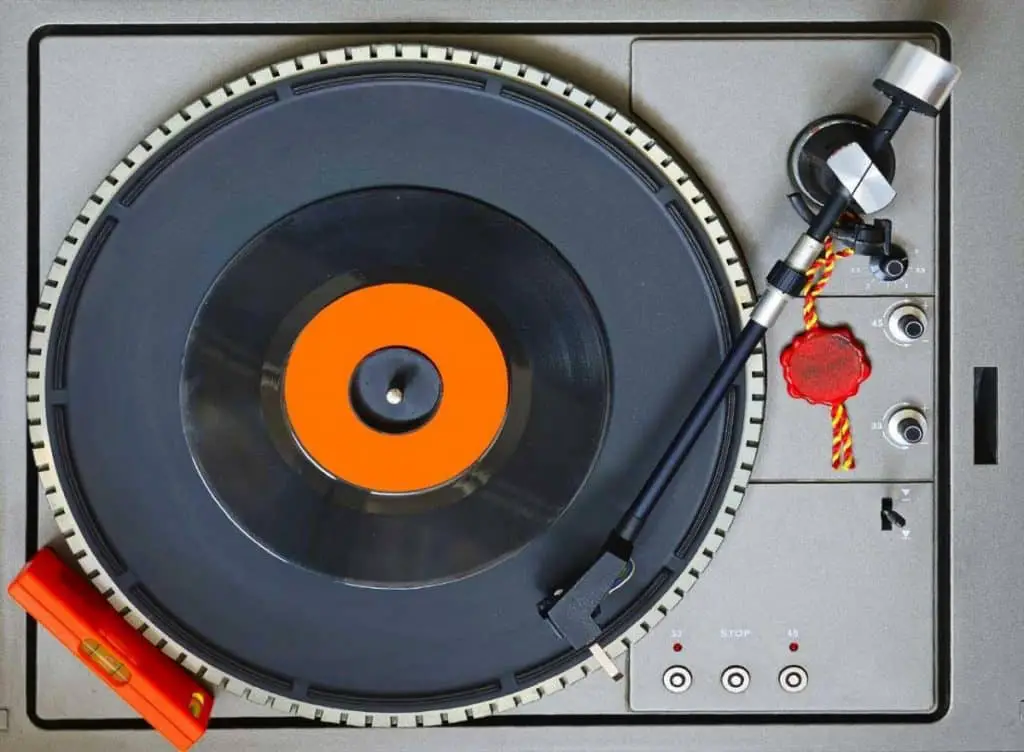 Ensuring that your turntable is on a level surface is critical during setup; this helps avoid issues like stylus tracking problems that cause distortion, skipping, or imbalances in the channels.
The turntable's feet are responsible for leveling the turntable and isolating it from feedback, making it work without giving problems.
In this article, I will be giving an in-depth guide on how to level your turntable, what isolation and balanced turntable feet do to your music output, feedback, placement, and tips to help you get the most out of your turntable.
Part 1: How Do I Make Sure My Turntable is Level?
To make sure your turntable is level, the following steps are important;
Place it on a flat surface
Use a bubble level indicator
Balance the feet
Do a final check
Flat surface: 
The first step is to ensure that you place your turntable on a flat surface. This step is essential because in my experience, placing your turntable on an irregular surface can cause issues like vinyl record damage, damaged stylus, and improper isolation of vibrations. The surface of the platform used must be balanced and smooth. (source)
Bubble level indicator: 
The next step is using a bubble level indicator. I use a bubble level indicator to check if my turntable is adequately leveled. When you place the bubble level indicator on the platter, you will be able to check if the turntable is balanced or not. (source)
Balance the feet: 
This next step involves loosening the turntable feet and screwing them back in place until they are balanced. Most turntable feet can be unscrewed and screwed back, in cases where it is still unbalanced, and then you can easily adjust each of the four pegs till they align with themselves.
Final check: 
Finally, use your bubble indicator to check if it is at the center; after all the three above steps have been carried out. If you check your bubble level indicator, and it is at the center, you have successfully leveled your turntable, and it is now ready for use. This also means you aligned the turntable's feet correctly, so you can always use your bubble indicator while carrying out step 3 to check which peg to screw and which one to unscrew.
Part 2: Six Best Bubble Level Indicators For Your Turntables
The primary tool used to level a turntable in the steps above is the Bubble Level Indicator, and it checks if your turntable is centered. The following bubble level indicators, with their price information links attached, are currently the top bestsellers and highly recommended by turntable enthusiasts:
Audio-Technica AT615a
Circular bullseye level inclinometers
Nobsound aluminum record weight LP turntable disc.
Viborg LP320B disc stabilizer HiFi vinyl weight clamp.
Standard spirit bubble level.
Ubei levels high precision round bullseye indicator.
Audio-Technica AT615a 
Circular Bullseye Level Inclinometers 
Nobsound Aluminium Record Weight LP Turntable Disc 
Viborg LP320B Disc Stabilizer HiFi Vinyl Weight Clamp 
Standard Spirit Bubble Level 
Ubei Levels High Precision Round Bullseye Indicator 
---
All the above-listed bubble level indicators were carefully selected and listed as the best by me because they are mobile and can be moved easily at any time, budget-friendly, and will not break your bank account to purchase. They are all top-level indicators popular for their accuracy in balancing turntables.
Home Levelling Tips
The following tips are helpful when setting up your turntable for use at home or small gatherings, they guide you on precautions to follow, and from experience, they have never failed or caused complications: (source)
The first helpful tip is in placement; ensure to place your turntables and speakers on different platforms or surfaces to avoid causing vibrations to your turntables, which, as earlier stated, can cause several complications.
Remember to place your turntable on flat surfaces and level adequately.
Ensure proper isolation of your turntable from external sources that can cause problems, including electronic equipment that poses threats.
Proper storage of your turntable is just as necessary as leveling it to keep it safe from dust and molds. Store on flat surfaces, too, not just when being played but also in storage.
Some people might not find this last tip necessary; however, it is essential to know that you don't have to level your turntable every time you use it. Only when it has been moved or disturbed.
Does a Turntable Have to Be Leveled?
Leveling your turntable is important, and is one of the precautionary measures you must take before playing your records.
The process might seem boring to carry out frequently, but it is necessary to do it and avoid bigger complications that come from unbalanced turntables. Your turntable must be leveled properly, and if you do not want to always do it, make sure you place it in a safe place free from external factors after getting it leveled.
Frequently Asked Questions (FAQ)
How Long Does It Take to Level a Turntable?
Leveling your turntable takes approximately 5 minutes, depending on the methods used.
My first experience lasted for more than 5 minutes, just in case you find yourself struggling with it on your first try. As you keep leveling your turntables when necessary, you get the hang of it and become a pro yourself.
What Tools Do I Need to Level a Turntable?
You will need a bubble level indicator and a flat surface or platform.
The other necessary thing is the peg, and it comes with your turntable. The bubble indicator will help check if the turntable is at the center after screwing and unscrewing the pegs, while the flat surface is the platform needed to place the turntable on for balance.
Summary 
Leveling your turntable, from my experience, is an essential maintenance practice for both turntables and record players. Imbalance turntables cause a lot of costly damage; antique or rare vinyl records can also get damaged. 
Similar to the leveling is the stability of where you place your turntable. For example, it might be perfectly level but if a person or even a pet walks by and the turntable could jump. Ideal locations for turntables include near-load baring walls where floors are secure and have less chance of transmitting vibration. 
With a good foundation and a level platform, your records will play well. Just ensure you get things nice and level and you'll be off to a great start.
Vacation Vinyl is a participant in the Amazon Services LLC Associates Program, an affiliate advertising program designed to provide a means for sites to earn advertising fees by advertising and linking to Amazon.com. We also participate in other affiliate programs which compensate us for referring traffic.