This post contains affiliate links.
If you own a turntable, there's no doubt that sound quality is important to you. Nothing kills the mood more than your turntable skipping a beat when you walk across the room. Whether you are a vinyl novice or highly experienced in the world of turntables, you might be interested in some creative solutions for turntable vibration. 
Here are eight things you can do to eliminate turntable vibration:
Invest in quality isolation pads.
Purchase turntable isolation feet. 
Consider installing wall-mounted shelves for your speakers. 
Separate your speakers and turntable. 
Buy a turntable platform. 
Make your own turntable platform. 
Purchase a marble or granite platform.
Use spikes for your turntable. 
Below, we'll expand on the nine tips for eliminating turntable vibration and ensuring you have an isolated, smooth sound. But first, let's talk about the importance of sound isolation and what might be causing your turntable to vibrate in the first place. 
The Importance of Sound Isolation
When listening to music, isolation is everything. It's easier to hear than explain, but we will go into the details anyway.
Sound isolation separates sounds in the environment, allowing you to clearly hear just one sound. Sound isolation ensures that what you hear is pure and unaffected by other happenings within the same environment. 
Noise isolation and noise-canceling are different but come with similar results, which is uninterrupted sound. Noise isolation is about setting up the environment and using materials in a way that minimizes noise, while noise cancellation uses technology to do so. 
If the noises or vibrations of things around your turntable affect its performance, it won't isolate your sound. The quality of what you're hearing will be less isolated and not sound as good. Consider the example of someone signing at a concert. 
The smaller the venue and less prominent outside noise, the more you'll enjoy the performance. But if someone performed while construction was happening and fireworks were going off, it would make a difference, right? 
You want your turntable to be as isolated as possible so you can enjoy your music without the influence of other factors. However, vibration is a common problem for turntable listeners. Below, we'll talk about what might be causing your turntable to vibrate. 
The Source of Turntable Vibration
Picture this: you just purchased a new vinyl, the sound quality is immaculate, and then when you get up to dance, your turntable starts skipping. 
Or, maybe, whenever you turn your speakers up to a certain volume, they start to jump. If you own a turntable, you know that sound quality is important. Whether you're an audiophile or just enjoy listening to some good music, a vibrating turntable can be a huge bummer. But what could be causing it?
If your setup isn't right, some environmental factors contribute to turntable vibration. These can be easily fixed by adjusting the setup you have or buying a specific tool to combat the issue. Regardless, pinpointing the underlying cause will help you move forward in your troubleshooting process. 
Below, we discuss some common reasons your turntable may be absorbing extra vibrations.
Your Speakers Are Too Close to the Turntable
You probably know that your speakers vibrate when you play music loud enough. The video below is a great illustration of this concept:
That said, if your speakers are too close to the turntable, the vibration from the speakers may also cause your records to skip. Beyond this, it may even end up damaging your vinyl. Your vinyl produces sound when the needle touches the many grooves on the record. If your speakers are too close and the sound vibration starts to jump your needle, it can ultimately damage the vinyl.  
Vibration From Movement Near the Turntable
Another common reason your turntable is skipping is movement, but if that's the problem, you might have already noticed.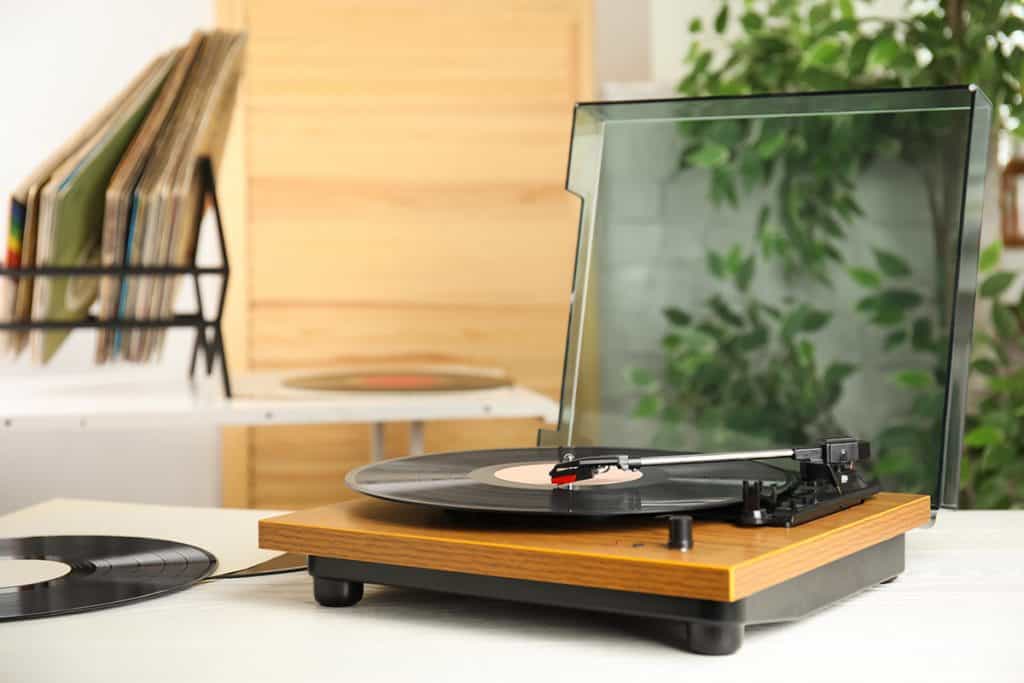 Many turntable users complain about their turntable skipping if they walk too quickly or heavily. It can be disappointing if you want to use your turntable to dance or use it at a party, where lots of people will be walking around. 
As you move, the needle and turntable will react to your movement. Particularly with hardwood floors, vibration can be a problem. If you have your turntable on a not-so-sturdy shelf or have hardwood floors, even walking across the room may be what's causing vibration.
Your Shelf Isn't Level 
Another common reason for vibration problems that usually gets overlooked is whether or not the turntable is level. 
If you have your turntable on a shelf or stand that isn't sitting perfectly level, it can cause the needle and speakers to vibrate more aggressively. This issue could also be a matter of how your floors are situated. If your floors aren't level, then the same problem can occur. 
To know if your floor or shelf is level, you can buy a leveler online or from most hardware stores. If the little air bubble isn't in the exact middle of the green liquid, then you have a problem. This problem can directly affect the vibration of your speakers and damage the sound quality. 
Consider this factor when you set up your turntable and speakers. Even if you have a level shelf and a level floor, putting your speakers on top of a book or otherwise unsteady base can also lead to vibrations.  
Tips for Eliminating Vibration
Now, we'll expand on the tips we listed above for isolating sound and eliminating turntable vibration. None of these solutions will solve your problem single-handedly, and the tips below aren't one-size-fits-all, either. As discussed above, a lot of the issues can be based on the environment you have your turntable in. 
Experiment with different combinations of the tips below and see what works best for you. As always, research products within your budget that still have the quality you're looking for. 
1. Invest in Quality Isolation Pads
Your setup matters, and to get quality sound, you need quality accessories.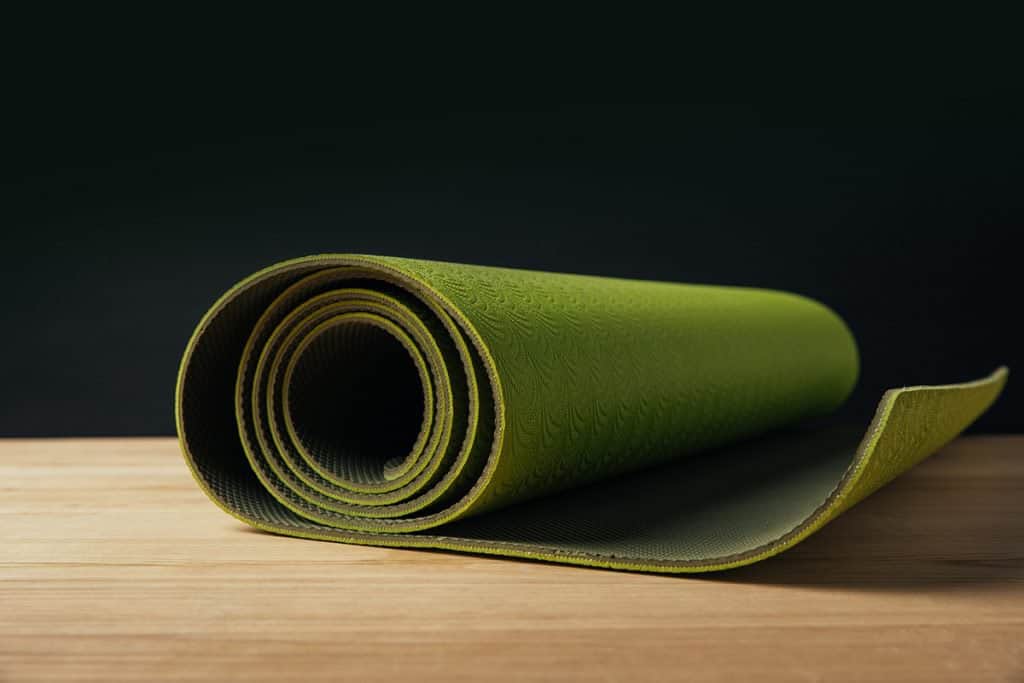 Isolation pads were invented with sound quality in mind. They prevent feedback and movement from your turntable even when the volume is at the highest. Additionally, they help your turntable sit still if the speakers are causing the needle to jump or vibrate.
Typically, isolation pads are made with rubber or foam. You put your turntable directly on top of the isolation pad for movement prevention. Having your turntable on top will absorb the shock of vibration and keep it stable. 
Here are some of the most recommended isolation pads on Amazon.com:
This isolation pad is made of natural textured rubber and sold by a veteran-owned business. The pad comes in quite a few sizes, so you can pick which one would best fit your set-up. 
The natural rubber ensures no rub off or damages to the furniture you have your turn-table on and guarantees to stop turntable movement. 
Auralex Acoustics is known for its high-quality products for sound isolation. This isolation pad is about two inches thick and made from a foam material. With this isolation pad, the foam not only stabilizes the turntable but absorbs excess feedback. 
This product has a ton of five-star reviews and users singing their praises in the comments section. Definitely consider this isolation pad if you're looking for something made of foam, which will be a good fit in a hardwood setting. 
These isolation pads, made with acoustic foam, are made to absorb vibration from speakers. If you have found that the speakers connected to your turntable are the actual problem, these isolation pads will be perfect.
You'll simply set your speakers on top to use these isolation pads. The Sound Addicted Studio isolation pads can hold speakers up to twenty-four pounds without changing shape. Once atop the isolation pads, your speakers will stop vibrating, and all feedback that may bounce off of their stand will be absorbed. 
These isolation pads are an Amazon Choice product and have thousands of positive reviews. 
2. Purchase Turntable Isolation Feet 
Another common way turntable experts isolate sound for their turntables is with isolation feet.
Your turntable will produce audio feedback from being on any surface unless you use an isolation pad like those discussed above. Turntable isolation feet help to elevate your turntable, so there's less feedback from the material under it. It also helps the turntable stabilize from vibrations that your platform may be experiencing.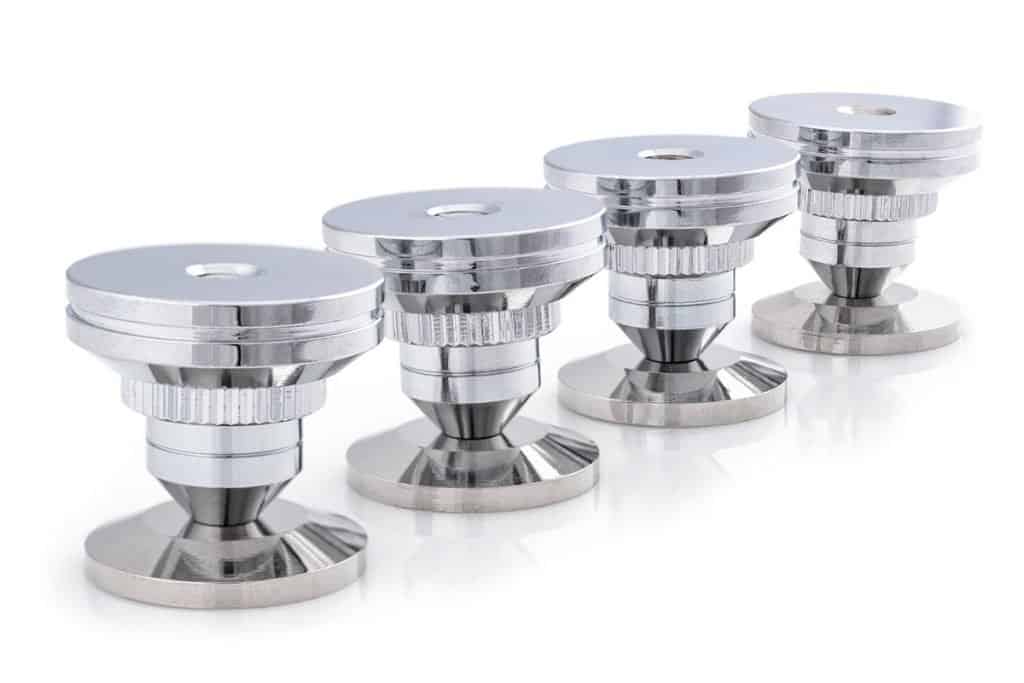 To use turntable isolation feet, you'll just put them onto your platform and put your turntable on top. Some isolation feet require you to screw them in, but it's not difficult to do. You'll simply screw them into the bottom of your turntable. Most feet sets come with instructions on the best way to connect them to the turntable. 
Below, we list the most audiophile-recommended turntable isolation feet.
These little isolation feet require no extra hardware. Built like little platforms, you'll just set them up on your stand and then place the turntable on top. They're made with corkboard, giving your setup a cute boho touch if that's your style. 
This set will be a great pick if you want to isolate sound with minimal hardware. You don't need to screw or stick them to the surface, making them easy to remove if you need to change the position of your setup. 

Tuneful Cables Sound Isolation Pads  from Amazon
The IsoBlock Silicone Isolation Feet is another excellent choice if you aren't interested in doing any installation or replacing the feet already on your turntable. These silicone feet are said to absorb about 95% of vibration. They hold sixty pounds, which is excellent for nearly all turntables. They're soft enough to absorb any vibration and sturdy enough to bear the weight of your speakers or turntable. 
The Isoblock Silicone Isolation Feet have lots of glowing reviews and ranks in pretty close to five stars. 
Preffair Store Isolation Stand Feet are shockproof and crafted with aluminum. Each pack comes with four items, so you can use them under your turntable or speakers, depending on which you believe is causing the vibration issue. 
These isolation feet are the most unique-looking of the ones we have listed. Some people will appreciate the design with visible aluminum alloy springs, while others might want to look elsewhere. Another possible con is that the brand, Preffair, is written right across the feet, which may be unideal if you want an aesthetic appeal. 
These little silicone rubber isolation feet will do the trick if your speakers are causing skipping. Unique from the ones above, they stick onto either the platform where you have your speakers or directly onto them. 
The Sound Addicted Isolation Feet are created with speakers in mind, and because they're sticky, you should probably avoid using them on your turntable. 
3. Consider Installing Wall-Mounted Shelves for Your Speaker
As we discussed above, an essential factor in sound isolation is the surface that your turntable and speakers are on.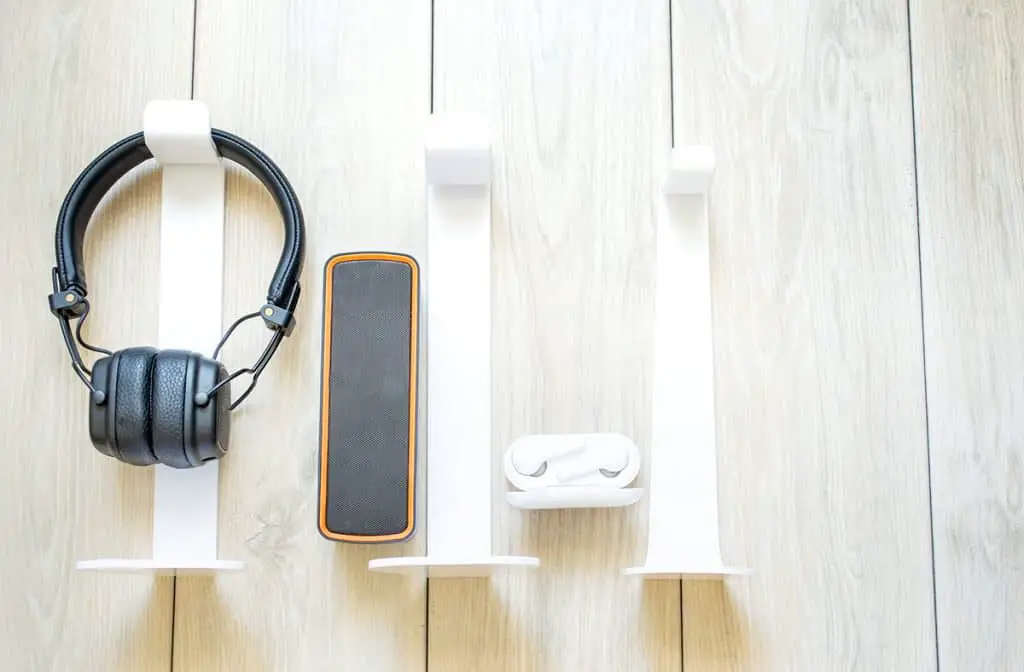 Though it might take a lot of effort to find a shelf sturdy enough and large enough for your turntable, you can quickly put your speakers on some wall shelves. This setup will keep your speakers from damaging your vinyl. It will also prevent the vibration of your speakers from shaking your turntable. 
Quite a few brands make wall shelves specifically for speakers and audio, but any set should do the trick. Using isolation pads or feet in tandem with wall-mounted shelves ensures that the speakers have feedback absorbed rather than audio bouncing off of the shelves. 
Another critical piece of installing wall-mounted shelves is to ensure they're level. Otherwise, gravity may take control and affect the vibration of your speakers.
4. Separate Your Speakers and Turntable 
If you live in an apartment and can't install shelves or drill holes in your wall, you can still use the same concept as the tip above.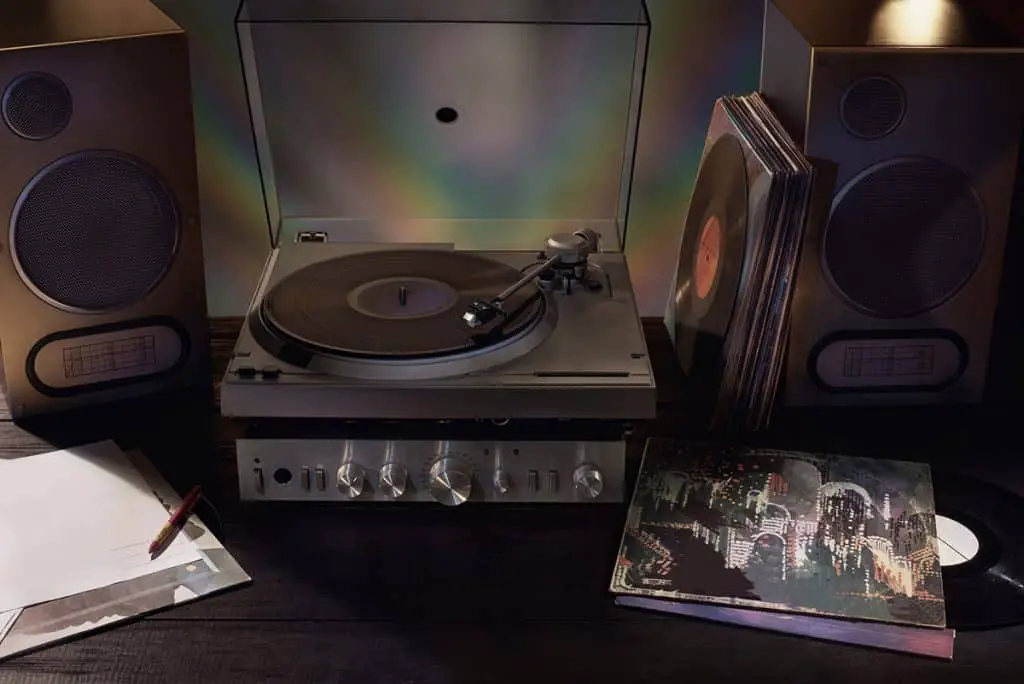 Separating your speakers and turntable will help reduce feedback and vibration. As discussed in the first section, speakers vibrate even with quiet sound. The louder you play your music, the more aggressively your speakers will vibrate. This can damage your vinyl, as too much jumping will damage the grooves within the record. 
Separating your speakers from your turntable is an easy, cost-effective fix for vibration. Just be sure to keep the safety of your speakers in mind. Experts suggest not putting your speakers on the floor, as it may put them at risk of flood or other damage, 
5. Buy A Turntable Platform
A turntable platform combines the power of an isolation pad and isolation feet, but the price tag can be pretty steep. 
Turntable platforms can set your turntable on top to absorb vibration and prevent feedback. Not just anything can perform as a turntable platform, though it may be tempting to just set your turntable on top of a thick book or cutting board. Turntable Platforms are usually made of high-quality materials to ensure the audio isn't compromised. 
Below, we list a few of the top-rated turntable platforms on Amazon.com: 
Purchasers have given the Butcher Block five stars and rave about its quality construction. This platform is stylish and made of quality material. It resembles a cutting board and sports turntable isolation feet already connected. The Butcher Block Acoustics platform is made with sugar maple wood, which is rare and gorgeous in and of itself. 
This professional butcher block platform has six high-quality isolation feet attached to it. This turntable platform detaches the turntable from the surface it's on top of, minimizing the vibrations. You can even choose between walnut or maple to match the aesthetic of your set-up. 
The IsoAcoustics platform has a more modern finish, with slick black gloss covering the entire thing. This isolation platform has four isolation feet and was tested at the National Research Council of Canada. 
It comes in two different versions, one with 40 lbs (18.1 kg) weight capacity and one with 25 lbs (11.3 kg) weight capacity. This way, you can choose the one that best suits the weight of your turntable.
Inevitably, when looking for the right platform, you might see some users in the comment section complaining that they had built a better platform themselves for half the price. Below, we discuss this option. 
6. Make Your Own Turntable Platform 
As mentioned above, turntable platforms can be an expensive investment. If you don't want to purchase one and want to see if the concept will even help your turntable, you can build your own. 
That will be more of a time investment but will save you money if you're satisfied with the outcome. YouTube user Bits Bytes Bobs shares how they made a double platform for isolation for less than fifty dollars: 
You can also use other everyday objects to make your own turntable platform or repurpose other furniture. This user used Ikea furniture to build their own turntable platform:
Regardless, if you decide to invest later in a high-quality and more expensive turntable platform, building one yourself will allow you to see the difference a platform can make for your setup.
7. Purchase a Marble or Granite Platform 
If money isn't an object, using marble or granite as a platform is the ultimate choice. 
On audiophile forums, some turntable users say that they have repurposed leftover granite or marble from household projects. A great thing about this solution is that granite and marble aren't so easily moved, so even significant movements in your home won't affect your turntable as frequently. Additionally, these materials last a long time, so if you invest in a slab, you can keep it for a long time. 
8. Use Spikes for Your Turntable 
Spikes are similar to isolation feet but a little bit different. They work in the same way, lifting your turntable off of a surface so that it's less prone to being disturbed by movements.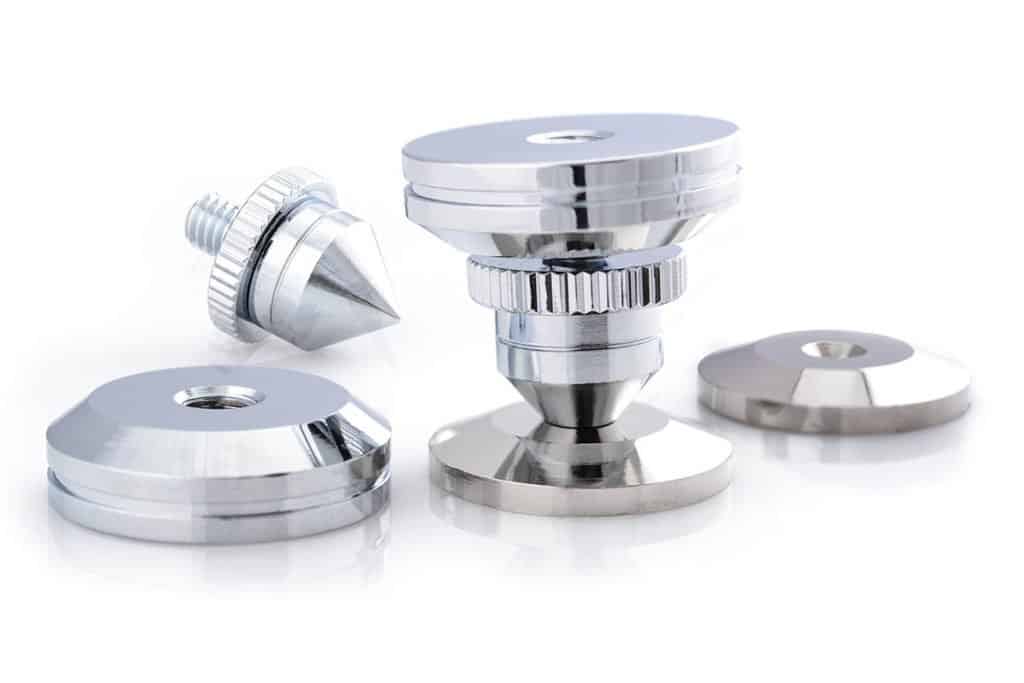 Spikes are usually adjustable, meaning you can move the height up and down depending on your preference. They're rarely as easy to install as feet, though, and you might have to install them directly onto your turntable, which might not be ideal if you just want to test them out.
Below, we detail two examples of isolation spikes found on Amazon. 
These golden speaker spikes are adjustable and come with double-sided adhesive for installation. The gold is super attractive and fits well with any finish of the turntable. 
Awpeye Speaker Spikes have the capacity to hold a record player that's one-hundred pounds or lighter, which is a relief for those who might worry about putting their turntable on something. If your turntable is heavier or closer to that one-hundred-pound mark, these might not be the ideal spikes. 
The Facmogu Speaker Spikes are made from stainless steel and can hold up to four-hundred and fifty pounds. There are few turntables out there with that kind of girth, so this will likely hold up any turntable effectively. 
These spikes also come with two-sided adhesive, which seems to be the only complaint in the comments. Get ready for an easy install, but come prepared with backup plans to get them fitted just right. 
Key Takeaways
Sound isolation is essential for a quality turntable experience. It's common to experience some vibrations or skips in your record playing. That's especially true if your environment hasn't been set up for ideal sound quality.
To eliminate the vibrate in your turntable, you can try: 
Getting an isolation pad.
Buying turntable isolation feet.
Moving your speakers away from your turntable.
Wall mounting your speakers.
Finding a new turntable platform. 
VacationVinyl.com is a participant in the Amazon Services LLC Associates Program, an affiliate advertising program designed to provide a means for sites to earn advertising fees by advertising and linking to Amazon.com. We also participate in other affiliate programs which compensate us for referring traffic.