This post contains affiliate links.
Vinyl is back. A new era of vinyl records is taking shape and for some, it's a whole new way of listening to music. Whether you're looking for a gift or want to upgrade your collection, there are many places on the web where you can buy used vinyl records from sellers all over the country.
Here are the 12 best places to buy used vinyl records online:
Amoeba Music 
Discogs
Amazon
Dusty Groove
Joe's Albums
Sounds of The Universe
eBay
EIL
Etsy
Vinyl On The Net
Rough Trade
Wax Trax Records
In this post, I'll be discussing the best online stores for buying used vinyl records so that you can find the perfect selection. Whether you're a music lover searching for rare records or want to save money, the rest of this article should interest you.
1. Amoeba Music
With physical shops in Berkeley, San Francisco, and Hollywood, Amoeba is a popular online record store in the United States. Their inventory ranges from country, rock, hip hop, soul, jazz, and nearly every genre out there. With the support of a special team composed of musicians and experienced staff, you can expect to find great music and professional service.
Since this store is essentially an open market for new and used records, their stock changes daily, so you can find almost anything you need here with time. Also available at the store is a membership to the exclusive Amoeba Vinyl Club (AVC) which is a premium service for music lovers.
The service is a partnership with Vinyl Moon, an L.A.-based indie record company. As a member, you'll receive a beautifully colored vinyl record in deluxe packaging to add to your collection every month.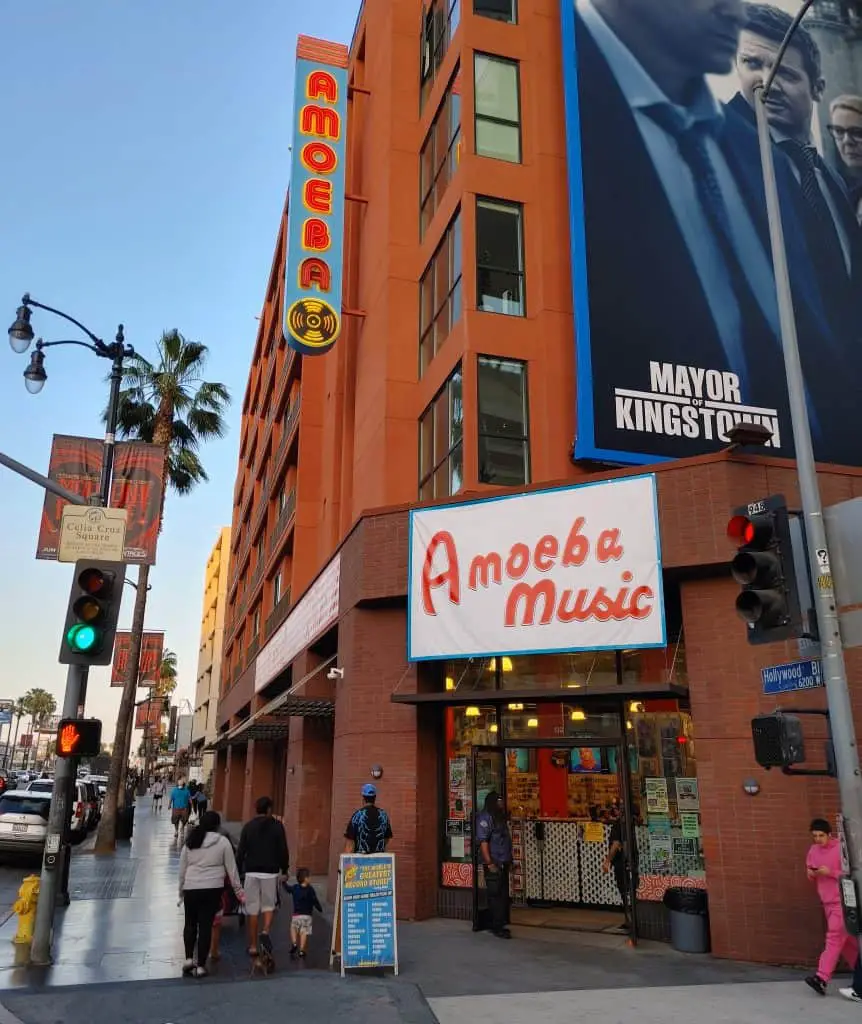 2. Discogs
We all love to listen to music, and I'm not just talking about the radio. Sure, that's a big part of it, but when you're looking for something old and exciting, there's only one place you need to go: Discogs.
Discogs, short for discographies, is an international online marketplace where you can buy and sell used vinyl records. It has a vast community of millions of music lovers who buy, sell, and trade vinyl records. The site was started in 2000 by a group of friends who were passionate about music and wanted to create a platform where people could connect through their love for music.
The original intention was to create a database of electronic music but with time, the site has expanded to include all music formats and genres after allowing the public to contribute.
Discogs has over 628,000 registered users worldwide on its site, with a database that contains more than 40 million vinyl records and C.D.s at any given time.
In addition to offering a large selection of used vinyl records, Discogs also makes it easy for buyers to locate what they're looking for effortlessly. Use the filters to search by genre, year of release, and even record condition. 
3. Amazon
If you're looking to purchase used vinyl online, it's going to be hard to avoid the famous online giant Amazon. They also have an extensive collection of used vinyl records like other online stores, so it won't hurt to check here. Amazon is a known brand, so you can be sure you're buying from a trusted source. You might even find some deals that other online record stores don't have.  
Ensure the vinyl records on sale are in good condition before you purchase them. Regardless, they have a great return and shipping policy. 
Additionally, if you're a vinyl fan in the United States, you can join Amazon's new subscription service: Vinyl of The Month Club. Each month, as a member, you will receive a classic vinyl album curated by the experts at Amazon Music from a collection of albums from the 60s, and 70s, the so-called golden era of vinyl.
4. Dusty Groove
You can check out Dusty Groove, a Chicago-based store selling vinyl records online since 1996. The record store has a lot of hidden gems depending on your taste. Every day, hundreds of records are added with clear and concise descriptions, demonstrating that they take their vinyl business seriously.
Dusty Groove stocks a wide selection of music from all major genres, but it specializes in funk, soul, reggae, jazz, and other less popular genres as well. It's one of those platforms where you might just come across the rare vinyl records you've been looking for all this time. 
The website is constantly updated with new arrivals, making it a great platform to get used vinyl online.
5. Joe's Albums
Joe's Album is a record store that stocks all genres of music and periods. There's something for everyone in this shop, whether you're a fan of classic rock, 1970s soul, 1980s pop, or 1990s hip-hop.
Joe's also has a wide selection of used vinyl records and C.D.s, so you can explore the music you love in the comfort of your own home. If you're looking for some new music to add to your collection, Joe's Albums is the place to go.
Their stock of pre-owned records undergoes a rigorous inspection process before being approved for sale. Each record is inspected under bright halogen lamps for marks that might add surface noise and is then tested to determine its quality. In order to ensure that you get the best listening experience, records are cleaned with a Pro-ject Vacuum machine. 
6. Sounds of the Universe
Sounds of the Universe is a shop specializing in rare original vinyl and sources new and used vinyl online from around the world. Founded in the late 1980s by Stuart Baker, the shop also has a record label called Soul Jazz Records.
They have something for everyone: classic rock, indie, metal, and more. Sounds of the Universe is your one-stop shop for all your vinyl needs.
Why should you get your hands on their inventory? First, they have records from all over the world. You can find out what's truly rare by checking out their website and seeing how many artists make up their catalog. 
Beyond stocking rare records, which is cool, all their original vinyl is 100% guaranteed. In the event you don't like the condition of the item when you receive it, return it, and you'll get a refund. 
It's usually common to get low-quality previously used goods. Thankfully, Sounds of the Universe vinyl are properly vetted to ensure there is no damage to them. 
7. eBay
Vinyl records are an ideal way to listen to your favorite music, but they're not always affordable. Fortunately, there are ways to find used vinyl online on eBay.You can buy used vinyl records on eBay for as little as $2. 
You can find a used vinyl record in mint condition for less than half of what you'd pay at a store. Plus, when you buy from eBay, you will have enough information about the record and the vendor to decide whether or not it's worth purchasing.
Here's how to make sure you get a good deal.
First, head over to eBay and search for "Vinyl Records."
Then you can filter your search by the condition, record type, or size.
You'll find many options, and once you've narrowed down the results, select the listing that seems to contain what you want.
Next, look at the seller's feedback. Does the seller have a lot of positive feedback? If so, this might be a good indication that they're trustworthy and reliable.
8. EIL
If you're a music fan, then you've probably heard of EIL.com. EIL is a UK-based vinyl marketplace with a long history of music. It's a rare vinyl marketplace with over 250,000 different records in stock, and has some rare exclusive vinyl you'll be hard-pressed to find elsewhere.
With its massive selection and low prices, EIL offers rare European music that might be difficult to find outside of the United Kingdom. Thankfully, they have offices in multiple parts of the country for easy access.
EIL is well-established, having been created in the '80s by two music lovers. As a result, they have amassed a wide collection of not just vinyl but also music memorabilia, limited edition releases, and much more.
You can be assured of quality when you purchase used vinyl online from this store. Their records are graded according to the U.K. Record Collector gradings, which are the industry standard. As a record collector, you can be assured that every item they sell is in excellent condition.
The website is slightly-old fashioned but there is a cool retro look about it, which goes well with the records they sell. 
9. Etsy
Etsy is a marketplace for sellers of handmade goods and vintage items. Thousands of vendors sell their craftwork on the site, so you'll never have trouble finding something you like. The site is one of the largest marketplaces for artisans in the world, with millions of products sold yearly by small businesses.
Luckily, if you're a thrifty shopper, there's no better place to go than Etsy. Etsy is about as frugal as it gets when it comes to online shopping. There are even places on Etsy where you can buy used vinyl records in good condition. The site is a great place to shop for vintage collectibles and used vinyl records and with some time and elbow grease, you'll find some great deals.
The Etsy marketplace offers almost anything you can imagine; you just have to search patiently and be keen.
10. Vinyl on the Net
If you love punk music and vinyl, you might already know about Vinyl On The Net. It's a British store specializing in rare punk, rock, and gothic music, the perfect spot to get punk music if you want to buy new or used vinyl online.
While vinylonthe.net may not be the most well-designed website in the world, its collection of punk records is unmatched. It's regularly updated with hundreds of new arrivals in other genres, including gothic, industrial, grunge, indie, Madchester, psychobilly, mod, ska, and every sub-culture. 
In a way, it's like an underground punk version of Amazon that sells records, and it's extremely reliable.
11. Rough Trade
Rough Trade is a network of independent record retailers in the U.K. and the U.S., with headquarters in London. Rough Trade was founded in 1976 with a shop in London. Today, the company remains committed to vinyl, alternative music, and independent labels, which have a strong following.
The company's mission is to champion independent artists by giving them an outlet for their music. There was a considerable lack of support for independent music, so Rough Trade Records was started to provide these artists with a place where a wider audience could hear them.
Rough Trade has evolved from just selling vinyl to providing services beyond the sale of records. The blog on the website feels like a true community effort dedicated to pushing independent artists into the mainstream. 
Their vinyls are top quality and they feature artists like Mitski, Father John Misty and more. Of course, independently distributed music isn't always going to be the most popular but Rough Trade has done a very good job with its selection of artists.
Aside from getting a decent selection of used vinyl online here, you can exchange your pre-owned vinyl for cash or Rough Trade credit.
12. Wax Trax Records
Over 41 years have passed since Wax Trax opened its doors on Capitol Hill in downtown Denver. Established in 1975 by Jim Nash and Dannie Flesher, the store features a diverse selection of independent music.
Wax Trax is another champion of solo artists and has out time into developing one of the most extensive inventories in the state. Throughout its history, it has served as a platform for a wide range of artists across genres, making it an important part of Denver's music scene.
Wax Trax's inventory includes vinyl records, C.D.s, cassette tapes, and DVDs. Also available are new releases from all genres, such as punk rock, grunge, hip hop, metal, and more. The store features an extensive collection of rare items, including 45 RPM single records and original artwork from the label's many releases throughout its history.
You might also be interested in checking out these two articles that I wrote about online record stores and about selling vinyl records.
VacationVinyl.com is a participant in the Amazon Services LLC Associates Program, an affiliate advertising program designed to provide a means for sites to earn advertising fees by advertising and linking to Amazon.com. We also participate in other affiliate programs which compensate us for referring traffic.