This post contains affiliate links.
Vinyl records have been exploding in popularity over the past decade. From popular artists releasing limited edition LPs to the comeback of record players, you may be wondering if there's a market for selling your vinyl records. 
Here are the main places where you can sell your vinyl records:
Local record stores
Book shops
Antique stores
Online platforms like eBay, Etsy, and Mercari
Social media
Whether you're a casual vinyl listener or you've been collecting for decades, there are plenty of great ways to sell your records near you and online. In this article, we'll discuss the best places to sell your vinyl records, as well as all the information you'll need to get started. 
Local Record Stores
Local record stores can be a good way to support small businesses and get some extra cash for your vinyl. 
Stores like We Buy Records (Chicago and Midwest), Amoeba (Los Angeles),  Rough Trade (Brooklyn, New York), and Criminal Records (Atlanta) are all great spots depending on what part of the US you're selling in. All of these, as well as tons of other record stores across the country, also have online shops!
The downside of selling with record stores is that they still need to make a profit, meaning you'll probably only receive about 20-30% of what you paid for the record. However, it may be okay if you have an extensive collection you want to get rid of, or if you bought a record at a thrift or antique store at an excellent price. 
But the negative parts of selling with a record store may be worth it for those looking to save time. Choosing one of these shops instead of selling on an online platform or through social media means you'll probably get paid much faster, as there's usually not too much hassle with determining the sell rate. 
Book Shops 
Depending on where you live, there may be used bookstores interested in buying your vinyl records. Many places that buy books, DVDs, and CDs also appeal to a clientele that buys vinyl, meaning you're likely to find book stores willing to pay for records, too. 
Unfortunately, book stores have the same downsides as record stores in that you probably won't make very much off of the sale. Again, that's good for people with extensive collections or records that don't mean much to them, but it's probably not the best option for those looking to sell pretty valuable records. 
Like record stores, however, selling at a bookstore almost guarantees quick cash. It may not be as much as they'll sell the record for, but selling this way does have a speedy turnaround compared to some of the other options on this list. 
Antique Stores
Like the previous two, antique stores will buy from you, but the rate may be less than ideal. However, what separates selling here from the last two is that you can sell multiple items here, not just music, movies, and books. If you have any sizable collection of antique items, including vinyl records, it may be wise to sell with an antique store rather than other places.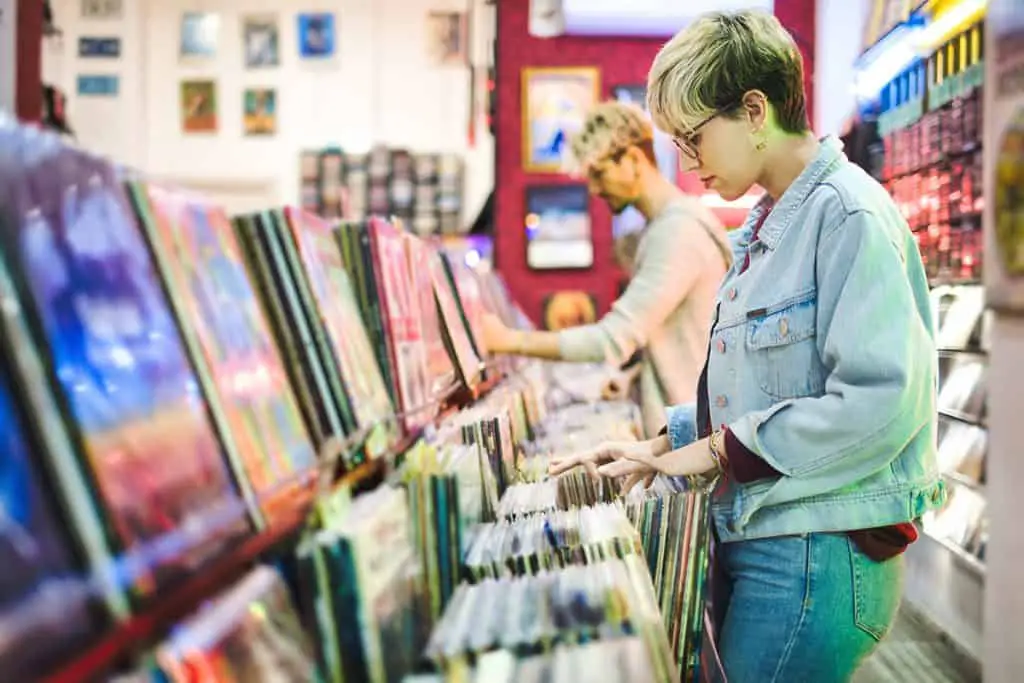 One limitation is that antique stores may not want newer vinyl records. However, if you have collectible records or older records in reasonably good condition, antique stores may be the right place for you to cash in. 
Online Platforms 
Online platforms, which are discussed in detail later in this article, can be a solid option for those willing to spend a bit more time finding the right buyer. Websites like Discogs, eBay, and Mercari can be hit or miss for some users, but they prove to be a valuable and lucrative way to sell vinyls for others. 
There are two significant drawbacks to using online platforms. The first is the fees you have to pay for your sales. Depending on the site, you can expect to pay anywhere near 3-15% of your list price, not including shipping. 
If you sell a record for $200, this fee isn't terrible. Considering a record store may not give you $170 for the record, it could be a great option. However, factoring in shipping, plus time waiting for the item to sell, plus the original price you paid for the record can all impact profit. 
The second drawback is negotiation and bidding. It's less acceptable on certain platforms, but on eBay and Mercari, it's virtually the entire means of making sales. It can feel like a massive waste of time for some people, especially considering there's no guarantee that the potential buyer will even follow through with the purchase. 
These factors will be discussed further in the sections about the benefits and limitations of selling records online. 
Social Media 
If you're relatively active on social media, using your platform to sell records may be an excellent fit for you. Platforms like Facebook and Instagram are built around connecting with people you either know or share interests with. If you're a vinyl collector looking to sell some of your records, it's likely you already know people who'd be interested in buying them. 
Facebook and Instagram are also relatively easy to list items on, as you can make a Facebook page for your online record shop. For Instagram, you can create a pinned Instagram story with listings for the records you're selling. Prices can be negotiated, but unlike other online methods of record selling, you can also choose to make the prices firm. 
When using social media, it's important to remember that there's still little guarantee that interested buyers will actually follow through. Similar to other online platforms, the process for selling can be slower, more tedious, and less certain. However, if you find the right buyer, this venture can be incredibly profitable. 
Best Places To Sell Records Online
Here are some of the best places to sell records online:
Discogs
Launched in 2000, Discogs is probably the most well-known online platform for selling records. Because it's been operating for over twenty years, the site is not only a great place to sell vinyl, but also an excellent resource for learning about it. The site hosts a blog, forum, and even groups (similar to Reddit Subreddits) for fans and collectors of particular genres of records. 
The site has over 45 million records listed, making it a great place for buying and selling. Additionally, between Discog guides and user forums, there's no shortage of information on how to sell your records on the site. All in all, it's an excellent option for selling vinyl. 
eBay
There's a good chance you've bought something from eBay before; it's one of the most used websites in the world for buying and selling almost anything, including vinyl records. 
Although eBay's bidding system can be frustrating for some, it separates this platform from others and allows you to make a lot more money on a sale than other sites. 
However, eBay charges some of the highest fees of the websites on this list, so keep that in mind when considering it over other options. 
CD and LP
Like Discogs, CD and LP has been around for quite a while. Founded in 2002, the site has been a staple in the record world for years and currently hosts over 15 million record listings. 
One unique part of CD and LP is their international market. Although sites like Discogs and eBay host sellers from all over the world, CD and LP operates out of Saint Etienne, France, making it especially good for finding music you may not be able to in the US. 
If you're an international seller or just a collector looking for another place to list records, CD and LP is a perfectly acceptable option. 
Your Own Website
While building your own website may sound like too much work, it's relatively easy with sites like Wix, Squarespace, and Shopify. If you have any kind of experience with these sites, you'll know they make building your own website relatively straightforward. If you're a seller looking for greater independence and less competition, this option could be for you. 
If you're only selling a few records, it's probably easier and less time-consuming to choose a different method of selling your vinyl. However, if you want to make selling records a long-term side hustle, making your own website may be just what you need to make your business take off. 
Etsy
The benefit of using Etsy to sell vinyl is twofold. First, Etsy is one of the only places that allows you to turn a profit on junk records. If you have a sizable collection of records that unfortunately aren't in excellent condition or just aren't valuable, Etsy is a great place to sell them as craft supplies. 
While Etsy can keep poor condition records out of thrift stores and into your pocket, it's also suitable for selling collectibles. A search for "Beatles Vinyl Record" on Etsy, for example, pulls up thousands of product listings, some of which selling for hundreds of dollars. 
Another benefit of Etsy is that they take a 5% transaction fee, which is far lower than other fees on this list. 
Mercari
Like eBay, Mercari is a platform for almost everything. Unlike eBay, however, Mercari appeals to a younger generation, as it's a relatively new platform and is mainly used to sell clothing for teenagers and young adults. 
Mercari is an excellent option for collectors looking to sell newer vinyls, as the target audience for these records is more likely to search for them on Mercari (or similar platforms, such as Depop and Poshmark). 
Factors To Consider Before Selling
If you're just getting started selling records, either online or near you, there are several things to learn about and consider first. 
The Condition of Your Record(s)
Many novice sellers and collectors can't distinguish between different record conditions. When you go to sell and don't know the condition of your product, you open yourself up to lower payment and lowballing. 
The Availability of Your Record
A quick Google search will immediately let you know if a record you want $150 for is all over eBay selling for $15. If the record seems relatively hard to find, you'll want to be aware of it before making an asking price. 
The Time You Want To Put In
If you don't want to wait around for days (or possibly longer) for your records to sell, look into local options that will buy immediately. If you're willing to put in more time and be more patient with your sales, selling online may be better. 
Your Buyer
If you have a limited edition vinyl record of Harry Styles' Fine Line or Taylor Swift's folklore, you should probably market it to a different type of collector than a Pink Floyd or Queen album. There's nothing wrong with this, but it's essential to remember that a potential buyer may be more likely to purchase from certain platforms.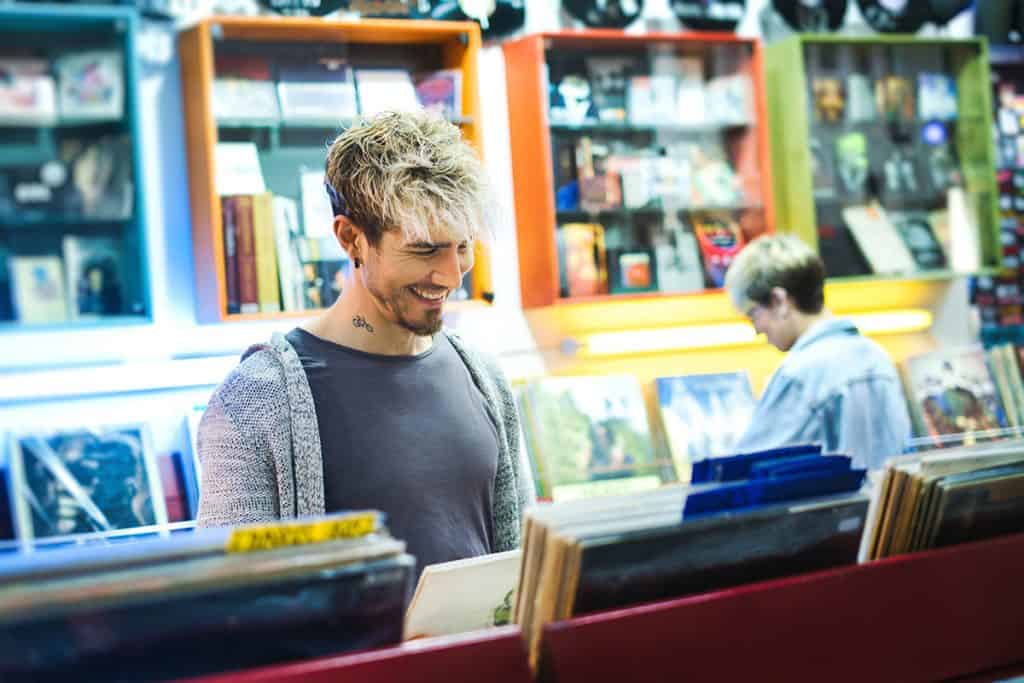 For example, you would probably want to sell Fine Line on social media, Etsy, or Mercari, since platforms like Discogs and eBay are less popular with younger vinyl collectors. 
Benefits of Selling Vinyl Records Online
There can be many benefits to selling your records online, and for many collectors, online platforms work much better than selling in person at a physical record store. 
Here are some of the benefits you can get from selling your vinyl records online:
Can Be Much More Profitable Than Selling Near You
If you have particular records you know are pretty valuable, you can earn more profit. If you have one of these records, it wouldn't make sense to settle on selling it for 20-30% of its value. While record stores can be great for some records, others that you know you could profit from are worth putting more time into selling. 
May Be a Better Use of Your Time
You can better use your time selling vinyl online depending on how close you live to a record or book store. Even though you may have to wait longer between when you list the record to sell and when you sell it, you won't have to drive somewhere, have the record or record collection appraised, and then sell it. Selling online can mostly be done from your couch!
More Control Over the Price 
If you go to a record store to sell something, the price they offer you is almost always final. With selling online, especially on social media, multiple buyers may offer different prices, and you can choose the highest one. 
Limitations of Selling Vinyl Records Online
While selling online is definitely the better option for some, there are a few drawbacks to consider when choosing it over other options.  
Your Buyer May Want To Negotiate
This was discussed briefly earlier, but it's important to mention again as this can be a significant factor in choosing to sell online, especially on Mercari or Facebook Marketplace. 
If negotiation is an option on your chosen platform, potential buyers will likely try to get the lowest price possible. Although this is understandable, it can be very frustrating to receive offers of one-third of your asking price. Moreover, more informal platforms like Instagram or Facebook are sometimes home to unclear or poorly communicated requests from buyers, further complicating the selling process. 
If you'd like to avoid negotiation, there are some online platforms where it's unacceptable. On Etsy, for example, you can message sellers for requests, but there's no option for buyers to specifically ask for a lower price. On platforms like eBay, sellers can list items as "Buy It Now," with no possibility of placing bids. 
You May Not Want To Deal With Shipping
If you use social media, you could make agreements with your buyers to come and pick up the item from you, but with other platforms, you'll likely need to ship the record to them. 
It's a major drawback for some people, depending on how many records you want to sell and where you want to sell them. If you only ship within the United States and are only planning on selling a few records, it shouldn't be too much hassle. However, going back and forth to the post office, dealing with international shipping fees, and shipping heavier packages can all be reasons sellers find online sales less than ideal. 
Most Platforms Charge Fees
If you're selling a record in mint or near mint condition, you're probably going to turn a good profit from it, making fees from online platforms manageable. However, if you're selling less valuable records, shipping costs plus platform fees might be more trouble than it's worth. 
These downsides may be enough to turn some sellers towards in-person vinyl selling, but it's worth the effort and potential expenses for others. Selling online can be a great option, but weigh the pros and cons of doing so with your goals for selling vinyl. If you decide it's not worth it, there are plenty of benefits to selling at a record, book, or antique store. 
Benefits of Selling Near You
If selling online sounds like a bit too much for you, selling near you at a physical store definitely has its upsides. 
You Can Avoid Fees From Online Platforms
This is discussed above, but it's especially important for sellers looking to sell multiple, slightly lower value records. While you will be paid less at a record store than the vinyl will be sold for, this is still a better option for some. 
Helps Support Your Local Music Community and Small Businesses
Because it's so easy to shop online, many bookstores and music shops lose business and customers to internet retail. Selling at a record shop helps keep local, community-oriented businesses afloat and supports your neighborhood music fans. 
Can Save You Time
Not only can you walk out of a record store with cash in hand, selling to a record store means selling to experts. If you have records you want off your hands but don't know much about collecting them, selling locally can save you the research and time required to appraise your vinyl. 
Limitations of Selling Vinyl Records Near You
While selling vinyl records has a lot of benefits, there are a few things to consider before choosing to sell this way. 
Expect a Low Rate
Record stores have to make a profit, which means you'll get significantly less for your record than you may want. It's probably the biggest drawback of selling locally and possibly the biggest deal breaker for some sellers. 
It's Not the Best Option for Very Valuable Records
If you have a record you know is valuable, either because it's in excellent condition, sealed, or limited edition, put in the extra time and effort in selling it online. Collector's items often sell much better online as you can take advantage of bidding and being selective about your buyer. 
Why Sell Vinyl Records
Over the past few years, vinyl records have become extremely popular. Although most artists release their music on streaming platforms, there's still an enormous (and lucrative!) market for vinyl. That's partially because the availability of affordable record players has also gone up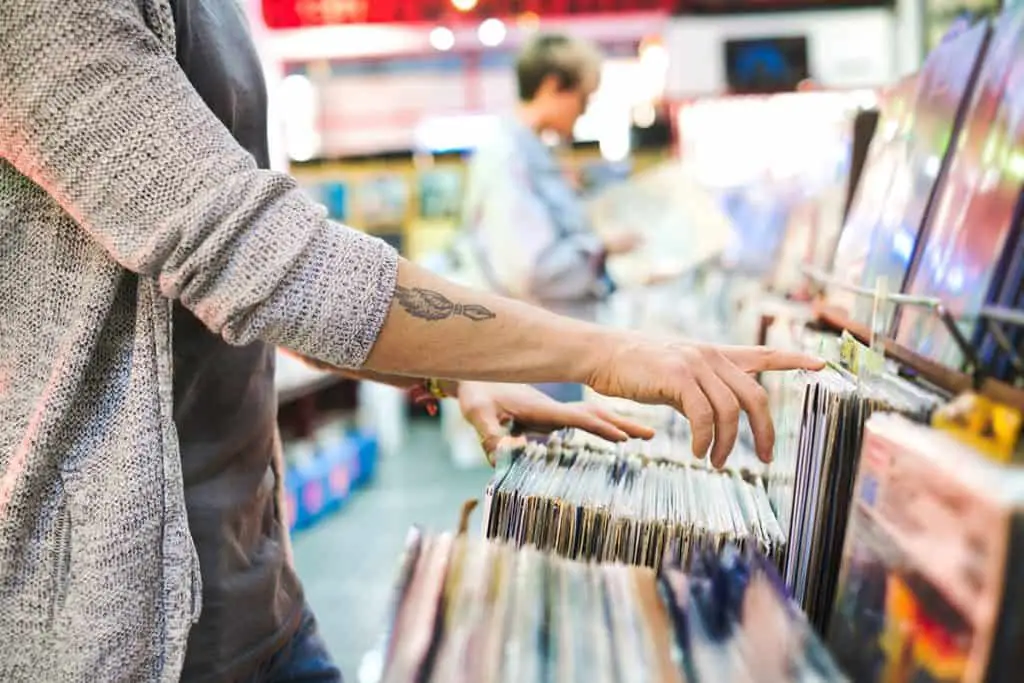 Buying and selling vinyl is also popular among a wide variety of people. Because music fans have been buying and selling vinyl records since the late 1940s and early 1950s, there's no shortage of record collectors and record marketplaces.  
Selling vinyl can also be a great side hustle. If you're knowledgeable about your records, there are lots of ways to sell your records successfully at a potentially lucrative rate. 
Additionally, selling vinyl within your community is a great way to build connections with other music collectors. Because vinyl has been around so long, collectors often come from all different backgrounds and age groups. If you meet someone who isn't interested in buying from you, it's possible they may know someone else in the community you could sell to. 
Finally, selling your vinyl is the perfect way to expand your collection. Everyone has music that will always be meaningful to them, but music tastes and preferences are constantly changing. Selling your records is a great way to clear some space on your shelf for things you'll listen to more, which means you're also giving someone else the chance to hear something new. 
Final Thoughts
Selling vinyl records can be overwhelming, mainly because there are so many options for doing so. However, picking the right option depends on how much you're selling, how much time you have, and what prices you want to charge. 
For selling locally, opt for a record, book, or antique store. These may give you lower rates than online options, but they will probably be much faster. 
For selling online, Discogs, eBay, and Mercari are great options, but negotiation, time commitment, and shipping should be considered so you can decide the best way to sell your vinyl. 
Related articles:
VacationVinyl.com is a participant in the Amazon Services LLC Associates Program, an affiliate advertising program designed to provide a means for sites to earn advertising fees by advertising and linking to Amazon.com. We also participate in other affiliate programs which compensate us for referring traffic.