This post contains affiliate links.
Turntables and record players have increased in popularity in recent years and with that comes a need for bigger and better speakers. Everyone loves to be able to hear their music clearly, but when you have a turntable, they often do not come with built-in speakers or an amplifier. The most obvious solution to this is to get powered speakers that you can connect to your turntable.
When budgeting, the best powered speakers under $200 are the Edifier R980T Speakers, the Micca PB42X, and the Edifier R1280DB. If you have the budget for more expensive speakers, the Audioengine HD6, the KEF LSX Music System, and the Klipsch The Fives Speaker System are great options.
While these are definitely some great options for a powered speaker set, there are so many more options and details that are good to know before making a decision on the speaker set that you want. Keep reading to learn more!
Why you need Powered Speakers
Before we get into all of the details of each speaker, it is important to know why you even need to get a powered speaker in the first place. While there are a lot of different reasons to want powered speakers, to amplify your existing record player's speakers, or to have better sound quality when playing music, in the situation that you have a turntable, you need external powered speakers because most turntables do not have built-in speakers.
Because turntables do not usually have speakers or an amplifier built-in, you have to buy powered speakers that you can connect to it. If you don't have these external, powered speakers, your turntable is nothing more than a nice decoration that has no practical function. When you purchase speakers that connect with a wire or Bluetooth, you can now use your turntable to play the records that you have bought for it!
If your turntable does have built-in speakers, you might still want to purchase exterior powered speakers. Often times, the speakers that are built into record players or turntables do not play the sound very clearly or very loudly. This can be very annoying for a lot of people because you spent all this money to play vinyls but now you can't hear it very well. Purchasing and hooking up powered speakers is an easy solution to this problem, and the speakers will likely last you a very long time.
Speakers for a Tight budget
The very first price range of speakers that we will talk about are the speakers for people on a strict budget. While the average price for powered speakers is anywhere from $300 to $600, but each of these speaker sets, for those on a budget, are under $200! They are also pretty good quality speakers and are worth looking at for your sound set up.
Edifier R980T 4″ Active Bookshelf Speakers
The first set of speakers are the Edifier R980T 4″ Active Bookshelf Speakers. These speakers are specifically designed to fit in small spaces like on bookshelves and in between other items on desks, hence the name "Bookshelf Speakers". They have a 4-inch bass driver, which is significant for a speaker of this size and will give you a sufficient "bass" sound when dialed up.
These speakers connect primarily by an auxiliary chord and it has two inputs for that so you can connect two devices to it without needing to unplug the first one. It also has RCA ports for connecting to devices that require a connection through RCA wiring like a TV, a DVD player, and some turntables. Unfortunately, there is no wireless connection or a remote control for these speakers.
These speakers run for about $75 on Amazon.
Micca PB42X Powered Bookshelf Speakers
The next speaker set for those on a budget is the Micca PB42X Powered Bookshelf Speakers. This set of speakers is significantly smaller than the Edifier R980T speakers, but that is not to say that they give any less sound clarity or power. These will fit in any little area and are great to keep on a desk or side table with your turntable.
This speaker set was built for clean sound and a clean look. They are compact and modern and are built from materials that give you the best sound quality possible for its size and tweeter. It has a 3.5 mm input port, for a standard auxiliary cord and RCA ports on the back for connectivity options. This speaker set also does not offer a wireless connection option.
This speaker set is about $120 on Amazon.
Edifier R1280DB Powered Bluetooth Bookshelf Speakers
Another excellent option for powered speakers on the cheap side are the Edifier R1280DB Powered Bluetooth Bookshelf Speakers. These speakers are much heavier than the other two options, and for good reason. They are packed with all sorts of features that the other two, cheaper options don't have. However, the sound quality of this speaker set is the same as the sound quality of the Edifier R980T Speakers.
This speaker set does have wireless connection options in addition to its two available RCA inputs and AUX port. With the wireless design, it leaves a cleaner sound set up and allows you to move the speaker as close or as far from the turntable, within the Bluetooth range, as you would like. It also comes with a remote so you can change the setting from a distance.
The R1280DB Edifier Speakers are roughly priced at $140 on Amazon.
Average Priced Powered Speakers
The next category of powered speakers that you should consider are ones that are priced closer to the average range of this type of speaker. If you have a little extra money budgeted for buying speakers, these are a few great options that are a bit more expensive than the previous category of speakers. The range for these is between $200 and $600.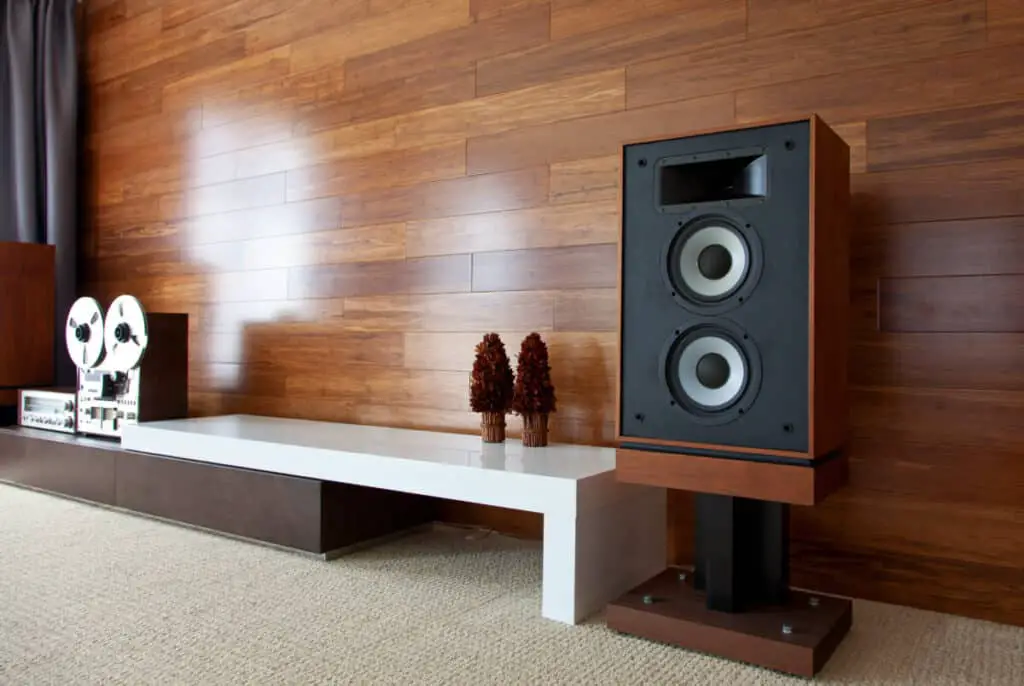 ELAC Debut 2.0 B5.2 Bookshelf Speakers
The first set of speakers that are a good middle price are the ELAC Debut 2.0 B5.2 Bookshelf Speakers. These speakers have a wonderful sound to them because of the size and placement of the tweeter. Because of how clear the sound is, they make for great turntable speakers. The clarity will showcase all of the little details of sound that vinyls and turntables offer in the first place, but on a much louder, and clearer level.
These speakers do not offer a Bluetooth connection option, but they do have wired connection options like RCA ports. While they are not Bluetooth compatible, they still offer easier connection options by having many of the ports at the front of the speaker so you can back it up against a wall for a more compact look.
These bookshelf speakers are about $280 on Amazon.
Klipsch RP-600M Bookshelf Speakers
The last middle range priced speakers are the Klipsch RP-600M Bookshelf Speakers. This set of speakers has a beautiful, vintage look to them and they come in black, and two options for dark, wood tones. Each of these speakers is quite large, but again, that allows for more cabinet space for the sound to reverberate in, just like the Wharfedale Diamond speakers. One problem with the sound is that the speakers sound best when they are given some room from the wall, about 1.5 to 2 feet of space.
These speakers have the downfall of requiring an amplifier to connect them to your turntable (non powered). If your turntable has an amp already included in the model, then these could be the perfect speakers for you. They do not offer a Bluetooth connection, but the sound of them is rich, clear, and well worth considering. They look beautiful, sound great, and are offered for a great price.
These mid-priced speakers are on the higher end at roughly $600 on Amazon.
High-End Powered Speakers
The final section of powered speakers to consider are the high-end, expensive speakers. These are for people who want the best sound system they can possibly get and with that standard, they can be quite pricey. These speakers have a ton of useful features and the best sound quality that can be produced, but that drives the prices up, in between $700 and $1,300.
Audioengine HD6 Wireless Speaker
The first high-end speaker is the Audioengine HD6 Wireless Speaker. It is made to be sleek and small to fit in any available space. Do not let its size fool you however, because these speakers are powerful with a sound that is full and loud that can fill any room. They have so many great features that are practical and create a sense of luxury when you use these speakers.
These speakers offer a 30 meter Bluetooth range in addition to RCA ports, AUX ports, and the corresponding cords to go with them. They also come with a remote control so you can change any of the settings from across the room. They are easy to set up and have an additional subwoofer connection option.
This set of powered speakers is about $700 on Amazon.
Klipsch The Fives Powered Speaker System
The next set of high-end powered speakers is the Klipsch The fives Powered Speaker System. This speaker system promises true connectivity which means that they have connectivity options for virtually every device out there. This is great because it means you will have no problems connecting these speakers to your turntable, no matter the age, brand, or model it is.
These speakers have a beautiful vintage look to them and will greatly compliment nearly any room and turntable nicely. They offer Bluetooth connection and also come with and HDMI connection option and a remote control for easy access to the levels of these speakers. The Klipsch speakers are larger, but they look stunning next to a turn table, on a TV stand, or on a side table for a more surround sound feel.
This powerful set of speakers is usually $800 on Amazon.
KEF LSX Wireless Music System
The final set of speakers we will talk about is the KEF LSX Wireless Music System. These speakers are very high-end and they are very expensive. However, they are not expensive for no reason, as they have an incredible sound quality with their "Uni-Q driver array". This makes the sound as clear, and powerful as possible. These speakers come in a variety of colors for you to choose from, so you can find the color that complements your decor the best and they will look stunning.
These speakers come with several connectivity options such as Bluetooth, WI-Fi, Auxiliary, and even Ethernet. While these speakers are a great option for a turntable that can connect wirelessly, they are also well equipped to connect via Apple AirPlay so you can play music to the speakers from your phone with a few taps. When connected to your turntable, you can also use your phone, instead of a separate remote control, to change the levels of the speakers, and any attached subwoofers.
Being the most expensive set of speakers we have covered, they are priced at about $1,250 on Amazon.
VacationVinyl.com is a participant in the Amazon Services LLC Associates Program, an affiliate advertising program designed to provide a means for sites to earn advertising fees by advertising and linking to Amazon.com. We also participate in other affiliate programs which compensate us for referring traffic.