This post contains affiliate links.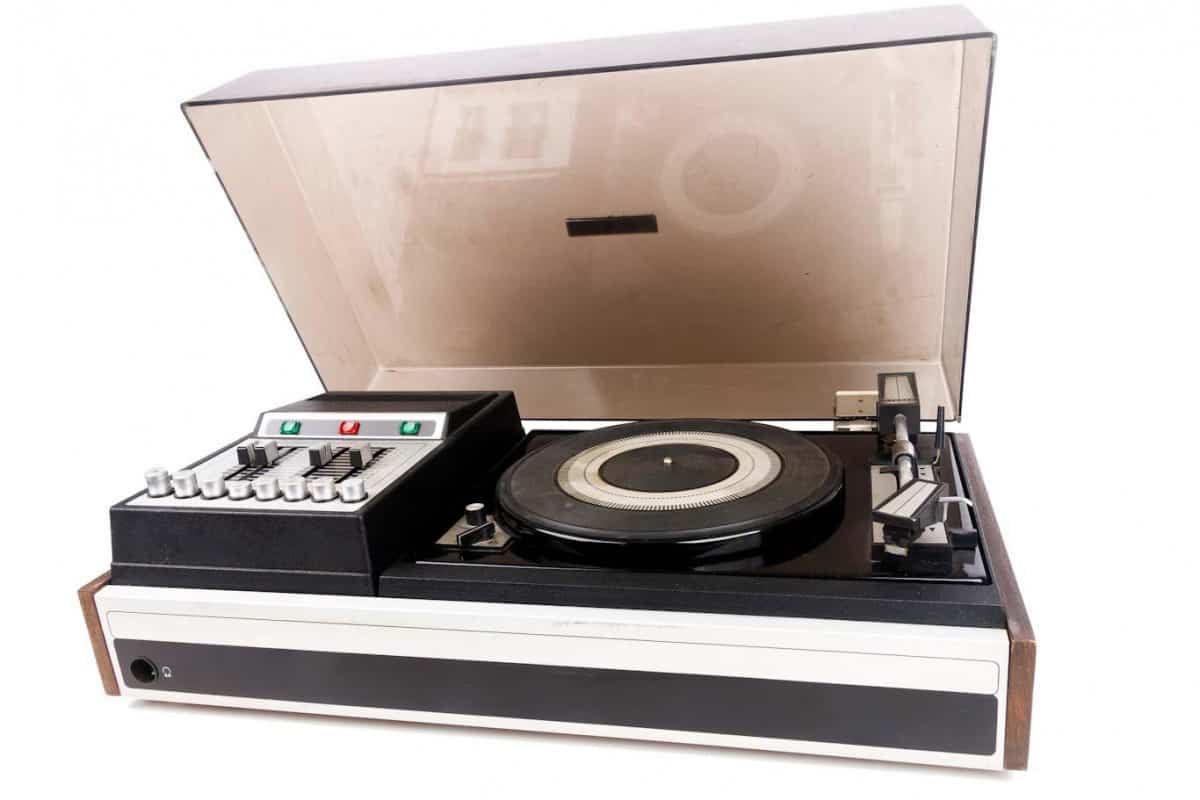 Do you have a hard time polishing your plastic turntable cover? If you've ever tried to clean a dirty turntable cover like you would wipe down any dusty surface, you can hardly attest to how much time and effort you put in to see any immediate changes. This article will address simple and effective methods to get rid of dirt from your turntable covers.
There are two effective methods to get your turntable cover clean again – using homemade polishers and factory-made polishers. The homemade method uses items you have at home, while the factory-made requires you to buy particular products to polish your turntables.
Turntables plastic covers are just as essential as turntables themselves. They prevent water, dust particles, and scratches to the turntable. However, after a few years or an extended period of usage, your turntable plastic cover will start to wear out and look dull and scratch-filled. (Source)
Without further talk, let's get right into the different ways to polish your plastic turntable covers.
Different Ways To Polish Your Plastic Turntable Covers
Polishing your plastic turntable covers can either be really easy or quite demanding. This process entirely depends on how badly damaged the plastic turntable cover is and what method and product you choose to use.
There are several methods to polishing your plastic turntable covers that revamp your plastic covers immediately and leave them looking shiny and new.
These methods include making use of homemade products, purchasing and using plastic polish products, or using plastic polishing machines.
Based on the type of materials used, these methods will be grouped under 2:
Homemade plastic turntable cover polishers
Factory-made plastic turntable cover polishers
Using Homemade Plastic Turntable Polishers
Homemade plastic polishers are DIY methods. These methods involve using cheap and affordable products within the home you never thought would work effectively.
Let's get into these products and the best ways to use them.
First Method
For the first method, you will need the following items:
A Bowl Of Warm Water
Liquid Dish Detergent
2 Microfibre towels
Plastic Polish
Once you have gathered these items, follow the following steps to get your turntable covers clean again:
Mix some liquid dish detergent into the bowl of warm water and mix it till it foams.
Soak your microfiber towel in this soapy water and then wring it out until it is damp.
Carefully wipe all dust-covered surfaces with this towel making sure not to scratch or damage anything.
Soak in the second towel in plain water and then wipe down your dustcover to remove soapy deposits.
Wait for the cover to dry out, and then add some plastic polish to a microfiber towel to polish your plastic cover surface.
This simple yet effective method will leave your plastic cover looking neat and new.
Second Method
It is helpful when you intend to clean your turntable cover and lighten some scratches. For this method, you need:
Toothpaste
Warm Water
Car Wax
2 Microfibre Towels
Plastic Polish
After you have put together all of these materials, follow the following steps for the best results:
Soak the towel in a bowl of warm water.
Wrong out the towel till it is damp, and then apply some toothpaste to its surface.
Wipe your dustcover from top to bottom with this towel.
Soak a fresh towel in warm water and wipe off any paste residue on your cover.
Apply some car wax and plastic polish to the cover as soon as it's dry.
These methods are pretty time-consuming and energy-demanding, but they work just fine if you are on a budget or you love the thrill of revamping and caring for your vinyl records.
Using Factory Made Plastic Turntable Polisher
These products are made under strict rules and guidelines and are intended for cleaning, polishing, and restoration purposes.
This method can either be through the use of plastic polishing chemicals or polishing machines. It is necessary to pay attention to the quantity and follow the instructions on the containers carefully.
Some of these polishes include:
Savouryeves Turntable Cover Polisher
This polisher is a specially formulated chemical for plastic covers. It is a long-lasting product that is easy to use.
All you need to do is apply the polisher to a buffer pad that comes with the polisher and wipe down your turntable cover. It works instantly to get rid of dust residues, swirls, and scratches.
This polisher also effectively gets rid of water and oil stains. This paste polisher gives absolute value for money with a shelf life of 3 years.
This plastic polish was designed especially for dust covers. It helps to get rid of all scratches, debris, and dust.
Regular use of this polish can help significantly keep your plastic cover neat and shiny and limit future scratches.
This product works instantly, giving you quick and easy value for money and saving your time and energy too. Novus plastic polish works fast to restore faded and discolored plastic covers. (Source)
Mother's plastic polish is excellent for plastic covers that are discolored, smudged, or oxidized. It buffs out stains in one swipe leaving your plastic cover clean and clear.
This product is formulated with polymer, which means constant usage will protect your plastic from dust debris, water, and heat damage. This plastic polish is easy to apply and highly affordable.
Plastic polish is always a great option because it adds value to your money and saves time and energy. However, the secret is in knowing the best polish suitable for your turntable plastic.
Several other factory-made plastic polishers are not only practical but affordable too.
What To Consider When Choosing Plastic Turntable Cover Polish
When choosing a cleaning polish for your plastic turntable cover, here are some essential tips to follow when selecting a plastic polish.
Plastic polish comes in different types and grades, i.e., some are more abrasive than others. Always pick out the best polish suitable for your plastic cover, or you could end up doing further damage to it.
Seek professional advice if you are confused about which plastic polish is suitable for your cover. You can always ask the store owner or speak to customer support for clarity.
Read customer reviews online about a product and how effective it is before choosing it.
Look out for plastic polish that comes with an all you need polish and cleaning kit.
Always check products for substances that are choking or might result in allergies.
Best Ways To Care For Your Plastic Turntable Covers
Just like every other product, your plastic turntable cover deserves care. Also because it serves as the primary protector for your turntable.
We have written out for you some of the best ways to care for this plastic cover.
Keep out of direct sunlight. Heat is not a friend of plastic, and there is no greater heat source than the sun.
Avoid spillage. Always ensure you keep your turntable away from where you can easily spill coffee or water on it.
Always brush your plastic turntable covers with a carbon fiber brush. This brush is gentle and gets the work done without damage to your plastic cover or your turntable.
Keep out of the reach of children and pets. Children and pets can damage your plastic cover.
Summarily
It would be best if you kept your plastic turntable covers clean at all times and regardless of how often you use your turntable. It is because it serves as a barrier between your turntable and external damages. (Source)
Keeping a clean plastic turntable cover also means keeping a clean turntable. Dirt or dust debris on the turntable's needle can affect the quality of sound it produces. Also, handling dust and germ-free plastic turntable cover is beneficial to your health.
Related articles
Sources
1. "Audio Solutions Question of the Week: How do I Clean My Audio-Technica Turntable's Dust Cover Without Scratching It?" Audio Technica, Accessed October 28, 2021,
https://www.audio-technica.com/en-us/support/audio-solutions-question-of-the-week-how-do-i-clean-my-audio-technica-turntables-dust-cover-without-scratching-it/
2. Tap Plastics, "How to Polish and Repair Scratched Plastic," YouTube Video 5:33, posted by "Tap Plastics," March 19, 2009, https://www.youtube.com/watch?v=4yp-kumgpoM
3. "How to Buy a Turntable," Wikihow, Accessed October 28, 2021, https://www.wikihow.com/Buy-a-Turntable
VacationVinyl.com is a participant in the Amazon Services LLC Associates Program, an affiliate advertising program designed to provide a means for sites to earn advertising fees by advertising and linking to Amazon.com. We also participate in other affiliate programs which compensate us for referring traffic.