This post contains affiliate links.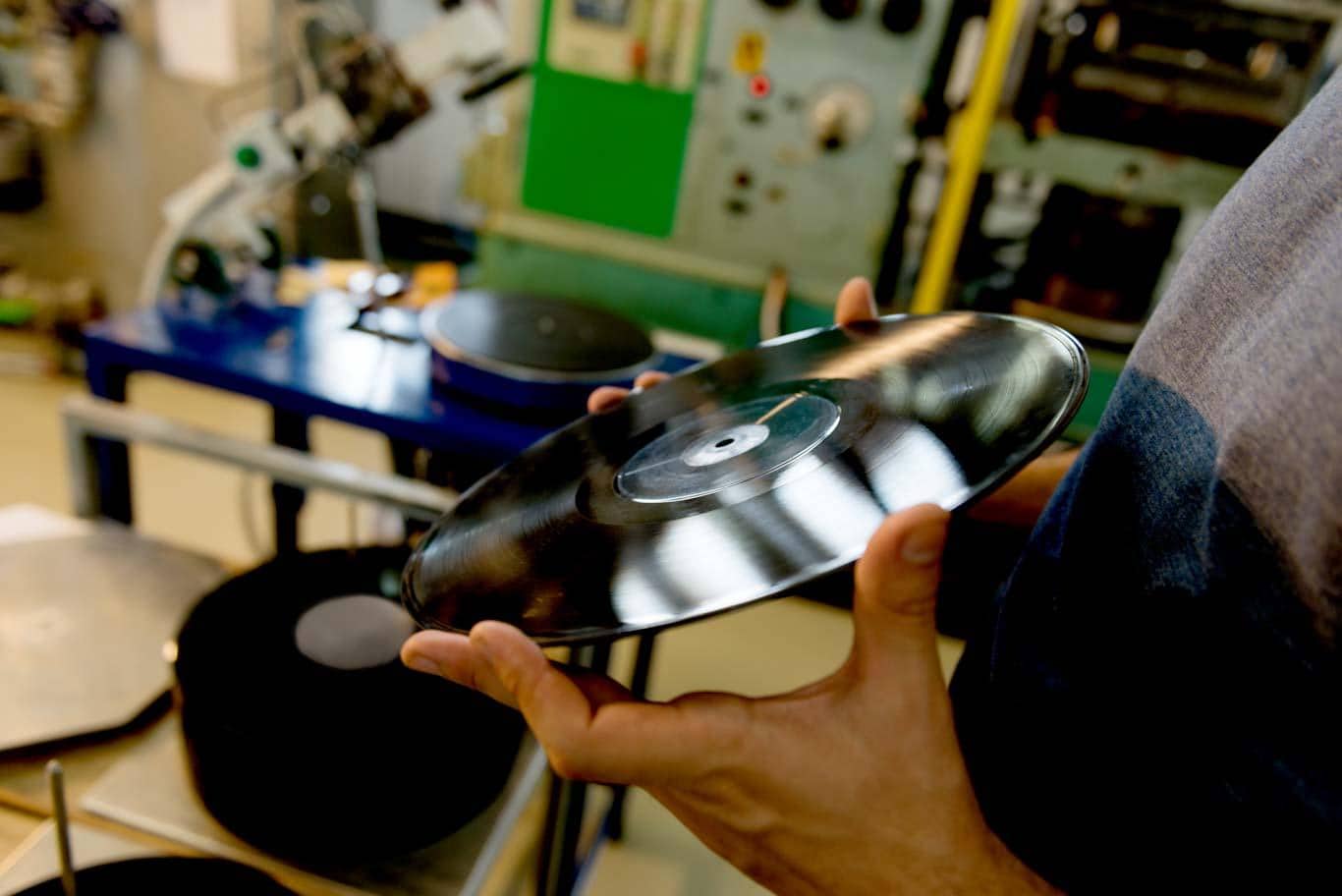 When you scroll through eBay, Amazon, and Wish.com for vinyl records, you will often see the big flashy signs of "unused vinyl record" running around. It is tough enough to identify whether a vinyl record has been used or not through physical inspection; however, it is even more challenging (near impossible) to know if a vinyl record is unused through online mediums. To make it all easier for you, we provide four easy benchmarks that can hopefully help you identify whether a vinyl record is brand new and unplayed.
There are no tangible ways to determine whether a vinyl record has a history of use or not. However, there are tell-tale signs that can give you an idea of the vinyl record's condition. Physical artifacts such as scratches, for example, are a clear takeaway.
Checking whether a turntable has been used or not is not an easy task. However, we can make the process easier for you!
Has It Been Played? Easy Ways To Determine If A Vinyl Record Has Been Played
There are many benefits in having unopened vinyl records in contrast to used ones. For example, they have better resale value, sound better, and are free of audible artifacts from reckless usage. However, the reality is that knowing whether someone has played a vinyl record or not is not easy. (source)
There are no simple ways around this, unfortunately. There are no machines that can verify this, but your eyes and your hands can certainly help! Here are four things you need to check out to help you determine whether someone has played your brand new vinyl record or not.
Four Easy Ways To Help You Identify An Unused / Unplayed Record
Check if shrinkwrap is still available.
The sleeve's condition may be a giveaway.
Listen for any audible artifacts.
Visual artifacts must not be present within the vinyl record.
The First Step To Identification: The Shrinkwrap
It should not be a surprise that one of the main things you need to look out for when checking whether a vinyl record has a history of use or not is the shrinkwrap. The shrinkwrap is the outer plastic attached to the vinyl record's sleeves to seal it away from any foreign matter.
While discussing this topic with a friend of mine, he once said, "Who opens vinyl records and choose not to listen to it?" However, there are instances where I opened a vinyl record to check if I received the correct vinyl. Despite that, what I did back there was an outlier, and exposed vinyl records have greater chances of being played than not.
Of course, when looking at the shrinkwrap, it is best to know that just because the shrink wrap is damaged, it does not mean the vinyl record has a history of playing. More often than not, the causes are improper handling during transportation or simply that the vinyl record is just ancient. (source)
The Shrinkwrap Is Not A Guarantee
It is a fruit of common sense to assume that a vinyl record must not have been opened or used because the shrinkwrap is there. However, this is simply untrue, and I will tell you why.
The same friend I have told you about earlier is a child of the record shop owner. It is not too common to see used vinyl records going through the resealing process for various reasons.
Of course, it is not for malicious intent. One of the primary reasons why resealing is needed when a vinyl record is not compatible with a customer's turntable or when a customer wants to return a vinyl record for any other reason. When this happens, it is store policy to return the vinyl record for a replacement. When that happens, the store takes the initiative to reseal it again to entice consumers.
When resealing happens, the resealed vinyl records may be played once, or twice, or unplayed even; I doubt there is any apparent deterioration. However, some people have malicious intentions to sell something "unplayed" and "unopened," even when that is not true. That is why we always need to be careful when buying "unplayed" and "unused" vinyl records, be it online or in brick-and-mortar stores.
The Condition Of The Sleeve Is A Clear Giveaway
There are two kinds of sleeves in a vinyl record, and most of the time, both are present on a brand new, unused vinyl record. The first sleeve is casually called the "sleeve." Unlike most compact disks that use jewel boxes or plastic cases, vinyl records use paper-like sleeves that easily show wear and tear. (source)
The second type of sleeve is called the inner sleeve. Like its name, the inner sleeve is placed inside the sleeve, acting as a wrap between the vinyl record and the paper sleeve. It exists because debris and dust that may damage the vinyl record make their way inside the sleeve, and the inner sleeve mitigates that.
Because of that, vinyl record manufacturers include the inner sleeve as second layer protection. They are usually in the form of a semi-transparent white sheet.
If either (the sleeve and the inner sleeve) is missing, get ready to doubt high, especially when the sleeve is missing. The sleeve is an integral component for a vinyl record, and a missing sleeve means that it has been opened or used. When not in the correct orientation, the inner sleeve usually means that the vinyl record has a history of use.
When the sleeves and inner sleeves have apparent signs of mishandling, there is a big chance that the vinyl record inside is not in good condition. So make sure to take a close look at the sleeves and the inner sleeves.
Look For Visual Artifacts
Vinyl records store their audible data on the grooves or the lines inside the vinyl. Naturally, this means that any damage on these grooves signifies damage on the track as well. When a vinyl record is fresh out of the press, there is a ninety-nine point nine percent guarantee that the vinyl record is scuff-free, scratchless, and has no audible damage as well. (source)
Although not a clear indication of a history of use, either way, this can indicate whether a vinyl record has succumbed to any damage. If a vinyl record hasn't been played or opened, we should expect a clean record inside the box.
In the instance that the vinyl record that you have bought "unopened" does have some visual damage, make sure to file a complaint (if purchased online) or let the store representative know (if bought on brick and mortar store) that there is damage on their product. Either way, ask for a refund immediately. Some stores offer a limited warranty on their products.
Feel For Scratches
Although I advise you not to touch your vinyl records, sometimes, desperate times require desperate measures. Aside from significant visual scratches, we also have micro scratches that proliferate around the vinyl record surface. These scratches, although "micro" in nature, can cause havoc within your vinyl records. (source)
These micro scratches can cause can either cause minor inconvenience with the audio or can cause severe impacts such as skipping tracks altogether. Nevertheless, these scratches should not appear on "brand new, unopened, unplayed" vinyl records.
To make sure that you are not risking the integrity of your vinyl records, make sure to wear gloves when inspecting to reduce the risk of sebum (oil) from your hands reaching the vinyl record's surface. If not necessary, hold your vinyl records on opposing sides to reduce the risk of breaking the vinyl into two separate pieces.
Audible Artifacts Are A Clear Giveaway
As they get played repeatedly, Vinyl records get audible artifacts over time that may manifest in different ways. These artifacts can vary per vinyl, but one thing is for sure, and that is brand new, unopened, and unplayed vinyl records do not have these "artifacts." To determine artifacts, here is a list of things you should need to take note of properly.
Audible Artifacts That Are A Sign Of Used Vinyl Records
Hissing sounds
Unnecessary noise or static
Volume shifts
Track skips
High frequencies get washed out
Some instruments get too quiet, too loud, or something in-between
I remembered once that my friend told me how one of the surprising things he noticed about worn vinyl records is that the high frequencies tend to be the first ones to deteriorate. This phenomenon would imply that treble instruments such as violins, vocals, xylophones, hi-hats, guitars, and cowbells are the first to get involved.
Most of these audible artifacts are because of scratches that are too small to see and feel. I like to call these scratches "nano scratches" due to them being unnecessarily small. These scratches are often caused by mishandling and improper storage, causing dust and sand to infiltrate the vinyl, a used and played record hallmark.
Buying Second Hand: How To Determine If A Vinyl Record Is Pristine And Has Barely Been Played
Aside from brand new, unplayed options available for purchase, there are also second-hand options online and in brick and mortar stores, which can be a good deal and potentially be a better deal than the brand new options. Most vinyl records sold second-hand come in significant markdowns making them hardly resistible. Moreover, these second-hand records can sound and can feel as good as brand new as well!
However, second-hand vinyl records are not the same. While you may find offerings that make an excellent bang for the buck, with incredible and pristine condition records, some second-hand vinyl records may come home as barely playable. Once, I bought a second-hand vinyl record that is straight-up crumbling. Below, we offer great tips for helping you choose the best second-hand offer!
Checking The Vinyl Grade: It May Have Been Played, But It Is Good As New!
One of the easiest methods to determine the condition of a second-hand vinyl record is checking their grade. Based on a grading system most resellers use, the "grade" determines their resale value. Although the metrics do not tell the whole story, sometimes, they may help you make a clearer picture of the vinyl record condition. These metrics, most of the time based on the sound quality more than the quality of the packaging, the sleeves, and the inner sleeves.
Vinyl Record Grades Resellers Use To Sell Second-Hand Records
Mint (M)
Near Mint (NM)
Excellent (E)
Very Good Plus (VG+)
Very Good (VG)
Good (G)
Poor or Fair (F)
(M) Mint Condition: The Best Of The Best
I do not know if it is just me, but I do not believe that mint condition second-hand vinyl records even constitute "second-hand." Most, if not all, mint condition records have not been opened, used, or are just barely used. These records are a rare find, making them worth more compared to other second-hand vinyl.
However, just because a vinyl record has a "mint condition" grade does not mean it is nearly perfect. It is still best to look at the vinyl for yourself, as these grades are very objective, and your definition of "mint" may vary with the appraiser. (source)
(NM) Near Mint Condition: Almost Perfect, Worthy Investment
Near mint condition vinyl records have barely been played and may have been played once, twice, or a few times, but not enough to show signs of even slight deterioration. Sure, it may not feel as "brand new" and "unopened" compared to something like mint condition vinyl, but it does the job exceptionally well.
Because they have a history of use, expect the packaging, meaning the sleeves and the inner sleeves, to have some alteration (not necessarily damaged, but not near unopened condition).
Most of the time, if strapped on cash, I believe that near-mint condition vinyl records are worth more than mint condition records when it comes to investment. Not only are they easier to find, but they are also much cheaper when compared to mint condition records. The reality is that the difference in sound quality between near mint and mint condition records is negligible. (source)
However, if you plan to buy a vinyl record for the sake of collection, we may have a different story here. Mint condition records can fill this spot well, but realistically, a brand new vinyl record would suffice this spot better. Money is the least of their issues for most collectors, and a brand new vinyl record offers a lot of face value.
(E) Excellent: More Than Useable, Good For Everyday Use
Despite not being as near-perfect as mint and near mint records, "excellent" grade vinyl records are still suitable for use in parties, at home, and virtually anywhere else. When buying "excellent" grade vinyl records, make sure to expect some deterioration, such as distortion and the likes. However, most of the distortion in this category of the vinyl record is tolerable and should not hinder you from enjoying the overall output.
The vinyl records in this category are considerably worn out and used for a few good months. However, it would not be too surprising to see a vinyl record that has been used for years already still slotting into the excellent grade category.
This quality, after all, is a result of proper care and maintenance. Because of this quality of care, you may be surprised to know that the "excellent" record you ended up buying has been in use for years, despite its sleeve looking as clean as pristine as ever.
(VG+) Very Good Plus: Decent Quality, Good Experience
A very good (VG+) record is a highly worthy investment for those wanting to listen to the vinyl experience without spending as much. Despite its visible scratches, apparent distortions, and visual degradation, most records in this category have pristine audio quality 95 percent of the time. Although you may have distortions, you can assure yourself that the overall experience and the most relevant sounds (i.e., the vocals and most instruments) are not heavily affected by the damage.
Most of the records in this category are considerably old, having been used for years already. However, some might be relatively new and are in this category due to mishandling.
(VG) Very Good: Has Its Perks
A "very good" vinyl record is a type of record that has succumbed to considerable damage but is still relatively useable for the most part. Yes, you may hear some vocal distortions, or you may listen to the strings fading out, but if you are not very meticulous with these things and have set your standards accordingly, you should not be disappointed at all.
Vinyl records of this category can be suitable for use, especially for casual listening. About seventy-five percent of the vinyl record may still be perfect, and the remaining twenty-five may still be appropriate for use. However, vinyl records of this category have a considerably lower lifespan since most of the vinyl here is pretty old. (source)
(G) Good: Maybe Not That "Good"
Most vinyl records in this category are at a bargain, but I hardly consider it a steal. Although it has "good" in its name, it certainly is not "good" for listening. The thing is that vinyl records in this category have succumbed to audible, tactile, and visual damage, making them not as pleasant to listen to compared to other grades.
However, picking up a "good" vinyl record may still be worth it! For example, I once bought a vinyl record of this grade because it was scarce! The very presence in itself was valuable to me, and the listening experience was irrelevant.
(F) Poor Or Fair: Not Recommended At All
When buying a "fair" vinyl record, I recommend setting your expectations at an all-time low. Most records in this category have significant damage, or they may have started to succumb to the elements. Because of that, they might have unnecessary noise, distortion, or inaudible parts. (source)
Another issue is the scratches on the grooves. The scratches in most "fair" vinyl records are deep, which can cause skipping. This phenomenon would imply that your record can skip parts like its tomatoes!
However, with a considerable eye, you may spot out some outliers. These may be misgraded vinyl records that can function well or even better than some of the vinyl records of higher grades.
Has It Been Played? How Much So? The Secrets To Finding A Good Second-Hand Vinyl Record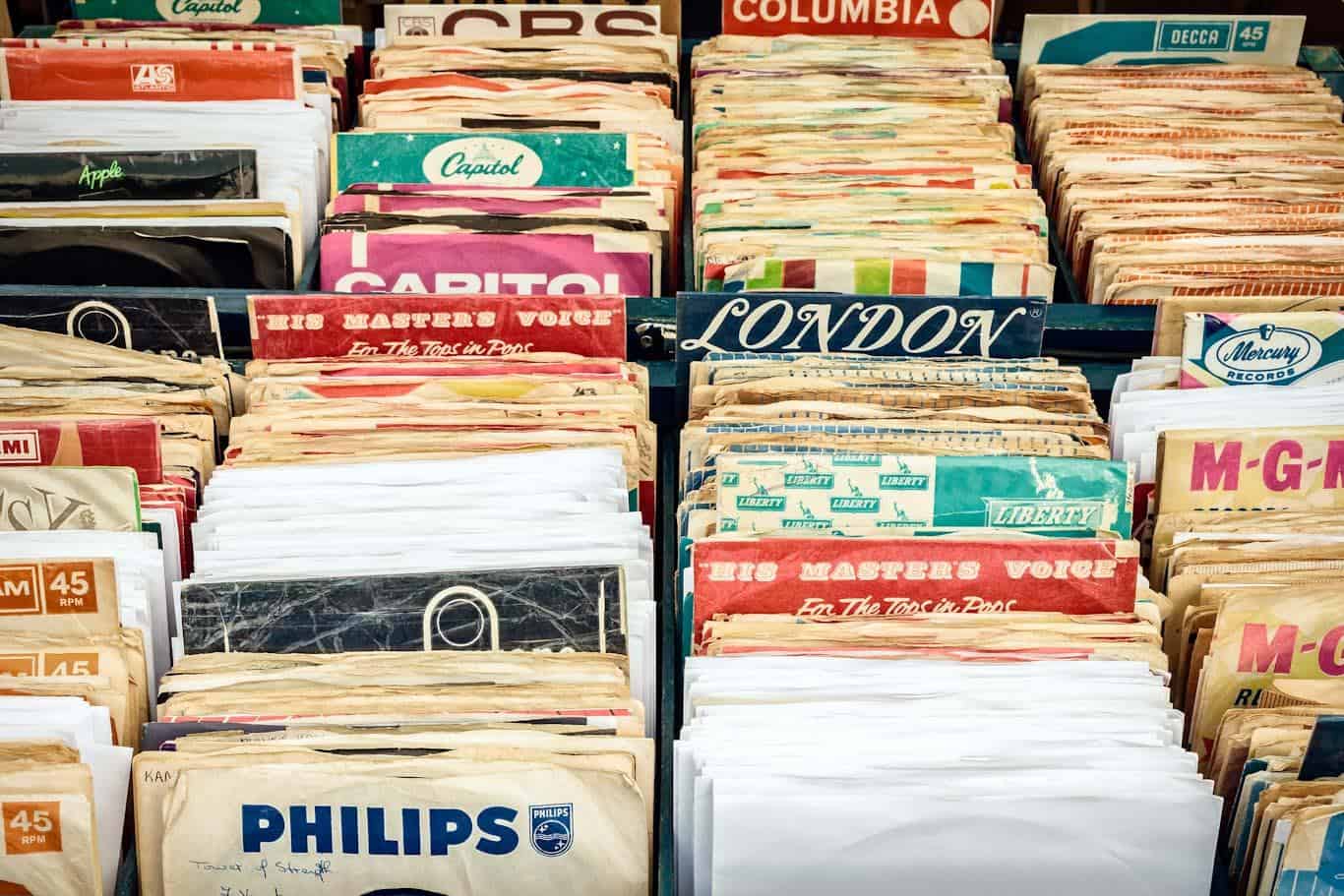 A vinyl record can be played but can still sound as good as new. So when buying a vinyl record for use and not for display, it is often preferable to buy the vinyl records second-hand.
When buying these pre-loved records, it is beneficial when you look at the vinyl grade. However, these grades do not tell the whole story. Below are a few tips you can use when examining a vinyl record manually, making them feel and sound as brand new and unplayed as possible.
Tips In Inspecting Vinyl Records
Look for "hairlines" and "tramlines."
Listen carefully at the very first revolutions.
Scratches make or break decisions.
Warped disks are a no-go.
The Very First Revolutions Are The Most Revolutionary Revealing Revolution Out Of All The Other Revolutions
My mom and I used to listen to the Carpenters way back then, and we had this compact disc that had a compilation of their songs. As time went on, the very first parts of the compact disc started showing deterioration until we had to let it retire.
Imagine my surprise when I realized the same thing for my vinyl records. It turns out that vinyl records show a lot of their degradation on the very first revolutions. Because the first parts of the vinyl are the most played, these first revolutions reveal a lot more to the vinyl's amount of use than initially thought.
When buying a vinyl record, listen carefully to the very first seconds of playtime. If you notice a lot of deteriorations, this will imply that the record has a long history of use already or are just plain old.
Hairlines And Fine Scuffs
How often is it when you fail to return your vinyl records to their sleeves or inner sleeves after using? Maybe you were too busy, unbothered, or find the whole process not so pleasant; nevertheless, you put your vinyl records at a scuff risk.
Not returning vinyl records to their respective sleeves is one of the most common mistakes vinyl users make, and it does not make for a pretty surface. Because of their sheer frequency, scuffs are a very common artifact on second-hand vinyl records. These scuffs may be apparent when looking at "very good" quality records, but any vinyl record with a near-mint or mint condition label should not have an excuse for this.
The impact of scuffs on vinyl records varies differently on the type of record. When the vinyl record you are holding is a lot thicker than usual vinyl records, these scuffs may not present a threat. However, when the scuff is on thinner vinyl records, be sure to stay away. (source)
Tramlines Are A Big Deal, Spot Them Early
Tramlines, unlike hairlines, pose a more significant impact on the overall sound integrity of the vinyl record. Tramlines are scuffs that follow the trajectory of the grooves of the vinyl record, and because of that, not only a portion of the vinyl record is affected, but most of the audio will be affected. The reasoning behind this is that because tramlines follow the grooves, there is a tendency that the needle of the turntable will follow the scratch's trajectory instead, producing a different sound. (source)
I once had to throw out a first pressing vinyl record because it was barely playable at all. Unlike hairlines which may be tolerable, tramlines are substantial deal breakers. Make sure that the vinyl record you are buying does NOT have them.
Sellers Should Not Sell Warped Records
If you are a long-time vinyl record fan, you should already be acquainted with the vinyl warping. These warps signify improper storage, most often when exposed to heat or when the record has stacked along with a pile of vinyl records.
Warped disks are not fun to be with, in all honesty. While some turntables can play warped records without a hitch, most turntables do have a problem with them, and you will end up with a barely playable record. As much as possible, keep yourself away from purchasing warped records as they are a sign of abuse. (source)
Frequently Asked Questions
Is It Better To Buy Used Or To Buy New?
It depends on your needs. If you need one for display or collection purposes, you might want to buy brand new. However, you can purchase high-quality second-hand vinyl records if you buy them because you want to listen to music casually.
Does Buying A Used Vinyl Record Matter?
Yes, it does! When you buy a vinyl record with an extended history of use, you might expect distortions due to casual wear and tear.
How Can I Tell If A Record Is Not Used Much When Purchasing Online?
One critical determining factor is by looking at the seller's description of the item. When the seller describes it vaguely, there is more room for doubt that their claim is valid.
Sources
VacationVinyl.com is a participant in the Amazon Services LLC Associates Program, an affiliate advertising program designed to provide a means for sites to earn advertising fees by advertising and linking to Amazon.com. We also participate in other affiliate programs which compensate us for referring traffic.