This post contains affiliate links.
Vinyl records have surged in popularity. Perhaps to the surprise and delight of many, outliving other mediums like CDs (compact discs) and MP3 players. If you are one of the many interested in buying and collecting vinyl records, you likely have many questions. A popular question is how many tracks fit on a vinyl record? 
There is no set amount of tracks that will fit on a vinyl record. Vinyl records are available in three standard sizes. The size impacts the number of tracks it can hold. You can expect to fit one to twelve songs on a vinyl record between the three standard sizes
As you may realize, figuring out how many tracks will fit on a vinyl record is complex. You must factor in the size of the vinyl record and the speed. This article will elaborate on the variances of vinyl records to help you determine how many tracks you can expect to find on a vinyl record. 
Standard Size of Vinyl Records 
There are three standard sizes of vinyl records. The size of a vinyl refers not only to the size of the vinyl but the RPM or revolutions per minute. RPMs refer to a record's speed. These factors all play a role in the number of tracks that can fit on a vinyl.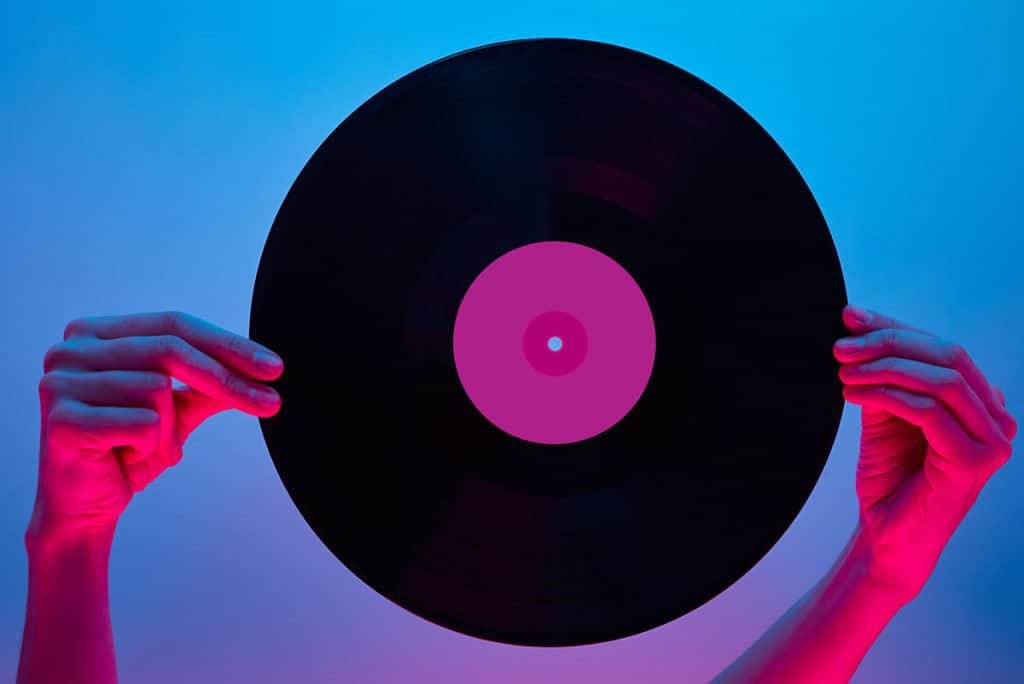 The three standards vinyl records sizes you will find are: 
Further explanation is needed to better understand how many tracks can potentially fit on a vinyl record.
7-Inch Vinyl Records
Most 7-inch vinyl records are 45 RPM; for this reason, they are often called 45s. The 7-inch is generally smaller than full-length albums. Singles are typical for the 7-inch vinyls. It is also common to use this size for  extended versions of songs. You can expect about 4 minutes and 30 seconds per side of a 7-inch cut at 45 RPM. 
Sometimes, a 7-inch vinyl record is cut at 33RPM. This RPM provides a longer  play time. You can expect about 6 minutes of music per side on a 7-inch vinyl cut at 33 RPM. 
10-inch Vinyl Records 
10-inch vinyl records can be cut at 33 RPM, 45 RPM, and sometimes, but rarely, 78 RPM. Below is a breakdown of estimated play time on each RPM. It is important to remember that more music could be added below the suggested times, but it could potentially impact the sound quality. 
10-inch vinyl cut at 33 RPM: around 12 minutes per side
10-inch vinyl cut at 45 RPM: approximately 9 minutes per side
10-inch vinyl cut at 78 RPM: approximately 3 minutes and thirty seconds to about 4 minutes and thirty seconds. 
The 33 RPM cut is most commonly used for 10-inch vinyl records. This is ideal for EP (extended play) albums. EPS are often considered mini-albums, and the 10-inch vinyls cater to this niche album length. 
12-inch Vinyl Records
The 12-inch vinyl records are most often used for standard club DJs and LP or long-playing albums. This size vinyl is cut at either 33 RPM or 45 RPM. On the 12-inch vinyl cut at 33, you can expect about 18 minutes per side. The 12-inch vinyl cut at 45 RPM produces about 15 minutes per side. 45 RPM is the most common cut 12-inch vinyl. 
The Most Common Vinyl Records
With so many sizes and speeds to choose from, determining how many tracks will fit on a vinyl record can be exhausting and overwhelming. Instead, we will look at the most common vinyls to help you determine how many tracks they might have. We will consider the average song length of three to four minutes to calculate the approximate number of tracks on each of the most common vinyl records. 
The three most common vinyl records are:
45s or the 7-inch 45 RPM vinyl record. With about four and a half minutes on each side, you can expect about two songs to fit on a 7-inch vinyl cut at 45 RPM. 45s are considered singles because a single track fits without compromising the sound quality. 
The 10-inch vinyl record cut at 33 RPM. Perfect for extended play or EP albums, this size boasts about 12 minutes per side. 12 minutes will give three to four tracks. When calculated for both sides, the 33 RPM vinyl record provides about six to eight songs. The EP is the sweet spot between a single and LP album. 
The industry standard, 12-inch vinyl record cut at 45 RPM. This size vinyl record offers about X minutes. The 12-inch vinyl has become synonymous with long-playing. With about 15 minutes per side, it would hold approximately ten songs.
Buying Vinyl Records
Once you understand how many tracks may fit on a vinyl record, your next natural step would likely be purchasing your first records. Fortunately, there is no shortage of avenues for buying vinyl records as this audio format has exploded in recent years. In fact, in 2020, vinyl records outpaced CD sales for the first time in 34 years and continued this trend throughout 2021.
Some good places to start (and continue) to buy vinyls are:
Locally. Local record stores will offer a diverse selection of new and used albums. You get the experience of thumbing through crates. You will get the best prices. And, you may stumble across a rare album. 
Discogs. Discogs is an international marketplace. Other media formats are offered, but you can narrow it down by format, genre, artist, and condition. There are also Community pages where you can connect with other record collectors.
Vinyl Me, Please. This online service features a Record of the Month Club. Members receive pressed albums monthly, and plans start at $33 per month. Vinyl Me Please collaborate with record labels to ensure quality products. You may get extras like colored vinyls instead of the traditional black vinyl, special packaging, added artwork, and cocktail recipes. 
Large Retailers. 

Best Buy. This retailer is well-known for its wide array of music in various formats. One upside of buying vinyl records at Best Buy is that the store has a price match guarantee. 
Target. While Target carries a small selection of vinyl records in the store, they offer free shipping on orders over $35. They also have their own exclusives, like Taylor Swift's 2-disc Lover album. 
Amazon. Of course, Amazon sells everything, and vinyl records are no exception.
Urban Outfitters. Urban Outfitters has a small yet solid selection of vinyl records to choose from. 
Related article: The 9 Best Places to Buy Vinyl Records Online
Vinyl Record Cleaning
Vinyl records require care. They can crackle, pop, and scratch. Adequate cleaning of your vinyl records will extend the life and maintain the quality. Fortunately, some simple steps will protect your investment and give you hours of enjoyable listening. 
Brushes
You will need two kinds of brushes. One is a vinyl cleaning brush. The groves on your vinyl records collect dirt, dust, and hair. Brushing removes these particles. To brush your vinyl records, you place them on your turntable, turn it on, and gently rest the brush on the record at a 90-degree angle. The record is cleaned as it spins.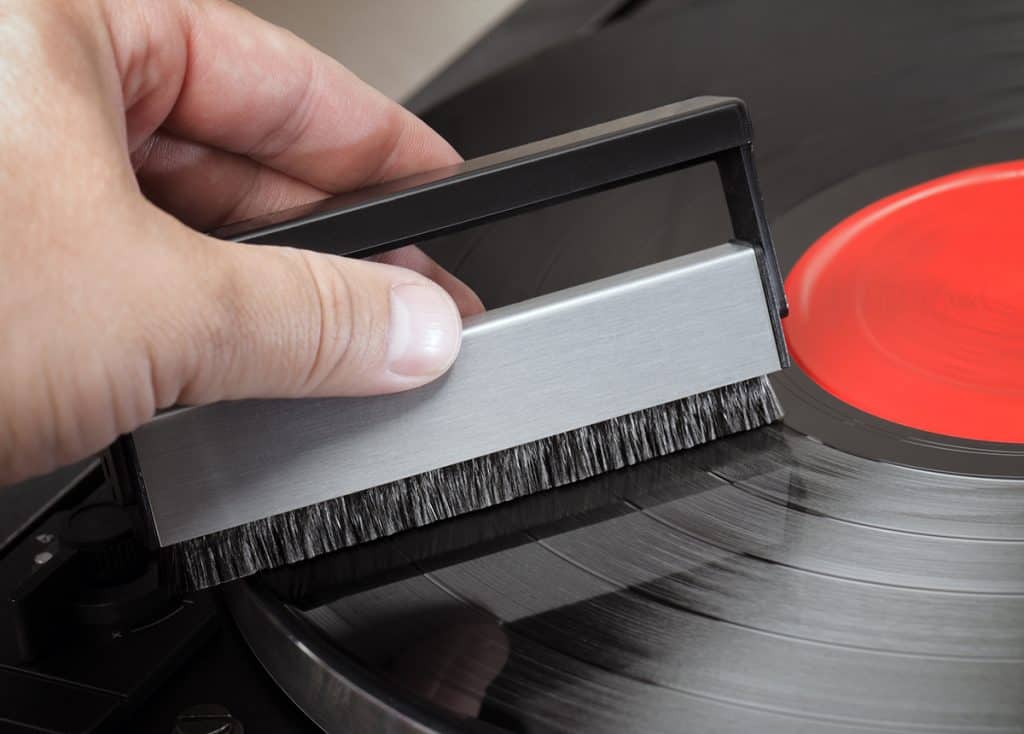 The other brush you'll need is a stylus brush. Like the grooves of your vinyl records, your stylus can also collect dirt and other tiny particles. Without regular cleaning, over time, your stylus may get damaged. 
Cleaning Solution
Brushes work well to clean the surface of your vinyls, but sometimes, they need a deeper clean. There are cleaning solutions made specifically for cleaning vinyls. They should be wiped in a circular motion with a microfiber cloth. 
Related articles:
Vinyl Record Storage
Besides cleaning, storage is another important aspect of vinyl record care. Vinyls should always be stored vertically and not exposed to extreme temperatures or humidity. They should be kept in their sleeves inside their covers. 
Some vinyl record users purchase additional inner and outer sleeves. The inner sleeves that typically come with vinyls are paper, which can flake off and stick to the record's surface. The outer record cover is more durable, but it can wear over time as the record is removed and replaced over and over. There is a large selection of aftermarket sleeves available.
Conclusion
How many tracks fit on a vinyl album is not a simple answer. It depends on the size and speed of the record, but the general answer is one to twelve tracks fit on a vinyl album. Regardless of the size of your vinyls, with proper cleaning and storage, they can last quite a while for your enjoyment. 
VacationVinyl.com is a participant in the Amazon Services LLC Associates Program, an affiliate advertising program designed to provide a means for sites to earn advertising fees by advertising and linking to Amazon.com. We also participate in other affiliate programs which compensate us for referring traffic.